BY GWEN REESE
Bishop John L. Copeland, Baptist minister, influential church official and prominent civil rights figure, was born in Alabama. Growing up in the South left both deep wounds and a fiery passion, which was the foundation for him becoming an advocate for African Americans.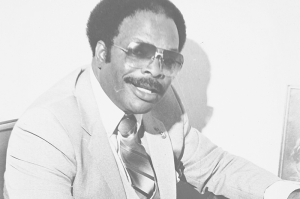 A native of Dothan, Ala., he came to St. Petersburg from Greensboro, Fla., in 1955 as a teenager. He quit school at age 15 and got a job to help his family. At 35, he returned to school and earned a high school diploma, an associate's degree from St. Petersburg Junior College and a bachelor's from St. Petersburg Baptist Seminary. He was the seminary's first graduate and was the sole graduate at that first graduation.
After various jobs, including waiting tables, building curbs, launching a landscaping business and opening a grocery store, he found his calling in the church.
Bishop Copeland was a pastor at Macedonia Free Will Baptist Church for about 23 years and was elevated to bishop by his denomination about six years before his death in 2002. He was also a past president of the Interdenominational Ministerial Alliance, an umbrella group of mostly African-American churches.
In 1986, Bishop Copeland was chosen to head an effort by the Street Ministries of St. Petersburg, which included white as well as black churches, to fight drug use and poverty.
When racial unrest shook the city in 1996 after the shooting death of TyRon Lewis, Bishop Copeland was among religious leaders involved in offering spiritual and financial solace, self-examination and social action in the city.
Politically outspoken, he was often sought out for his views. In December 2000, he tried to make a case for national unity after the close election between President George W. Bush and Al Gore.
Despite his public positions, he did not consider himself a spokesman for the African-American community. He said in a 1993 interview that he served as an advocate for African Americans because he doesn't want his children to face the racism and double standards that he grew up with.
"I promised God that if he used me to love all mankind and to serve humanity that I would try to my best ability to serve him," he said.
Sometimes that service meant lobbying city officials for more money for housing and education. Other times, it meant finding jobs for the unemployed.
His life was a testament to his promise to God.
Sources: Tampa Bay Times and obituary