Joseph Lovett, Jr., son of Gibbs chief custodian Lovett Sr., with his family in the 1970s
On May 29, 1959, a headline in the St. Petersburg Times read: Lauded for Service: Gibbs Yearbook Staff Honors Ex-Custodian. The article, written by Cal Adams, extolled Joseph L. Lovett Sr. for 37 years of service to Gibbs High School and marked the second time a Gibbs yearbook was dedicated to him.
Lovett Sr., retired chief custodian, was honored in 1936 when the first Gibbs yearbook, a mimeographed book, was also dedicated to him. Lovett Sr. was the father of Joseph Lovett, Jr. who was one of the first three black bus drivers, along with Paris Lily, for Pinellas County Schools.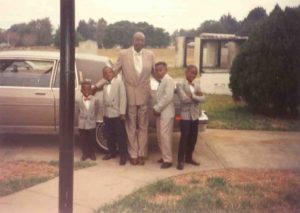 The school's busy schedule came to a complete halt during the ceremony, which was held in Gibbs' auditorium. Lovett Sr. was overcome with emotion, and his voice was barely audible as he expressed his thanks for the tribute paid to him.
Speakers for the event included Pinellas Schools Chief Custodian Don Pierret, who said he learned more from Lovett Sr. in 13 years than any other man he'd met. Gibbs Junior College President John Rembert remembered Lovett Sr. as a man who worked tirelessly with no concern for the hours involved, only in getting the job done. He could always be counted on to keep the facilities operating and was a master at improvising when materials or supplies were not available.
Gibbs principal Emanuel Stewart said the event marked a turning point in Lovett Sr.'s life as he presented him with the first copy of the school's 1958-59 yearbook. Mrs. Lovett shared the honors with her husband and was pinned with a corsage. As he approached the microphone, he received a standing ovation that lasted for more than four minutes from the estimated 900 people in attendance.
Joseph L. Lovett Sr. came to St. Petersburg from Waynesboro, Ga., where he was a successful farmer in 1924.  In 1925, he was employed by the Pinellas County Schools' maintenance department and traveled the county with R. M. Yates, handling all required repairs and maintenance.
His career at Gibbs began when he was sent to the school to make repairs and get the school ready for occupancy as the county's first "Negro" high school. Later assigned a custodian, he remained there until his retirement in 1959. He not only worked as the janitor at Gibbs, but he was also the driver of the black community's first school bus, nicknamed the "Blue Goose" because of its color.
Rosalie Peck and Jon Wilson in their book "St. Petersburg's Historic 22nd Street South," wrote the following:
"During the 1930s, Manhattan Casino promoter and Gibbs High teacher George Grogan pledged his teaching salary to help guarantee payments on the first school bus for Gibbs High.  According to the Pinellas County school district's official history, "A Tradition of Excellence," so did three others: Gibbs principal George Perkins and teachers J.K. Neal and Albert Brooks.
"Lovett picked up students on both the north side and the south side. Students paid a nickel to ride, and they along with school faculty and staff were responsible for keeping the dilapidated bus going. The bus was remembered as being so decrepit it could not climb 5th Avenue South-called Sugar Hill without stalling. Boys would get off and push it to an even plane so it could continue its route."
As dedicated as Lovett Sr. was to Gibbs High, he was also active in his church and the community. An article in the May 1959 edition of the Times had a brief mention of Lovett Sr. and Willie Drayton, Jr. returning from Shreveport, La., where they attended the National Sunday School and the Baptist Training Union Congress, representing Second Bethel Baptist Church.
He also served as chairman of the Deacons Board and Sunday School Superintendent. In 1955, Lovett Sr. supervised the prayer and testimonial portion of the annual Watch Night event organized by seven churches to usher in the new year.  In 1958, Lovett Sr. and six other members were cited as "Outstanding Members" and recognized for contributing to the church's growth and prosperity over the years during the church's 35th-anniversary observance.
In 1952, he served as a district captain when the Interdenominational Ministerial Alliance, civic organizations, residents, and the County Health Department organized a massive cleanup campaign of Methodist Town and the south side.
Lovett Sr., a master mason and member of Masonic Lodge No. 40, died in July 1959.
Sources:
Peck, Rosalie and Jon Wilson. St. Petersburg's Historic 22nd Street South. Charleston: The History Press 2006
News of the Negro Community. Tampa Bay Times. June 29, 1951 Pg 37
Local and National Negro News. Tampa Bay Times. December 31, 1954
Adams, Calvin. "Lauded for Service: Gibbs Yearbook Staff Honors Ex-Custodian. Tampa Bay Times. 1959
Obituaries. Tampa Bay Times. July 1959