Community leader Lisa Wheeler-Brown and Assistant Chief of Police Melanie Bevan of the St. Petersburg Police Department (SPPD) have teamed up to present the Inaugural Gridiron Family Fun Day.
This community based flag football tournament will host teams from the SPPD, St. Pete Fire and Rescue, TASCO and two teams comprised of community residents. The event will be held Sat., April 26 from 10-2 p.m. at the Lakewood Football Complex on 31st Street South and 54th Avenue South.
Sun Coast Law Enforcement Charities will provide and serve hamburgers and hotdogs for participants, volunteers and their families. There will also be educational toy giveaways for kids of all ages.
While working on the investigation of her son's murder between 2008 and 2011, Wheeler Brown witnessed firsthand the strained relationship between the police and the community that would later give rise to her idea of hosting the First Annual Gridiron Family Fun Day.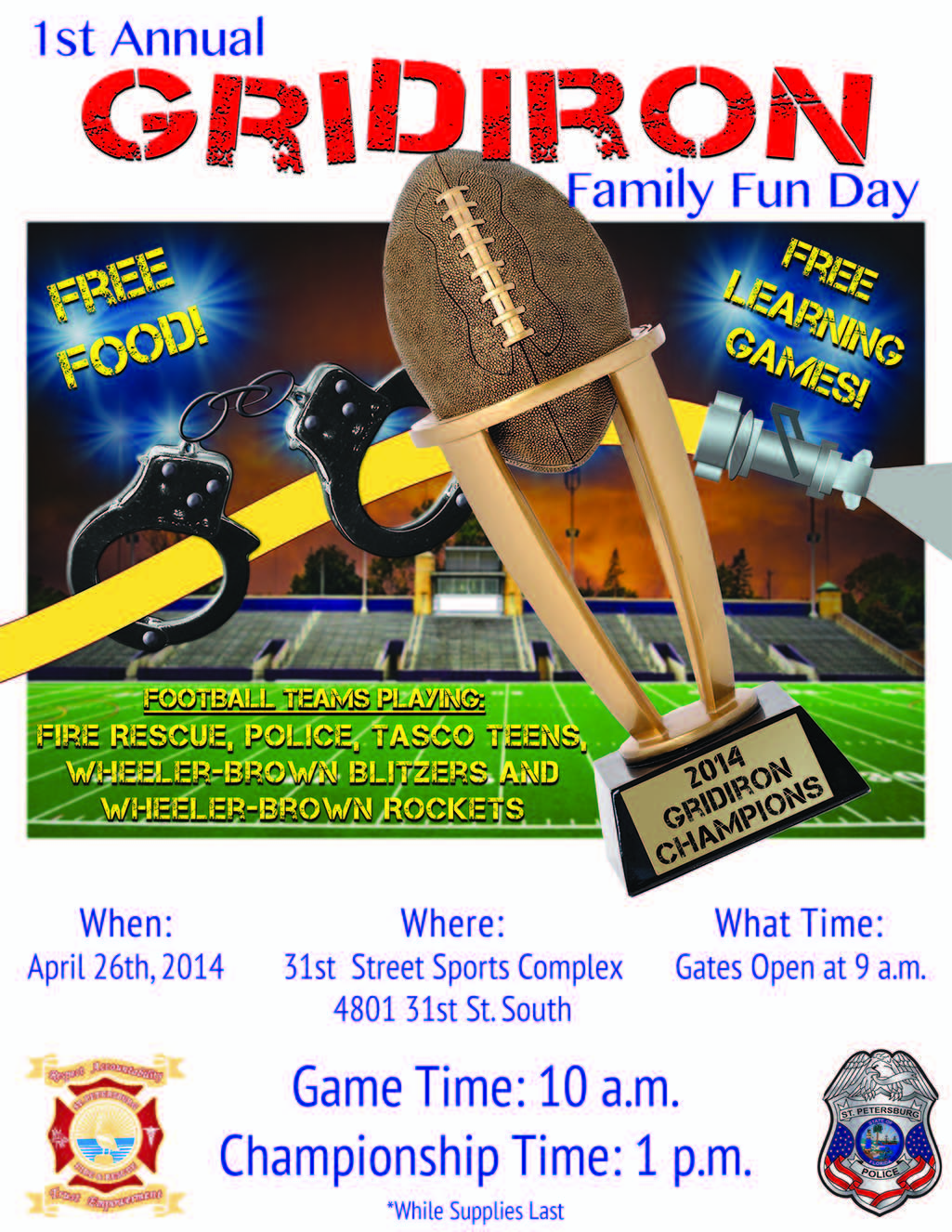 "I met with the then Chief Chuck Harmon and we discussed the number of unsolved homicides," she said.  "He told me then, 'Lisa, over half of these murders would be solved if people would just talk.  Tell us what they know and we will do the rest.'"
That statement made Wheeler-Brown take a deeper look into the relationships between the community and police officers.  Those few words is what made her vow to try and mend the broken relationship.
"If the community felt that they could trust their police officers then some families of lost loved ones could get some justice, some closure and peace.  If relations between the community and the police were to improve, no longer would residents allow criminals to run our neighborhoods! We would speak up when we see any kind of injustice and we wouldn't tolerate it," she said.
Wheeler-Brown feels that the fun day will bring the city closer together with positive interactions. She has been working closely with Bevan, acting Major Paul McWade, Sergeant Patrice Hubbard and Officer Jason Deary to organize the Gridiron Family Fun Day.
Ofc. Deary describes the event as "a positive and shining opportunity for police officers, fire department first responders and members of the community to participate together in a fun filled and relaxed sports related family event."
Referees, line judges and food servers are still needed! To get involved with the Inaugural Gridiron Family Fun Day or to find out more information, please contact Lisa Wheeler-Brown at 727- 565-7756.
Lisa Wheeler-Brown is a community leader and gun violence prevention advocate. She currently serves as the president of Wildwood Heights Neighborhood Association, president of the Council of Neighborhood Association and the honorary chair of the Holocaust Museum community project "Speak Up, Speak Now."
She has been honored as the 2011 NAACP Social Justice Award Recipient, the 2013 Florida Holocaust Museum Loebenberg Humanitarian Award Winner and the 2013 National Crime Victim's Rights Courage Award Winner.