Linda Jones turned her best-selling book 'I Hate My Life: A Teenager's Story' into a documentary in an effort to continue fighting against domestic violence.
BY KARIN DAVIS-THOMPSON, Staff Writer
ST. PETERSBURG — When Linda Jones' son was about nine, he told his mom that he was unhappy and in a lot of pain. There was so much going on — the divorce from her husband, domestic violence she endured, which her son witnessed and was sometimes a victim of.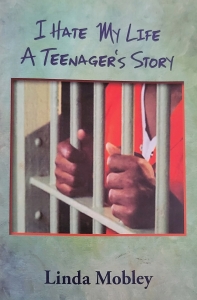 "It just touched me," Jones said. "He was bullied a lot, dealing with depression, anger, and low self-esteem. It was a lot for a young person to go through."
Things weren't easy for Jones either. Her husband had been awarded custody by a judge, she said, did not believe her about the abuse.
"My husband was manipulative," Jones stated. "We went back and forth in court for a while, which wasn't healthy either."
She wasn't even able to talk to her son on the phone for a while.
"He was brave enough to call me one night, and we talked for hours."
Hearing her son's pain gave her an idea that she hoped would be healing for both of them. She didn't realize how much the story would mean to others.
She decided to write a book about it, but not from the perspective you might imagine. She wrote the book that she titled, "I Hate My Life – A Teenager's Story, entirely from her son's perspective.
"He was reluctant at first," the 70-year-old said. "He didn't understand why anyone would want to read about how terrible his life was. But years later, he understood why it was important."
"I Hate My Life" was published in 2013, and Jones said young readers expressed how much they could relate. She was asked to speak to youth groups, and the book was made required reading for nursing students at St. Petersburg College.
While Jones said writing was painful and cleansing simultaneously, she has been overwhelmed by the reaction and the suggestion that she take the next step: making the book into a documentary.
The mother of three said she had never considered a documentary, but the more she thought about it, the more she thought it was a good idea.
Earlier this month, the next step in the journey became a reality with the book's release as a documentary. While it was another form of reliving what happened to Jones and her son, she knew taking the book to the next level was necessary.
"It took about two weeks to put the documentary together," Jones said. "The fact that domestic violence is still on the rise worldwide, it's too important not to leave something behind that people can learn from."
So far, her son's story has touched lives as far away as Africa.
"It's so rewarding to know something that you put together has helped people halfway around the world," Jone beamed. "I am really grateful for all the good people who have supported me and made it easier to get the story all over the city and even outside of the city," she stated. "They were whole-heartedly behind it. It can save lives."
To learn more about the book and the documentary, visit www.childrenlivesmatter.net.
To reach Karin Davis-Thompson, email kdavis-thompson@theweeklychallenger.com