ST. PETERSBURG — Calling all baseball and softball players: Gulfport Little League is back in business!
Fundamental skills are lost in our game today, and Gulfport Little League is the place where your child will learn those basic skills and become a more complete and better baseball/softball player. The vision of leadership is to develop their skills both on and off the field to help mold our players into great citizens and future community leaders.
Gulfport Little League's goal is to recreate the inevitable, the allusive Little League World Series appearance. The last appearance for a St. Petersburg team was in 1948 when the St. Petersburg All-Stars played the Lock Haven All-Stars from Pennsylvania.  The event was referred to as the National Little League Tournament and did not adopt the World Series title until the following year.
Let's take an old tradition and traditional league and transition into the best Little League in the Tampa Bay area!
To accomplish this awesome feat, we will need your help. Our board members have made a strategic decision in the direction we should take regarding the future of Gulfport Little League, and we are looking for players, parents, coaches, board members and community supporters ready and willing to commit to a newer version of old school, old fashion baseball.
Our board members consist of Trevor Mallory (president); Maleke Fowler (vice president); Karesha Nash (treasurer); Kim Marshall (player agent); Missie Garrison (safety officer); Oran Walker (field manager) and Ashlee Stafford (concession manager).
Spring tryout dates are Jan. 22 and 24 from 6-8:00 p.m. and Jan. 2 from 9-11:00 a.m. for all youth ages 4-15 both baseball and softball. Fee for spring season 2019 is $50, $25 for each additional sibling for kids 7 & up and $40 for kids 4-6 (tee-ball).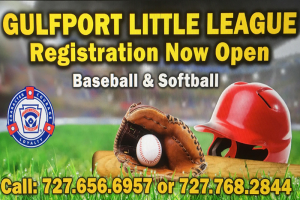 This fee includes a jersey and hat. Parents must provide grey pants, socks and belts).  For early registration before Dec. 31 is $40 for kids 7 & up (baseball & softball) and $30 for tee-ball.
There are also a few other available board positions for those who are interested.  For more information, please log on to http://tshq.bluesombrero.com/gulfportll, call (727) 768-2844 or (727) 656-6957, or email gulfportlittleleague18@gmail.com.