ST. PETERSBURG — The Florida Department of Transportation (FDOT), the Tampa Bay Next program and Archer Western–de Moya Joint Venture–the design-build team constructing FDOT's Gateway Expressway project–are working together with several St. Petersburg agencies to launch a workforce development pilot for careers in transportation construction.
The first of three training sessions were held earlier this month at the FDOT's Pinellas Operations Center and at the Gateway Expressway job site.
The week-long training gives candidates the opportunity to learn about construction careers and provided hands-on-training in areas such as job site safety, maintenance of traffic, earthwork, quality control, paving, rebar tying and more. Following the training sessions, 13 people were hired for full-time positions at a starting rate of $14.50 per hour plus benefits.
Pinellas-based community partners include St. Pete Works, Pinellas County Urban League, Pinellas Ex-Offenders Reentry Coalition (PERC), CareerSource of Pinellas and Pinellas Technical College. These community partners recruited and screened candidates for the program identified barriers to employment and will continue to provide supportive services to enable participants to transition into a new career.
"St. Pete Works, a collaborative of social service agencies and the City of St. Petersburg working to train, support and employ the citizens of south St. Petersburg's most impoverished census tracts, is so grateful for this opportunity for our citizens," said Rich Alvarez,  St. Pete Works grant manager and PERC director of workforce development. "We believe that this training and these positions will provide a life-altering path out of poverty to an upwardly mobile career in construction."
Bringing his industry experience and enthusiasm, Grant Cool, of The de Moya Group, led the workforce development efforts for the Archer Western–de Moya Joint Venture. The Joint Venture enlisted the assistance of their sub-contractors and vendors which brought a variety of topics and depth to the training.
The Gateway Expressway Workforce Training Pilot program paves the way for new opportunities within the FDOT's robust work program. In the next few years, additional large projects such as the Howard Frankland Bridge will begin construction.
These projects will need a large workforce. The goal is to continue to develop community partnerships and provide meaningful employment and training for workers in our local community. The FDOT also hopes to expand the program to other projects and counties.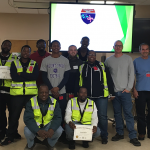 "Our infrastructure projects create economic opportunity in local communities, so we're connecting with agencies and non-profits that have deep roots in the St. Petersburg community," said Ed McKinney, FDOT's planning and environmental administrator.
For more information about this program, contact FDOT Tampa Bay Next at TampaBayNext@dot.state.fl.us or (813) 975-6398.