"SIMI" will be showing this week as part of Gallerie 909's Black Art and Film Festival on Thursday, Feb. 25 at Green Light Cinema and Saturday, Feb. 27, at the AMC Sundial Theater.
BY J.A. JONES, Staff Writer
ST. PETERSBURG – Artist and educator Yati Debi Garrett is a testament to the perseverance, determination, creativity and sacrifice bound up in the term "independent filmmaker," which she can now list among her endeavors.
The multi-talented filmmaker's supernatural drama "SIMI" will be showing this week as part of Gallerie 909's Black Art and Film Festival on Thursday, Feb. 25 at Green Light Cinema and Saturday, Feb. 27, at the AMC Theater.
A trainer at BayCare Health Systems and arts educator at Pinellas County Job Corps, Garrett is adept at shifting skillsets and hats to bring her giftings to an array of projects and callings. She said the idea for the "SIMI" project came to her around about four years ago.
"I was working to get certified in touch healing, and I wanted to find a way to introduce touch healing to people without these conversations about how it's not near God or Jesus Christ, or spiritual enough," said Garrett.
Noting that the touch healing modality is taboo for some, Garrett said it's a natural expression of her culture. "For me, it's understanding my people and my ancestors who had the experience and the knowledge of what is called 'laying hands,'" she shared.
Garrett has witnessed the power of touch healing among Pentecostals and Catholic nuns and within the Yoruba faith. She describes touch healing as using one's energy field to bring physical, emotional and spiritual health.
"It demonstrates the different levels of kinetic energy and having the greatest intention of a higher power in order to heal."
She mentioned that another reason for making "SIMI" was to share the talents of the many St. Pete and Florida creatives that she's met, including musicians, dancers, visual artists, actors and singers.
"I wanted to bring my community into it," Garrett said. "I felt like I was a part of this new Renaissance that's taking place in St. Petersburg, and I wanted to be able to find a way to also document it — but include us."
And by "us," Garrett noted that she's referring to the many African American and Latinx artists that have inspired her – many of whom also helped her to bring "SIMI" to life.
"I consider it a drama; I consider it as a love story," she said of the film. The story's connection with touch healing explores not only that subject, but "knowing one's capability, and knowing what we do to each other to get what we want out of life." But there's also a hidden warning, said Garrett: "We have to be careful not to take from others, just to benefit ourselves."
Filmmaking is rigorous and challenging; independent filmmaking adds impossible budget constraints to the already tough job of shooting a film. For Garrett, the stressful task was even further complicated by the arrival of COVID-19, which brought a halt to production just as the team was hitting its stride.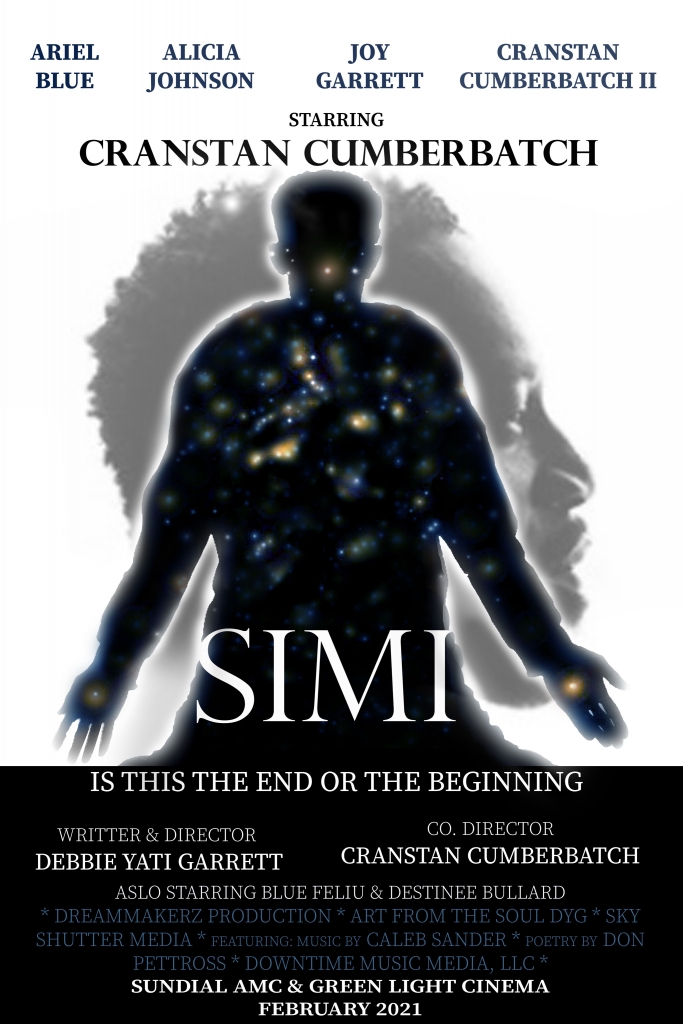 After taking several months off, she started production again, but of course, some actors didn't return, along with the headaches of filming primarily on location outside while abiding by COVID precautions.
Another unexpected bombshell early on in planning was the death of one of Garrett's mentors, Richard Stefanik, a well-respected, seasoned filmmaking veteran who died in 2018. Garrett had worked with Stefanik on the film "AGENT X," directed and written by filmmakers Cranstan Cumberbatch and Jabaar Edmond, and had planned to employ Stephanik to help with the special effects needed in "SIMI."
Finally, budget constraints and using non-paid actors and crew presented yet another set of hurdles, including scheduling around actors' limited availability, figuring out how to barter for services, and shuffling the roles of camera people and actors to make sure shooting could continue.
These are some of the reasons the film was shot in parts and is now being promoted as a series. With parts one and two completed, Garrett is hoping to have both parts edited and ready to show this week during the festival.
Part one already screened at the Sunshine City Film Festival in January, during which Garrett was also one of the female filmmakers honored during its L.I.F.E, Ladies in Film & Entertainment celebration.
At that screening, said Garrett, she was "sitting there with a notepad, taking notes on the flow of the movie," carefully studying the film, "to ensure that I remember the holes because what you see when you're actually piecing it together, and then what you see it on a big screen, there is a big difference."
While she has worried about whether "SIMI" was ready for showing, Garrett credits her co-director, lead actor and film producer Cranstan Cumberbatch for his work toward the film's progress. The founder of AmaznCran's Creative Works, LLC was there every step of the way and brought his considerable expertise and talents to those roles and more.
Garrett said it's natural for filmmakers to worry about the quality of their films when shooting on a shoestring budget. She said she was blessed to get the talent she did, with many of the actors forgoing pay in exchange for being able to use clips of the film for their professional reels.
As an accomplished makeup artist who worked in theater in New York, Garrett was also able to exchange those services for some of the artists on "SIMI" who were doing their own projects.
She feels that independent films show a powerful kind of "make it happen" attitude to the public.
"That is why independent films are so important to the market because once you put that independent label on, we know this is what the people were able to do without having the budget," stated Garrett.
Check out the first part of "SIMI" at the Black Art & Film Festival on Thursday, Feb. 27 at 9 p.m. as part of an evening of shorts at Green Light Cinema, 221 Second Ave. N. You can purchase tickets online: adult tickets are $10.70, seniors, students and children $8.56.
You can also see "SIMI" parts one and two at the Black Art & Film Festival showcase at AMC Sundial 20, 151 Second Ave N, on Saturday, Feb. 27, with a selection of other films from 6-10 p.m. See the schedule here, purchase tickets and check out the rest of the festival's offerings at blackartandfilmfestival.weebly.com.