By Amber Courtney, Bethune-Cookman University
Twenty-one-year-old artist Jabari Reed, who also goes by acronym I.B.O.M.S. — an acronym for "Illegal Beauty On My Streets" — was recently featured in an exhibition showcasing his work at The Mize Gallery in St. Pete. The installation, titled "Ego Death," on view from January 9 to January 24, offered Reed's work and featured graffiti, clothing, and graphic art.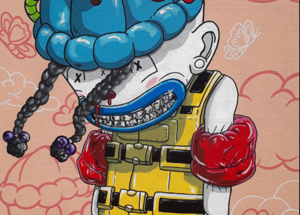 Even before the show closed, all the pieces in the exhibit were sold, with most going on opening night. Reed has been at the center of quite a bit of attention over the last few years, beginning with the controversy his artwork painted on traffic signal boxes while he took part in Shine Mural Festival's Corner Canvas project in 2019.
In 2020, he also painted a large-scale mural as part of the Sea Walls: St. Petersburg exhibit, which brought attention to ecological concerns regarding Florida's waterways. That year he was also commissioned by the League of Women Voters to help spread their Vote By Mail campaign with a large mural painted on the walls of the Enoch Davis Center.
The Weekly Challenger got a chance to speak to Reed about his art, what inspires it, and his life as a now well-known St. Petersburg artist.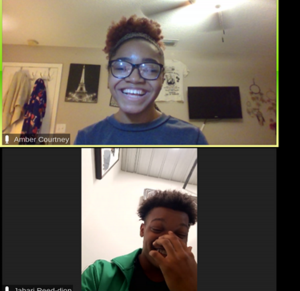 Reed has been an artist for pretty much his entire life. He states he began making art pieces in the third grade. However, he knew artwork was his calling when, in middle school, some of his teachers would submit his work into competitions. "That's when teachers started telling me that I could go far with art."
Reed, who grew up in St. Pete, says that the city is one of the many influences of his artwork. "I grew up in the Childs Park area, which is kind of like the hood. It really does have an influence on my characters — the way they dress, the tattoos all over their body, the grills in their teeth." He also says that many genres of music, cartoons, and other artists, such as Skyler Grey and Frank Morrison, inspire his work.
Reed's paintings in the exhibit tackle issues dealing with intense, intimate subject matters. From personal struggles such as ego and mortality to being true and kind to oneself, his artwork paints stories for the characters he uses.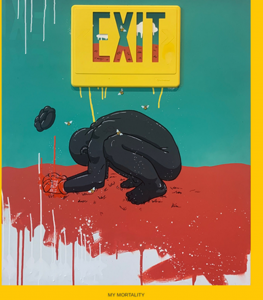 "I'm putting out stories that I want to tell about myself and seeing how many people can relate to it." To him, his artwork is more than just pictures on a canvas. It is a way to connect with those who view it.
"[The viewer and I] both connected on something that we experienced at different points in our lives, but because I was willing to talk about it, we made a meaningful moment."
Check out I.B.O.M.S and his art on Facebook and Instagram. Even though his exhibit at the Mize Museum has ended, you can still keep an eye out for upcoming events in Saint Petersburg where he and his work will be featured.