Mayor Ken Welch signed the 5000th baseball for the St. Petersburg Museum of History's exhibit in recognition of Jackie Robinson Day on April 15.
ST. PETERSBURG — In recognition of Jackie Robinson Day, Mayor Ken Welch signed the 5,000th baseball for the St. Petersburg Museum of History's exhibit.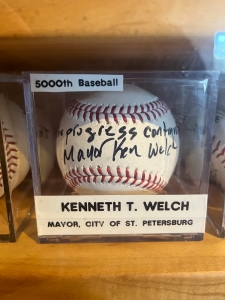 The baseball was added to Schrader's Little Cooperstown, which features the world's most extensive collection of autographed baseballs.
When determining the special 5,000th baseball, Dennis Schrader, collector, and owner of Little Cooperstown, worked with the Museum's Executive Director Rui Farias to decide who would be the perfect addition.
After Welch's historic win as St. Petersburg's first Black mayor, the answer was clear.
"We got a Jackie Robinson right here in St. Petersburg," Schrader said. "Ken Welch is our Jackie Robinson."
This year is the 75th anniversary of Jackie Robinson breaking Major League Baseball's color barrier. Following Schrader's introduction, Mayor Welch spoke about the day's significance in the city and in the world.
"On this day, April 15, 1947, America's pastime and America itself was forever changed for the better when Jackie Robinson became the first African American to play in Major League Baseball," Welch said. "Today, we celebrate the 75th anniversary of Jackie Robinson's MLB debut and the significant impact he made on the sport of baseball and, in turn, our own society."
Welch was joined by two local baseball legends, Rosevelt "Bobby" Swinton and James Oliver, Jr.
Swinton was the coach of the Wildwood Dodgers for 50 years. Oliver played and coached baseball at Morehouse and played Minor League ball for the Cincinnati Reds. He also comes from a family of notable baseball players.
Oliver's brother, Nate, played the same position as Jackie Robinson for the Dodgers 10 years after Robinson. His father, James Oliver, Sr, was known as the "King of Baseball" in St. Petersburg and played shortstop in the historic Negro National Baseball League. He also helped organize the city's first Negro Little League in the 1950s.
"None of us are here because of our own greatness," Welch said. "We're all standing on the shoulders of those who came before us."
Following Welch's signature, Schrader also had an impromptu signing of the 5,001st and 5,002nd baseballs by Swinton and Oliver.
Welch's signed baseball can be found in the center of Schrader's Little Cooperstown Guinness World Record case.