George Stovall recalls delivering ice to residents and businesses as a youngster in the Gas Plant District while working for his family's business.
By Frank Drouzas
ST. PETERSBURG — Hundreds of Black families, businesses, churches, and community spaces were displaced or destroyed by the construction of Tropicana Field. Former residents of the Gas Plant and Laurel Park neighborhoods and their descendants share memories of a safe, supportive, and thriving community and the lasting impact of its demolition.
The story of the Gas Plant and Laurel Park neighborhoods is unique to Pinellas County and has a history repeated across this country and generations of Black and Brown communities. If we are to move forward with race equity, we must know, understand, honor, and be changed by our collective past.
As George Stovall grew up in hot and sunny St. Pete, he did his best to keep everything on ice.
His grandfather, Napoleon Bonaparte Jackson, started the Jackson Ice Company on 11th Street between Central Avenue and what became First Avenue North. As a youngster, long before he was of legal age to drive, he helped deliver ice that the dealers would take around to the Gas Plant area, he explained, adding that he delivered ice to businesses and families at other locations such as Methodist Town and Cooper's Town.
Stovall said he got to know the African-American families in those neighborhoods.
"I got to know their children, their wives, their husbands. I got to know their stories because we delivered ice to their ice boxes and kitchens," said Stovall, noting that there were no refrigerators back in those days.
He recalled stories of hauling ice blocks that weighed 25 pounds and more up flights of stairs and supplying a charismatic traveling Black vegetable vendor, who went by the moniker "Mr. I Got 'Em" and wore a top hat with ice to keep his vegetables fresh.
He also worked in the Jackson plants, so he put ice into all the Black workers' iceboxes and water canisters before they went to work.
"So, I got to know everyone really well as people," he said. "People working just like me."
This was uncommon among his white peers, Stovall pointed out, because of segregation. He recalled at one of the company locations, Jackson Ice Plant #1, there was a sign above a drinking fountain that read, "Whites only." He estimated it had been there for over two decades. One day Stovall had asked his father, whose office was nearby, why they still had such a sign posted. His father simply nodded, smiled, and walked away.
Two or three days later, though, when Stovall walked by that same water fountain, he discovered the sign was gone, and the area above the fountain repainted.
"My father did that, and it made me feel really good!" he said.
At Plant #2, where he also did some work, he took matters into his own hands.
"I changed that sign myself," Stovall recalled, noting that afterward, he sensed a change around the plant. "To me, it made a big difference."
Click here to watch videos of residents recalling their gas plant memories.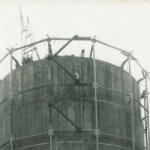 George Stovall recorded his memories of the Gas Plant District on Dec. 12, 2021, at the Gas Plant/Laurel Park Reunion.