CeCe Teneal
BY JOYCE NANETTE JOHNSON, Staff Writer
ST. PETERSBURG — CeCe Teneal stars in a dazzling musical tribute to legendary singer Aretha Franklin, the Queen of Soul. "Portrait of a Queen" will be on stage one night only at the Palladium Theater next Saturday, July 30.
Teneal will take the audience on a musical journey of Franklin's most memorable classics and performances that spans over 50 years. The audience will be treated to 21 songs immortalized by Franklin and vocalized by Teneal, who has become known as a "blues-centric soprano" with a powerful voice that is packed with raw emotion and a sensualized fervor.
The musical showcase presents many of Franklin's songs that have become standards in the music industry; however, it is the stylized interpretation of those songs by Teneal that brings a fresh sound while keeping precious memories intact.
With some of the songs she interacts with the audience and shares a little background history, such as the creation of the classic "Until You Come Back to Me," which she shares was written by Stevie Wonder for Franklin after a chance meeting, or how the song "Dr. Feelgood" was Franklin's confirmation that she could indeed sing.  At seven years old she was singing the song around the house and her mother asked her to sing it again, explained Teneal, who laughed because of the sexual innuendos the song was laced with.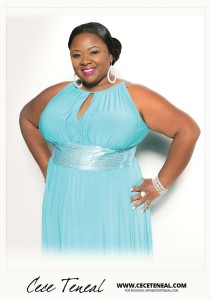 For Teneal the song "Bridge over Troubled Water" has become a haunting tribute to the victims of the recent Orlando massacre that claimed 49 lives.
"It changes with every performance," she explained.
Teneal said the rendition she performs is an opportunity to minister to others.
"It is a sign we have to learn to lean on each other and love each other.  It resonates in my soul right now."
Teneal, originally from Osteen, Fla., is now based in Orlando. She started singing at the age of six at her church.
"My grandmamma said, 'You're either going to sing or usher, one or the other,'" she laughingly reminisced.
She released her debut album "Train from Osteen" in 2011, has performed as a lead singer at B.B. King's Blues Club in Orlando and was a featured performer at the Onyx Awards. She has opened for Mr. King, Regina Bell and Trombone Shorty, and has received many awards and recognitions, including the 2015 Touch the Mic "Muse" Award and 2009-10 Orlando Hip-Hop Award for Best Female Singer.
Teneal created the concept for the show and said she feels a special bond with Franklin.
"My voice and her voice are unique," she explained. "I always wanted to be special.  When I listen to her, she's an individual who can sing anything—soul, blues, jazz, rock."
A lot of Franklin's vintage songs are those of hope and empowerment.  She told the world to "Think" in her 1968 feminist anthem and she commanded "Respect" with just one word.  So get on the "Freeway of Love" with Aretha and CeCe and enjoy the ride.
"Portrait of a Queen" is a presentation of Real People Real Music and produced by Island Breeze Affiliates and Rod Maurice. The musical director is Darrius Jamar and the creative director Jere James.
Don't miss the show July 30 at the Palladium Theater in downtown St. Pete. For more information or to purchase tickets, call (727) 822-3590 or visit mypalladium.org.