More than 500 guests came out to the support the NAACP's Freedom Fund Banquet held June 17 on the historic grounds of McCabe United Methodist Church.
BY FRANK DROUZAS, Staff Writer
ST. PETERSBURG – Looking out over a sea of white, Master and Mistress of Ceremonies Trevor Pettiford from Bay News 9 and Val Trenda of 88.5's Urban Café, welcomed more than 500 guests to the St. Petersburg Branch NAACP 2017 Freedom Fund Celebration.
Under a tent on the historic grounds of McCabe United Methodist Church, as guests dressed in white sitting at tables impeccably decorated in all white, Branch President Maria L. Scruggs gave the occasion saying that the Freedom Fund Banquet "was hosted on Juneteenth as a reminder that freedom ain't free."
The Freedom Fund Celebration is the annual fundraiser for the NAACP that supports operations while giving the branch the ability to advocate on behalf of those they represent.
Costing more than $30,000 to put on, approximately 97 percent of the cost went to black-owned and small businesses within the south St. Pete community.
"The NAACP has no credibility when it goes to sit down with Mayor Kriseman and talk about opportunity and access for our businesses when we are not willing to give opportunity and access to our own businesses," said Scruggs.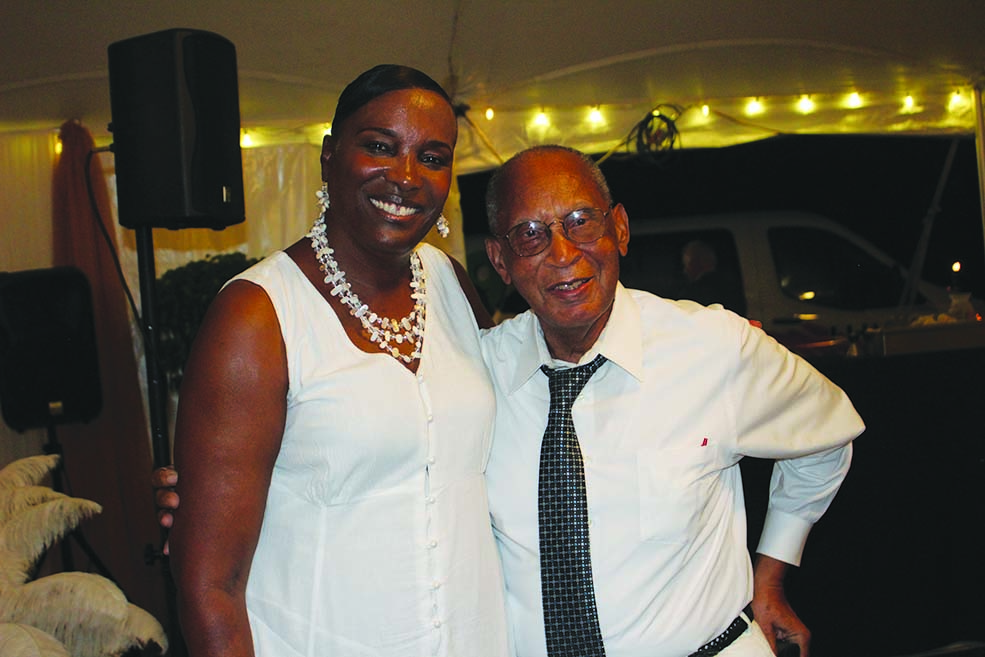 Maria L. Scruggs with Gregory Duckett
The recently-appointed chair of the religious affairs committee of the NAACP St. Pete Branch, Rev. G. Gregg Murray, served as the keynote speaker for the evening.
In the ministry for more than 27 years, he is pastor of the Mt. Zion Primitive Baptist Church and an author and blogger with a large following on social media. Murray has become known as "Facebook's Pastor."
Noting that though President Abraham Lincoln signed the Emancipation Proclamation in 1863, he stated that the "legacy of slavery continued to influence American history from the tumultuous years of Reconstruction to the Civil Rights Movement that emerged in the 1960s[sic], nearly a century after emancipation and even until this day."
Recounting the history of Juneteenth, Murray noted that on June 19, 1865, Union General Gordon Granger arrived in Galveston, Texas, with news that the war had ended and all slaves were free two and a half years after President Lincoln signed the Emancipation Proclamation. This led to an annual celebration.
"The Juneteenth celebration was a time for reassuring each other," Murray said, "for praying together and for the gathering of remaining family members.
Juneteenth continued to be highly revered in Texas decades later with many former slaves and descendants making an annual pilgrimage back to Galveston on that date.
But what of America today, he asked? Who are we and why is it important that we still celebrate Juneteenth? Murray recalled Dr. Martin Luther King, Jr.'s hope that the children of former slaves and slave owners would one day sit down at the roundtable of brotherhood, to discuss their differences and commonalities.
"No part of the table can be higher than the other," Murray expounded. "The legs of the table which hold the table up must be even or the table will wobble and the agenda items on the table can slide off! We have suffered from too much wobbling!"
To get everyone to the table of brotherhood, he continued, there must be "authentic dialogue" and "authentic will."
"If I close my eyes and envision what America is like now," Murray said, "I see three Americas: white, black and gray. Which America do you live in?"
America needs to continue to evolve until every person is recognized as equal, he stated, and embracing diversity should be the focus. As long as the discriminatory isolation of any person because of religion, gender or sexual orientation continues to be an issue, "we will continue to see crippling division with no authentic table of brotherhood."
Murray wondered whether the current executive and legislative branches of our government truly believe in and support such a table.
"How can we move forward toward this table," Murray said, "if over 50 percent of American citizens feel that they have no voice, no concern, no empathy and no understanding, and sadly feel that they are not Americans? America belongs to all of its tax-paying citizens and not to a select few."
Murray praised movements such as Black Lives Matter and noted that now police departments all over the nation are adopting more community-minded strategies and are creating an atmosphere "where people can trust the police." He went on to laud the efforts of such groups as the American-Arab Anti-Discrimination Committee, the Anti-Defamation League, the Asian Pacific American Labor Alliance, Council on American-Islamic Relations, Equal Justice Works, and the NAACP, among many others.
"But then there is the idea of slow gradualism," he said, "which…really means that people are called to soothe the savage beast by urging the movement to slow down, or to cease altogether…and get back to the status quo place."
The people are demanding change now, he asserted, and the resistance is growing.
"The resistance does not want to hear about, 'It's going to take some time.'" he said. "What exactly is going to take some time, anyway," he asked rhetorically.
"The enforcement of the law? Is that going to take some time," Murray asked. "Civil and equal rights for all Americans? Is that going to take some time? Freedom, justice and equality promised in 1776? The killings? The modern day lynchings—is that going to take some time?
"Well, how much time did it take to repeal Obamacare, potentially depriving over 23 million Americans of health care coverage? How much time did it take to round up and expel immigrant Mexicans who only want to work and raise their families and pay their taxes? How long did it take to cut Medicare, affecting millions of our senior citizens?"
Referencing President Donald Trump's campaign slogan, "Make America Great Again," Murray asked, "For whom was it great?"
"Let's just make America great again, period, by all Americans feeling that America is great!" he said.
Though Murray made no bones about voicing his displeasure at the election of Trump, he had a message for the "far left" as well.
"We are no longer interested in programs that hand out free fish," he said, "creating a culture of dependency. We are no longer interested in buying or renting your fishing poles by which to fish. We demand equal access to the oceans and to the rivers and to the lakes and the ponds where we can go and fish for ourselves!"
Sometimes movements come down to two people simply talking face to face, Murray explained, listening to one another and even breaking bread together.
"Sharing hopes and dreams," he said, "sharing ideas and sharing pain as Americans, realizing that ultimately we are all woven together by the fabric and the colors of Old Glory. Realizing that we really all want the same thing: life, liberty and the pursuit of happiness."
Admitting that America is not yet there, he left the audience with a thought-provoking question: "Are we moving closer to it or further from it?"