Students hurrying home from Lakewood Elementary, one of the Transformation Zone schools that would benefit from the elimination of the achievement gap.
BY RAVEN JOY SHONEL, Staff Writer
ST. PETERSBURG – The Pinellas County School District has unveiled a new 81-page plan that aims to "eliminate the achievement gap" between black and white students within 10 years.
Crowley vs. the Pinellas County School Board, a class-action lawsuit filed in 2000, claimed the School Board was denying black children the right to a quality education. Concerned Organization for the Quality Education of Black Students (COQEBS) took over as the plaintiff in 2010.
After more than a year of negotiations, the school district and the plaintiffs announced they have "successfully agreed and have an agreement on methods to move forward with closing the achievement gap in Pinellas County Schools," said Superintendent Dr. Michael Grego.
"We have spent a lot of years with many superintendents trying to figure out how to make this work," said Ricardo Davis, president of Concerned Organization for the Quality Education of Black Students (COQEBS).
Both sides hammered out an agreement that has "aggressive aspirational goals." They will continue to focus on six targeted areas: graduation rates, student achievement, participation and performance of African-American students in advanced coursework, student discipline, special education identification and minority hiring specific to African-American teachers and leaders in the district.
In this new plan, called Bridging the Gap, the district will provide COQEBS with quarterly reports and meet to review information and monitor progress.
Both parties felt a need to develop an accountability system specific to the achievement gap between black and non-black students.  Grego said he welcomes this new accountability system that places "the right and appropriate pressure on us."
"What we have tried to do is work with the district collaboratively and try to come up with a plan of action that we thought had the necessary features included in it that will allow us to make progress and measure it and evaluate it as we go," said Dr. Ricardo Davis.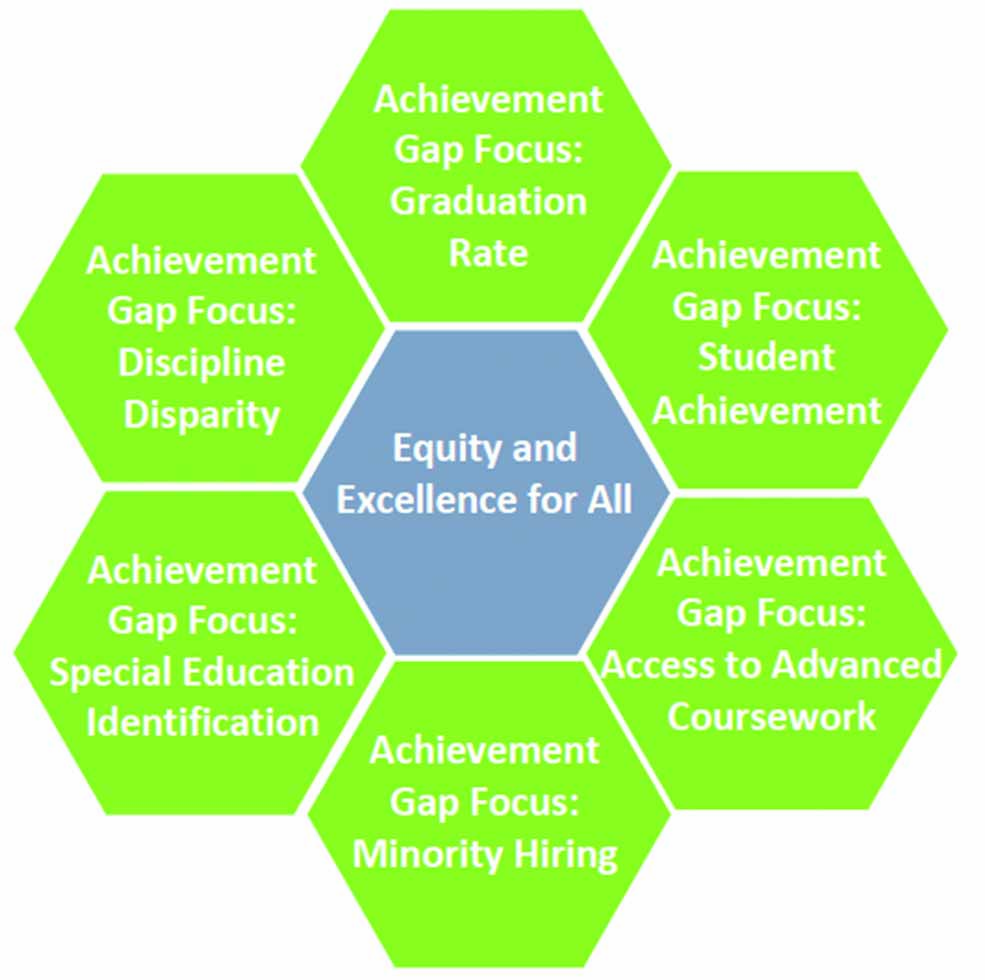 One such goal that will be monitored closely is the acceleration of African-American graduation rates by 1.8 percent greater or faster than the rest of the district in order to close the gap.
COQEBS member Dr. Goliath Davis said the quarterly meetings are to assess where they are with the understanding that "we will be tweaking, monitoring and modifying if necessary."
Deputy Superintendent William Corbett outlined the office of talent acquisition for the recruiting and hiring of more minority staff and informed that every single second-grade student will be universally screened for gifted classes.
"That's to make sure we don't have to worry about what lens somebody is looking through," he said. "Every student will have access to the same testing."
In the plan, each student will have access to extended learning opportunities such as Summer Bridge programs to arrest summer learning loss.
"We have to change the notion that summer school is negative and punitive," said Dr. Goliath Davis. "It's really something that's positive."
The plan also has a component dealing with parental engagement that will help redefine what an engaged parent looks like.
"If you are dealing with a parent that is homeless, whose worry is where the next meal is coming from and does not attend PTA meetings, I will argue that the parent is engaged. Just maybe not in the way we define what parental engagement is," said Dr. Rick Davis.
Key strategies include:
• A personalized learning plan to best meet the needs of individual students.
• A new online program that connects a student's personalized plan to key skills and standards needed to stay on track.
• A district commitment to culturally relevant curriculum, materials and training in support of rigorous, engaging instruction in all classrooms.
• A district commitment to positive behavior supports and interventions and fair and equitable disciplinary practices for all students.
• A district commitment to restorative disciplinary practices, including alternatives to suspension and a reintegration plan for students who receive a suspension to provide them skills to successfully return to the classroom.
• A targeted plan to empower families to better understand their child's academic data, their strengths and weaknesses and the resources available to improve learning in school, after school and at home.
• A targeted plan to recruit and hire a diverse teaching staff through focused and innovative strategies, including a new Grow Your Own program that identifies and supports current black high school students who want to be teachers in our schools.
Minority Achievement Officer Lewis Brinson will oversee implementation of the plan.
Read the complete Bridging the Gap Plan

by clicking here