Director of Pinellas Opportunity Council Carolyn King
BY GYPSY C. GALLARDO & BY ALLEN A. BUCHANAN
ST. PETERSBURG –  The 2020 Plan team welcomed 60 parents – most from Melrose Elementary and John Hopkins Middle schools – for a catered "working dinner" to hear about a host of new and expanded programs to help south St. Pete residents to increase their incomes – in new jobs and as entrepreneurs.
"The effect was immediate," said Cory Adler, executive director of the 2020 Plan Taskforce, "in helping attendees connect on the spot."
Alder witnessed one attendee get hired that evening for a welding job, and one mother currently employed as a certified nursing assistant decided to go into the 2020 Healthcare Career Ladder program at Pinellas Opportunity Council, which will give her wrap-around and financial support to become a Licensed Practical Nurse.
"I left this event with hope, encouragement and self-empowerment," said Nicole Marion, a mother of three children attending Melrose Elementary. "The community really appreciates this event. I was really impressed by the amount of resources available to the community."
"She isn't alone," said 2020's Director of Programs Rod Cunningham. "Too many parents are struggling financially and emotionally and don't know about or know how to connect to the wealth of new programs by local funders and service providers to help them stabilize their families and grow their earnings."
Cunningham, a 29-year retired Air Force veteran, speaker and author, recruited a dozen resource partners and service providers to share with parents how their specific programs can help.
On hand were Pinellas Technical College, the Urban League Career Connection Center, Pinellas Opportunity Council, Inc., the City of St. Petersburg, Branch Banking and Trust and the Tampa Bay Black Business Investment Corporation (BBIC), among others.
BBIC Advisor Andrew Ware talked about how his organization supports minority entrepreneurs with the willingness to learn and the drive to succeed in fulfilling a vision of business ownership.
"We provide funding for anyone who aspires to become an entrepreneur," said Ware, who continued by defining the word capital.
"Man, if I only had capital I could do my business," said Ware, mimicking what most want-to-be business owners think capital is. He then referred to the Latin root capitas, which means having "knowledge in the head."
Ware said when he sits down with a client he tries to talk them out of starting their own business and make them convince him their ideas are worth moving forward.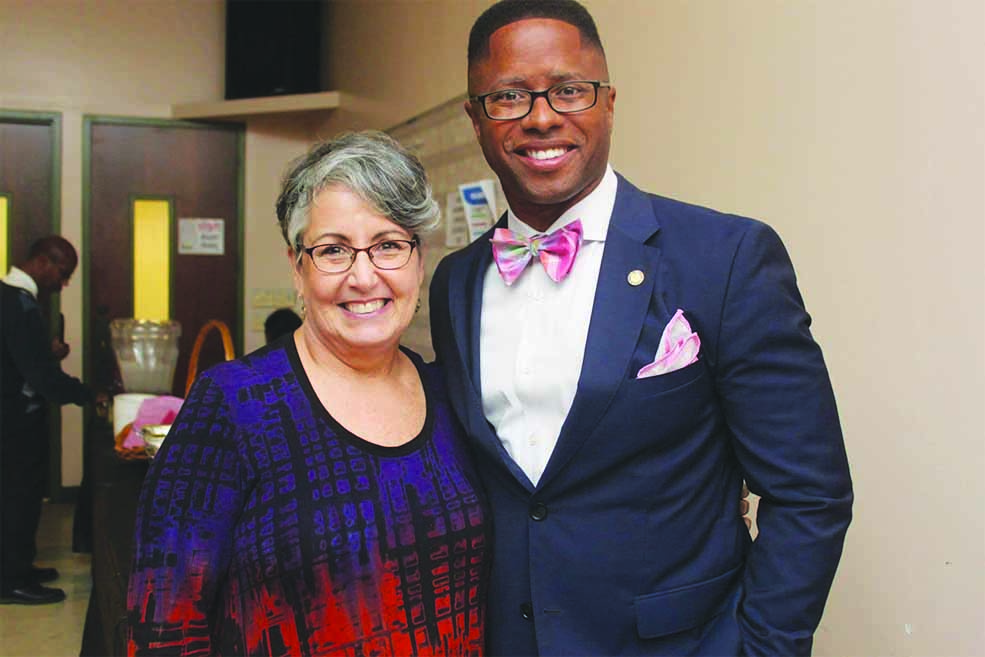 "Never ever, ever go into business to make money. You go into business to be that change agent," he said, meaning a person with conviction can open new avenues of enterprise and opportunities in their community.
The BBIC provides a 15-week entrepreneurial training and $2,500 as startup capital when entrepreneurs complete the program successfully. For more information, call (727) 826-5785 or (813) 274-7925.  Information is also available at tampabaybbic.com .
Pinellas Metro Re-link program representatives were available to share information about the transitional services that they offer ex-offenders ages 18-26 years old who have been released from prison within their first 30 to 60 days back into their communities.
According to Re-Link representative Marcia Simon, the program works with ex-offenders up to one year to help them integrate back into the community.
"We kind of provide a re-linkage [for returning citizens] throughout the community," said Simon, adding that their goal is to prevent recidivism.
Case manager Nishay Clark Baptiste handles newly released ex-offenders who may have issues such as behavioral health, education, housing or medical care, and helps link them to services.
For more information about Metro's role in working with young adult ex-offenders, call Clark Baptiste at (727) 321-3854×213.
Director of Special Programs at the Pinellas Ex-Offender Re-Entry Coalition (PERC) Tommie Gillis also helps ex-offenders get back into the workforce.
A job developer for a program called Career Pathways, Gillis finds training dollars available to enhance employment for returning citizens with short term training," said Gillis.
He pointed out that in many instances, ex-offenders getting out of prison do not have enough time to go to school full time, but they can find the time to finish a four to six-week certification class. From that point, Gillis said that his organization can help them find employment.
The Career Pathways program can be found at exoffender.org or by calling 1-855-505-PERC.
Chrissy Jackson with Eckerd College Academy of Senior Professionals stated that the nonprofit Kaufman Foundation provides Ice House training "aimed at producing an entrepreneurial mindset." The organization recently finished training three people who will start their own business this year.
"It's a nine-week program for three hours a night," said Jackson, who pointed out the next class is in April.
Manager at Neighborhood Initiatives of Suncoast Mamie Jackson was on hand to talk about the organization's work on decreasing poverty within the community.
"We're providing programs currently at the Cross and Anvil Resource Center by providing people with financial assistance and legal services," said Jackson.
Jackson added that the organization also provides copying, printing and notary services to the community.
Le'Kesha O'Neal representing St. Petersburg College talked about their programs for community youths, highlighting their phlebotomy program.
A phlebotomist draws blood from patients for clinical or medical testing, transfusions, donations or research, and within four to six weeks, a student can sit for their national certification. Once a license is obtained, the college helps place them in a job.
"We pay for everything including the certification," she said.
For additional information, contact O'Neal (727) 341-3069.
Guest speaker, Carolyn King, executive director of the Pinellas Opportunity Council, introduced the three new programs her staff has created over the past two years to expand the number of low-income people in south St. Pete helped by the agency to qualify for new or higher paying jobs.
"There is more help available, and we felt it critical to partner with schools – especially where the challenges are greatest – to help them strengthen parents and families, in addition to what they're doing to raise student achievement levels," she said.
King is a Core Team member of the 2020 Plan Taskforce.
The two school principals – Nikita Reed from Melrose and Barry Brown at John Hopkins – lent their support to the effort by sponsoring RoboCalls to parents and allowing 2020 staff to pass out flyers in the child pick up area to promote attendance.
Pastor Martin Rainey, founder of the Parent Support for Education Council, was "a force in outreach," said Cunningham. Rainey's team volunteered to walk the neighborhoods surrounding the schools to distribute flyers.
Jack Fletcher's team of Men of Yesterday, Today and the Future did likewise, distributing flyers to reach more Melrose parents in the week prior to the event.
Cunningham expressed heaping gratitude to other volunteers, such as Manitia Moultrie and Denise Smith of the AKA Academy for recruiting four young ladies to volunteer as greeters, and Tony Chan, a city employee who volunteered his off-time to promote job openings he's identified as part of the city's effort to rev up south St. Petersburg employment levels.
Other service providers who pitched in were United Way's Campbell Park Resource Center, BB&T Bank, Metro Wellness and the Ice House program.
As a next step, the 2020 team plans to host another forum at the start of the new school year on Sept. 12. The goal this time is to welcome 100 or more parents from south St. Petersburg who can be connected to pathways to higher earnings.