J.A. Jones, Staff Writer
TAMPA — The "Keep Families Together" rally Saturday, June 30 at Tampa's Joe Chillura Courthouse Square was an opportunity for all of Tampa Bay to unite and speak out against the current administration's policies around refugees and people seeking asylum in the U.S.
While the administration has changed the current policy from "family separation" to "indefinite family detention," those in attendance joined millions in more than 700 cities nationwide to question how the president and his staff plan to rejoin the more than 2,000 still separated families.
And for many, it was also an opportunity to draw connections with the plight of those closer to home – Floridians who have lost one of our most important citizenship rights:  the ability to vote.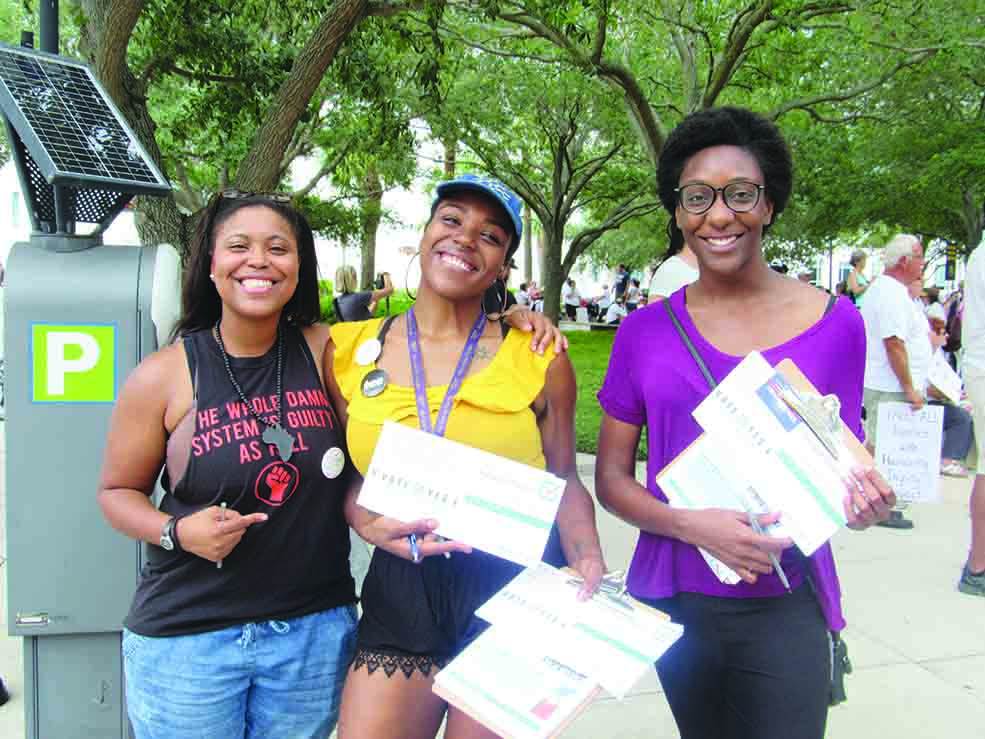 Leo Dulanto, who was at the rally and is originally from Peru, spoke on behalf of thousands of families being held in prison-like detention centers that have been described as "inhumane" and cruel, especially for children still separated from their parents.
Dulanto, who suffers from PTSD and ongoing suicidal ideation, spoke in front of the hundreds gathered at the square, describing the fear and mental trauma endured by those who live as undocumented citizens.
"Living here as an immigrant is traumatic enough, but what the families at the border are experiencing is torture."
Girsea Martinez-Rosas recounted the tragic path of her two immigrant parents but also spoke of drawing strength from black and brown civil rights workers of the 1960s.
"Today I am here with anger," she said, recalling a day when she came home from school and found that her father had gone to work and been arrested and immediately deported because of a broken taillight.
She also spoke of her mother, who passed from cancer after years of spiraling health and lack of treatment.
"I'm angry because her undocumented status meant she couldn't be treated with dignity and humanity…and she lived here in the United States, and never got to know the true feeling of freedom."
But, Girsea said she was choosing to protest and fight for the families impacted by family separation with love rather than anger.
"There are others who have come before us with anger," noted Girsea. "Dr. Martin Luther King speaking to civil rights leaders and activists was angry too… but instead of only acting on anger, he spoke about a strong and demanding love. He said that anger and hate were too strong of a burden to bear."
Activists were also there to bring attention to the plight of nonviolent felony ex-offenders who have lost their voting rights.
Dream Defenders were among other organizations canvassing for signatures to commit to voting "Yes" to Amendment 4, the voting restoration amendment. Amendment 4 returns voting rights to those with prior non-violent felony convictions who've completed their entire sentence. The amendment excludes those who have committed murder or a felony sexual offense.
Currently, more than a million people in Florida have permanently lost their voting rights due to a felony conviction. Florida is one of only four states with a lifetime ban on voting.
Eli, a member of Dream Defenders, spoke both as the child of an immigrant and as an activist working to restore voting rights to Floridians.
While she shared that she was separated from her mother for five years due to immigration laws in the early 2000s, today, Eli said she feels "it's crucial to not hoard privilege around this time. Even I, as an American citizen with an immigrant mother and grandmother, still manage privilege. It's my responsibility to advocate and be a voice for those that don't have a voice through voting this Nov. for Amendment 4."
Eli discussed the importance of restoring voting rights for black, brown, indigenous and poor white people who were impacted by the current laws, encouraging those in attendance to help restore voting rights to those who had paid their dues, done their time, and now just want to be productive members of society.
As storm clouds gathered and thunder echoed through the sky, the rally was cut short. But not before Eli offered the crowd a fundamental question to ponder as they dispersed.
"How can we help each other and the people coming and seeking refuge if our own people are oppressed and disenfranchised from their abilities to make a difference in their communities?"
For more information on the Second Chances Florida, visit

secondchancesfl.org

.
To reach J.A. Jones, email jjones@theweeklychallenger.com.