PINELLAS COUNTY — Before you know it, the first day of kindergarten will be here. And to assist parents in their preparation for the start of their child's formal education, Pinellas County Schools is hosting Ready, Set Kindergarten events throughout the district. Events will be held Jan. 15, 16 and 17 at neighborhood schools.
At the Ready, Set Kindergarten events, parents can register for kindergarten, explore classrooms, meet teachers and learn about opportunities to get involved. They can also find out about great programs available, such as art, music, gifted programs, science labs, STEM academies, physical education and other enrichment programs.
Check the Ready, Set Kindergarten schedule at www.pcsb.org/kg to find out details for the elementary school near you.
Tips to help your child transition to kindergarten.
One of the most important things you can do is read to your child and talk together about what is happening in the story as you read.
Help your child look at the pictures to understand the story.
See if your child knows how to turn pages as you move through the story.
Nonfiction books are a great way to learn about science and social studies.
You can talk about the pictures and share some of the information about the topic.
Each day, let your child select a book for you to read aloud.
Visit your local library to expand the number of books your child has access to.
Go online and read a digital book
Learn more tips and find more tools at www.pcsb.org/kg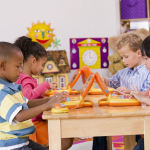 UPCOMING
The students from Melrose Elementary, John Hopkins Middle and Lakewood High schools will present the Through Our Eyes: Midtown and Beyond. The photo and multimedia exhibit will be held Jan. 11- 28 at The Studio@620 located at 620 First Ave. S, St. Petersburg. An opening celebration, which will feature student-led tours, will be held from 5-8 p.m. Friday, Jan. 11 at The Studio@620.
A Poetry Slam and Second Saturday Artwalk will be held Sat., Jan. 12, 5-8 p.m. A Taste of Midtown and Beyond will be held 5-8 p.m. Wed., Jan. 16. This is a great opportunity to view the exhibit while sampling the finest fare of local restaurants and food vendors.
This is the annual Journeys in Journalism Exhibition and is a result of Pinellas County Schools' Journeys in Journalism program. The Journeys in Journalism program immerses K-12 students in multimedia journalism training and results in the annual student exhibition.