Lines ran outside of the sanctuary at McCabe United Methodist Church last Thursday to cast ballots in the NAACP election
BY RAVEN JOY SHONEL, Staff Writer
ST. PETERSBURG – The people have spoken. Maria L. Scruggs has been re-elected as president of the St. Petersburg Branch of the NAACP. Despite dissatisfaction over her leadership approach, interactions with the public and elected officials, she garnered enough votes to stay in office.
National and state officers descended upon McCabe United Methodist Church to oversee the election process last Thursday, March 14. Scruggs, 61, staved off Rev. G. Gregg Murray, senior pastor of Mount Zion Primitive Baptist Church, who said he watched how the St. Pete branch has "been reduced to nonsensical Facebook ramblings by its president."
The national office canceled the Nov. election because of reported disputes over Murray's eligibility to run for office and the election process in general.
Murray, 59, who was nominated by Scruggs to chair the religious affairs committee, said she was "disrespectful and couldn't work with people." Scruggs then accused him of being in the pocket of Mayor Rick Kriseman, one of the elected officials who has been on the receiving end of her ire.
Thursday night, Scruggs approached Pinellas County School Board Chairwoman Rene Flowers about her comments in the Tampa Bay Times, and Flowers responded, "I meant every word of it." Flowers told the Times that the NAACP "should not be an organization where the president utilizes the organization as a pulpit to denigrate individuals who do not agree with her."
After the results were tallied, Kevin Myles, NAACP Southeast Regional Director, had a few admonishments for the small crowd that stuck around until after 10:30 p.m. to hear the results.
"We all supposedly want the same things. If we can't move our ideas through a group that we all participate in voluntarily that's trying to do the same things, you will always get eaten up when you go outside," said Myles. "You will always get eaten up because your divisions are too far or too great…"
Rev. Basha Jordan, Jr. asked for some solutions on how to mend the riffs and come together as an organization that
"You guys are people who fight as a hobby," said Myles. "You don't get paid for this. You spend your own money to do it. You fight for people who you don't know. You fight for people who are not always grateful for the fact that you are fighting. If you are not focused on the fight on the outside, a room full of people who fight as a hobby, you're going to fight on the inside. Whenever I see infighting like this, it is indicative of the fact that the work on the outside is not getting done."
Myles said in every community he's gone to, there has been a suspension and expulsion crisis, black communities with torn up streets, problems with minority contracting, inadequate summer jobs for youth and the black community receiving around one percent of the city, county and school board budgets.
"If you are not fighting those things, a room full of fighters will turn on each other."
Don Brown, first vice president of the Florida State Conference of the NAACP, gave a stern warning to the St. Petersburg branch.
"I've been here before, and I'm back again, but come back again is going to be a reorganization. I want you to understand what that means. When you reorg that means no one who's currently holding a position will be able to run for a position."
Scruggs said the branch is not in turmoil and "we work as a team."
"What we don't control is the people that aren't even on a team that show up and disrupt," she said, adding that they are in compliance with national and state.
When she asked for advice on dealing with disruption from the "outside," Myles told her she has "to be very clear on exactly what you're doing and why" and that it's time to mend fences.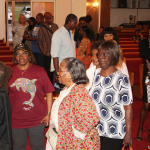 "The folks who are arguing with are the same folks you got to win back over, and you got to have them at the table, he said. "And that is the measurement, that is the determination as to when you guys are pulling it together…"
More results from the March 14 election included Nick Wright, first vice president; Deborah Figgs-Sanders, second vice president; Harry Harvey, third vice president; Lydia Brown, secretary and Kent Channer, treasurer.