(Family Features) Italian cuisine has influenced food culture around the world, and is often viewed as an art form that includes the freshest, most authentic ingredients, prepared with passion and served with love to family and friends. Mealtime is a celebration, captured by the classic Italian proverb, "You never grow old at the table."
Americans have celebrated Italian food for decades. Classic Italian dishes have been joined by refreshing, modern twists on tradition that help keep the love affair alive and well with this simple, colorful, flavorful, healthy cuisine.
Born in Lucca, Italy, in 1867, Filippo Berio Olive Oil celebrates 150 years of culinary passion and artistry by combining traditional ingredients in contemporary, unexpected recipes that can help you savor the moment.
A Culinary Journey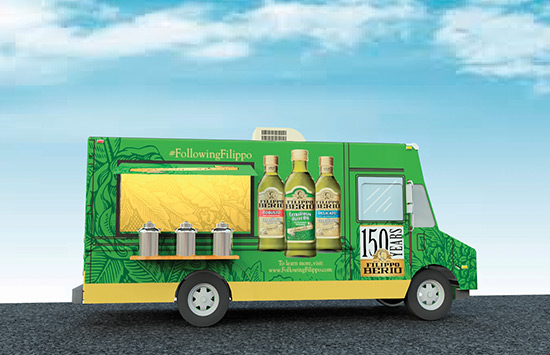 As part of its 150th anniversary celebration this summer, a Filippo Berio Food Truck will make a culinary journey from coast to coast. Guests at the truck can sample delicious olive oils, and consumers nationwide are invited to enter a sweepstakes to win a week-long culinary experience at Toscana Saporita, a premier Italian cooking school in Tuscany, Italy.
For every sweepstakes entry, Filippo Berio will donate $1 to the Careers Through Culinary Arts Program (C-CAP), an organization supported by Filippo Berio since its foundation in 1990 that helps prepare disadvantaged youth for jobs in the restaurant and hospitality industry.
For additional details, including tour cities and dates, and how to enter the sweepstakes, visit FollowingFilippo.com.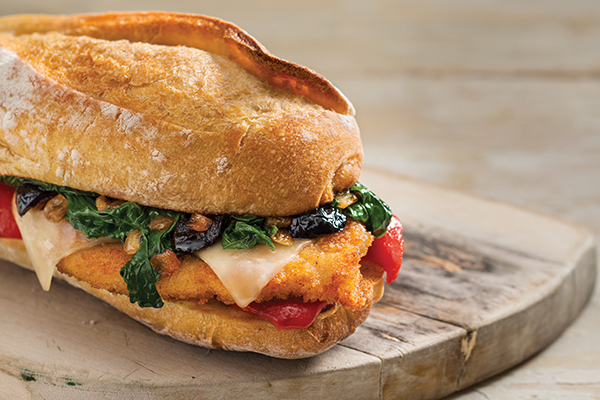 Chicken Cutlet Broccoli Rabe Sandwich
Recipe courtesy of Chef Mary Ann Esposito
Prep time: 17 minutes
Cook time: 13 minutes
Servings: 4
4          tablespoons Filippo Berio Olive Oil, divided

1          small onion, diced

1          pound broccoli rabe, stems removed and leaves cut into 2-inch pieces

1/4       teaspoon red pepper flakes

1/2       teaspoon fine sea salt, divided

freshly ground black pepper, to taste

6          oil-cured black olives, pitted and diced (optional)

1/3       cup all-purpose flour

4          chicken cutlets (about 1 pound total)

1          egg, beaten

1/2       cup bread crumbs, toasted

8          slices bread, toasted

4          slices provolone cheese (optional)
In 10-inch saute pan, heat 2 tablespoons olive oil over medium heat; saute onion 3 minutes, or until translucent. Stir in broccoli rabe and red pepper flakes; cover and cook over medium heat 2-3 minutes, or until broccoli rabe is wilted. Sprinkle with 1/4 teaspoon salt and pepper, to taste; stir in olives, if desired. Transfer mixture to bowl; cover and keep warm.

In small paper or plastic bag, combine flour and remaining salt. One at a time, add chicken cutlets; shake to coat each cutlet in flour then transfer to plate. Dip cutlets in egg then bread crumbs and return to plate. Set aside.

In skillet over medium-high heat, heat remaining olive oil. Working in batches, brown chicken, cooking 2-3 minutes, or until golden on each side and no longer pink inside.
To serve: Top each bread slice with one chicken cutlet; spread with broccoli rabe mixture. Top with slices of provolone, if desired. Top with remaining bread.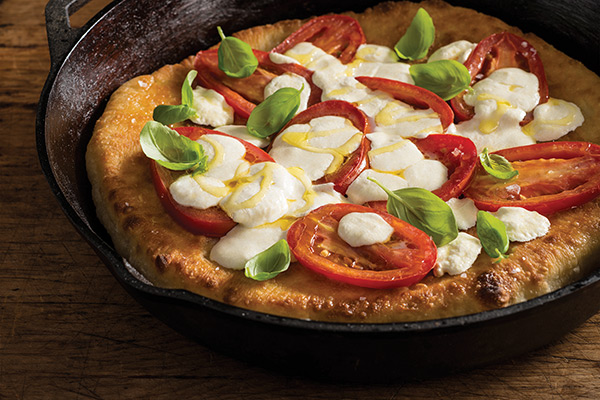 Cast-Iron Skillet Pizza
Recipe courtesy of Chef Mary Ann Esposito
Prep time: 10 minutes
Cook time: 20 minutes
Makes: Two 9-to-10-inch pizzas
1          pound store-bought pizza dough, at room temperature

1          ripe tomato, thinly sliced

1/4       pound fresh mozzarella cheese, diced

coarse sea salt

2          tablespoons Filippo Berio Extra Virgin Olive Oil

1/2       cup shredded fresh basil
Heat well-oiled cast-iron or nonstick 10- or 12-inch frying pan over medium heat 5 minutes.

Divide dough in half; roll one half into round 1 inch smaller than diameter of pan. Cook dough in hot pan until dough begins to rise and bottom starts to brown. Using metal spatula, turn carefully. Layer half the tomato slices over dough; scatter half the mozzarella over top. Lower heat to medium-low; cook until mozzarella melts.

Using metal spatula, transfer pizza to cutting board. Sprinkle with salt; drizzle with half the olive oil. Cut into wedges; sprinkle half the basil over top.

Repeat with remaining ingredients.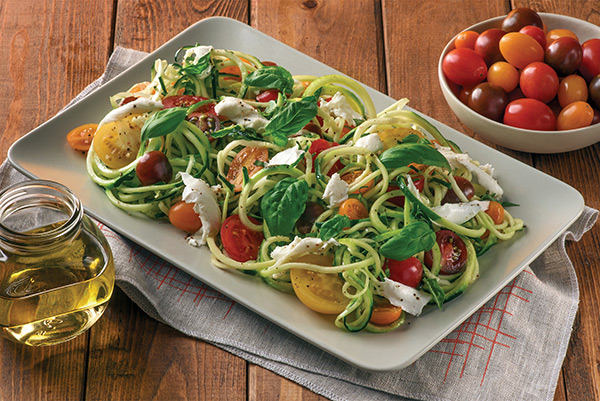 Caprese Zucchini Noodle Bowl
Prep time: 15 minutes
Total time: 25 minutes
Servings: 4
4          medium zucchini, spiralized (instructions at right)

1/4       cup Filippo Berio Delicato Extra Virgin Olive Oil

2          tablespoons white balsamic vinegar

1/2       teaspoon salt

1/4       teaspoon freshly ground pepper

1 1/2    cups heirloom cherry tomatoes, halved

1/4       cup packed chopped fresh basil

1          ball (8 ounces) burrata cheese, torn
Toss together zucchini, oil, vinegar, salt and pepper; let stand 10 minutes, or until zucchini starts to soften.

Gently stir in tomatoes and basil. Divide salad among four bowls. Top with cheese.
How to Spiralize Zucchini
Use zucchini at least 2 inches in diameter for best results. Trim ends of zucchini.

Place spiralizer on smooth surface, such as a countertop, pushing down to adhere suction cups onto surface and secure machine for spiralizing.

Place desired blade into spiralizer. Turn zucchini into long strands, trimming with clean kitchen shears as needed.
SOURCE:
Filippo Berio