BY ALLEN A. BUCHANAN, Staff Writer
ST. PETERSBURG – The Kwanzaa holiday sparkled with an infusion of youth at each celebration of the seven principles around the city.
A relatively new holiday, Kwanzaa is celebrated from Dec. 26 – Jan. 1 and was created in 1966 by Dr. Maulana Karenga, a professor of Black Studies at California State University.
After the Los Angeles Watts riots, which lasted six days and resulted in 34 deaths and thousands of injuries, Karenga searched for a way to bring African Americans together as a community.  His research led him to Africa and the "first fruit" harvest celebrations of the Ashanti and Zulu tribes. Fifty-two years ago, the framework of Kwanzaa was born.
The name Kwanzaa is derived from the phrase "matunda ya kwanza," which means "first fruits" in Swahili. Each family or community celebrates Kwanzaa in their own way, and celebrations usually include singing and dances, storytelling, African drums, poetry reading and a large traditional meal.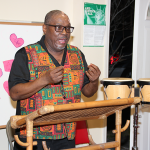 On each of the seven nights, the family gathers and a child lights one of the candles on the Kinara (candleholder), then one of the seven principles is discussed.
The principles, called the Nguzo Saba (seven principles in Swahili), are values of African culture, which contribute to building and reinforcing community among African Americans. Also, Kwanzaa has seven basic symbols that represent values and concepts reflective of African cultures.
Kwanzaa has seven core principles or Nguzo Saba:
1- Umoja: Unity
To strive for and maintain unity in the family, community, nation and race. Held Wednesday, Dec. 26 at NeoSoul Café.
2 – Kujichagulia: Self-Determination
To define ourselves, name ourselves, create for ourselves and speak for ourselves. Held Thursday, Dec. 27 at Moore's Chapel A.M.E. Church.
3 – Ujima: Collective Work and Responsibility
To build and maintain our community together and make our brothers' and sisters' problems our problems and solve them together. Held Friday, Dec. 28 at the Carter G. Woodson African American History Museum.
4 – Ujamaa: Cooperative Economics
To build and maintain our own stores, shops, and other businesses and to profit from them together. Held Saturday, Dec. 29 at Reader's Choice Book & Gift Store.
5 – Nia: Purpose
To make our collective vocation the building and developing of our community in order to restore our people to their traditional greatness. Held Sunday, Dec. 30 at the St. Petersburg Islamic Center.
6 – Kuumba: Creativity
To do always as much as we can, in the way we can, in order to leave our community more beautiful and beneficial than we inherited it. The community was asked to celebrate day six on their own.
7 – Imani: Faith
To believe with all our heart in our people, our parents, our teachers, our leaders, and the righteousness and victory of our struggle. Held Tuesday, Jan. 1 at the Enoch Davis Center.
The last night of the Kwanzaa ceremony honors the community by acknowledging its youth and elders. This year, donations were given to the Kwanzaa committee to buy presents that were handed out to seven children under the age of five. The eldest in the "village" were also honored–Ralph Allen, 88, and female Peggy Ann Anderson, 80.
The night ended with a feast of delectable dishes such as fried chicken, macaroni, collard greens and desserts galore. With the familiar drum beats of African rhythms playing throughout the night, those who attended culminated the holiday of Kwanzaa as it was intended–immersed in the rich African heritage and acknowledging their ancestors, elders, and those who made cultural contributions to life in America.