BY ALLEN A. BUCHANAN, Staff Writer
ST. PETERSBURG – Millions of those within the African community celebrated Kwanzaa from Dec. 26 to Jan. 1, and St. Pete was no different. There was food, decorations, cultural objects, African drumming and dancing. It was a time for communal self-affirmation.
In 1966, Maulana Karenga, an African-American professor of Africana studies, activist and author, created the pan-African holiday of Kwanzaa. The word Kwanzaa is derived from the phrase "matunda ya kwanza," which means "first fruits" in Swahili, the most widely spoken African language.
Kwanzaa is a celebration with its roots in the Black Nationalist Movement of the 1960s. Karenga established it after the Watts Riots in Los Angeles to help African Americans reconnect with their African cultural and historical heritage by uniting in meditation and study of African traditions.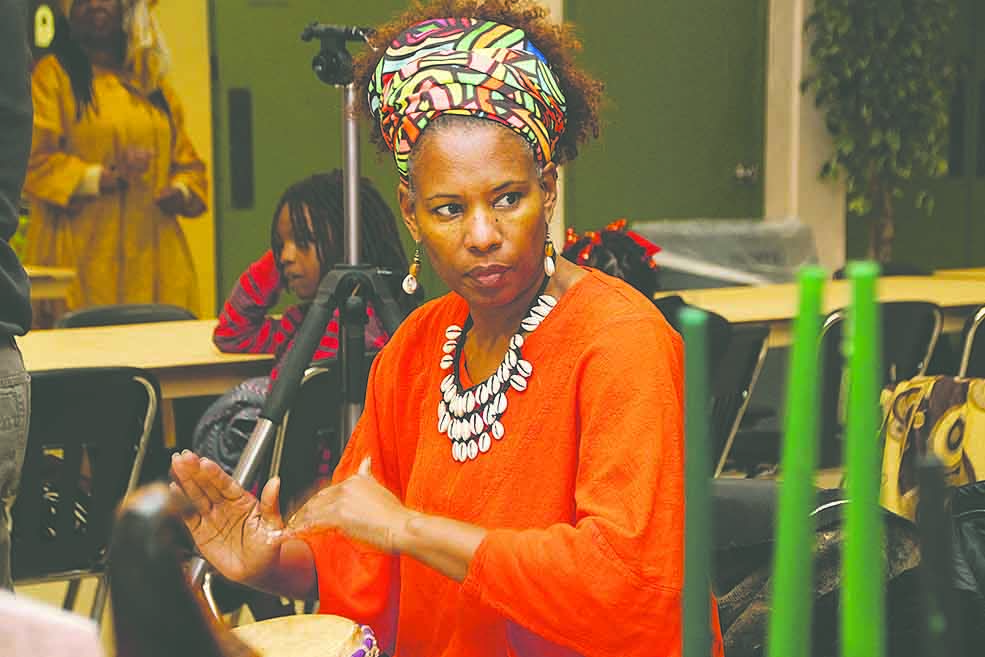 Each day of Kwanzaa is devoted to celebrating the seven basic values of African culture or the "Nguzo Saba," which in Swahili means the seven principles. Umoja (Unity), Kujichagulia (Self-Determination), Ujima (Collective Work and Responsibility), Ujamaa (Cooperative Economics), Nia (Purpose), Kuumba (Creativity) and Imani (Faith) provided the fuel of hope for the future as each Kwanzaa principle was individually revisited at various locations around the city such as St. Petersburg Islamic Center and Moore's Chapel A.M.E. Church.
The culminating event took place at the Enoch Davis Center where each year a male and female participating elder is honored. Peggy Ann Buchanan, 79, and Rafael Allen, 88, were invited to be seated at the front of the auditorium to be honored for their longevity.
A spirit of communal warmth filled the auditorium as everyone bid farewell and headed out into the biting winds from the onset of the first major cold front of 2018.
Kwanzaa Black Male Summit highlights future leaders
Gathering more than 50 African-American males of all ages in the same space to celebrate academic, entrepreneurial and personal development is a welcomed paradigm shift that has taken place and continues to expand through the city's youth program Cohort of Champions.
City of St. Petersburg Director of Community Intervention Rev. Kenny Irby and Cohort of Champions and Youth Coordinator Carlos Daniels shared beaming smiles as the young men ranging from middle school age to college strolled into the Enoch Davis Center last Friday, Dec. 29 to close out the year with a celebration of success.
 The Kwanzaa Black Male Summit attested to the success that is possible for young African males to achieve when empathic leaders from all sectors of the community and all walks of life come together with an attainable plan of action.
"This is a celebration for black men and all young men," said Daniels.
"I am Malcolm Luther Mandela and I come from the Kingdom of Heaven," said program moderator Larry Bryant.
The name Bryant took on represents three iconic black leaders that brought the fight for civil rights and the end of segregation to an international stage for the world to witness and respond. Malcolm X, Dr. Martin Luther King, Jr. and Nelson Mandela were the epitome of sacrifice without an asking price.
Tremon Reece, who is now attending the University of Indiana, praised the Cohort of Champions program for giving him motivation and focus.
"I wasn't bad but I was veering off in the wrong direction," stated Tremon, remarking that he found himself adjusting to the program's classes and developed a positive mindset to continue and excel. He entered college on a full scholarship.
Chase Daniels demonstrated the positive effects of the program during the summer academic and recreational program. Every other day he would approach his teacher during or between classes and say something positive and encouraging.
When other students would try to sidetrack a teacher or be disrespectful, Chase would not say anything, but the look on his face would express the embarrassment he felt for his cohorts while he showed empathy for his instructors.
Isaiah Hilton shared the entrepreneurial skills he gained motivated him to start his own lawn care service business in his community. He also learned how to create his own business cards to market his services.
Cohort of Champions has grown to 170 members in less than a year as it continues to expand. To see the young men engage in conversations with their fathers and other men in the community was an inspirational sight that should occur more often.
For anyone interested in any of the Cohort of Champions programs, Daniels can be contacted at the Enoch Davis Community at (727) 893-7134.