ST. PETERSBURG — MUSE is back honoring local artists and celebrating our City of the Arts at the fabulous Morean Center for Clay in the Warehouse Arts District on Friday, March 4.
MUSE celebrates the diversity of all the arts and culture in St. Petersburg. It pays tribute to the remarkable talent and variety that can be discovered around every corner of our amazing city. Celebrate with all of us, as you will experience an evening of visual and performing art that will lighten your heart and lift your spirits! Our goal is to share all that art can do – communicate, inspire, connect, and deliver limitless possibilities.
Gourmet delicacies and cool libations will awaken your taste buds. Music will make you tap your toes and want to dance. SPAA promises some of St. Pete's finest entertainers — present and future. We will showcase arts in forms that will delight you with engaging displays and outstanding performers.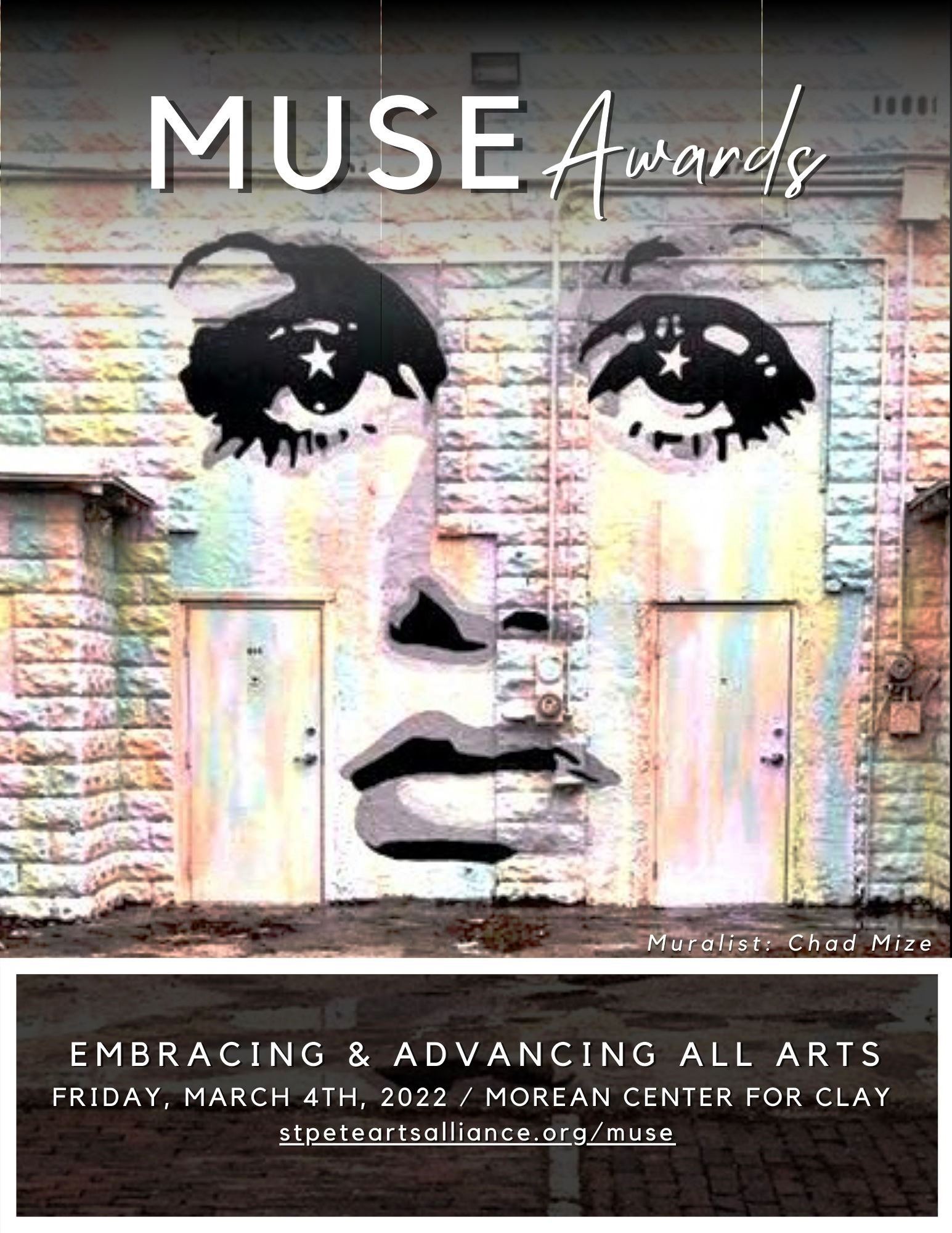 Paul Wilborn and Eugenie Bondurant again host the event! For information and to purchase tickets, please visit stpeteartsalliance.org/muse/. Congratulations to these MUSE Award Honorees!
MUSE Visual ArtsAward Honoree, ZuluPainter (Carlos Culbertson). Zulu is a local multi-media artist who works in traditional mediums and body paint, special effects and scenic art. An aerosol-based mural artist, Zulu Painter's work can be seen across Florida, and whose murals in Historic Midtown have lent to the art revitalization in this bustling area.
MUSE Performance ArtsAward Honoree, Matthew McGee. Matthew has been performing for over 20 years as an actor and drag artist. His irreverent drag style is a mix of high camp and 1960's Hollywood cocktail party glamour. Matthew has appeared in musicals and plays in and out of drag as an actor. He has received numerous awards and accolades, including BroadwayWorld.com's Favorite Leading Actor in a Musical, Theatre Tampa Bay Award winner for both Leading and Featured Actor in a Musical and has been voted Best Local Drag Performer in Creative Loafing's Best of The Bay issue.
MUSE Literary ArtsAward Honoree, Gloria Muñoz. Gloria is a Colombian American author who writes across genres for children and adults. Her poetry book Danzirly won the Academy of American Poets Ambroggio Prize. A literary translator and advocate for multilingual writing, Muñoz was awarded Lumina's Multilingual Nonfiction Prize. She was also recently part of Tin House's inaugural Young Adult Fiction Workshop.
MUSE Patron of the Arts Award Honorees David and Becky Ramsey. David and Becky have been avid art collectors for the past 40 years in St. Petersburg. They first began collecting from Florida Craft Art and have supported the organization the entire time. Their collection primarily includes craft arts (glass, clay, textile, and sculptural work). Both have been supportive of local art organizations as well.
MUSE Arts AmbassadorAward Honoree, Chad Mize. Chad Mize is a multi-media artist, designer and muralist residing in St. Pete. He was born in New Orleans in 1974 and then moved to Tampa Bay where he spent most of his childhood. An early interest in art earned a BFA in Visual Communications at the University of Mississippi. With a love for past and contemporary culture, he takes a humorous, tongue-in-cheek approach to his designs, including playful free-flow artworks, colorful patterns, political art, and graphics with text.
MUSE ART AND TECHNOLOGY AWARDHonoree, Matthew Walker, PixelStix – Matthew Walker has been a solutions architect for over 25 years with significant contributions in Telcom and Healthcare and playing a leadership role in a variety of startups. His latest work has been creating solutions to the human experience in an online world using the same tools used.
The St. Petersburg Arts Alliance strives to be the umbrella organization for the arts — advocating for the arts, facilitating the growth of the creative arts community, and driving arts-related economic development in St. Petersburg. For more information, visit www.stpeteartsalliance.org