Stantec, a design, engineering and architecture firm, determined that some graves of Black residents remain on the Tropicana Field site.
ST. PETERSBURG — Sugar Hill Community Partners (SHCP), a proposer to redevelop the Historic Gas Plant, have shared their plans to create a memorial park to recognize three historic cemeteries identified on or just off the Historic Gas Plant site.
The cemeteries include Moffett and Evergreen (located under the I-175 spur) and Oaklawn, located just west of 16th Street South along the project's southern boundary. SHCP will set aside most of the historical Oaklawn Cemetery land to create Laurel Heritage Park, preserving the memory and dignity of the people laid to rest through the seeding of a native meadow.
SCHP's plans envision a boardwalk over the southern portion of the park, providing a place for remembrance and reflection. The northern part of the park, adjacent to land that SHCP has set aside for a new African-American History Museum, will function as a multi-use space for gatherings and events.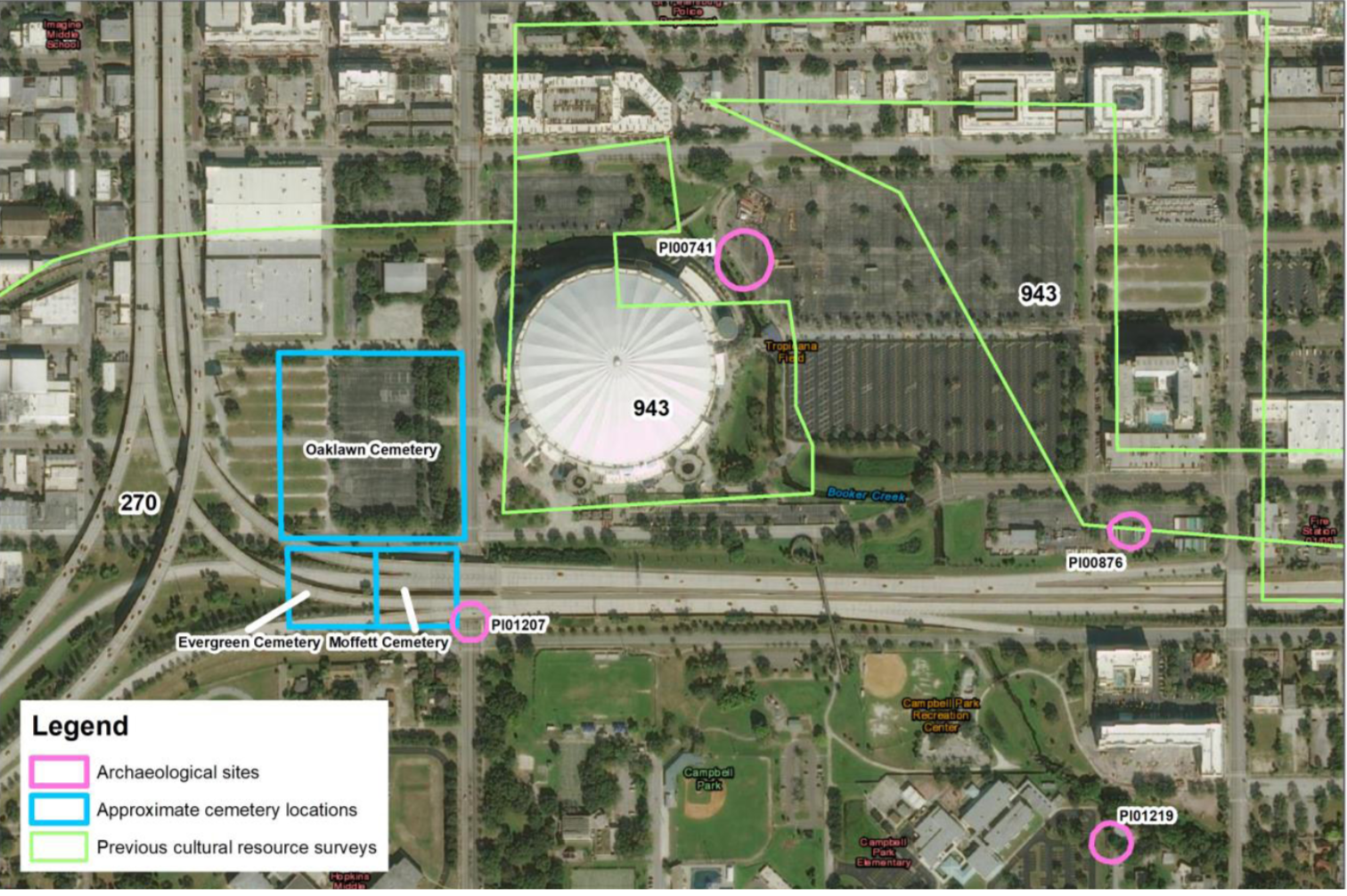 This vital work will be led by the Cardno (now Stantec) team that was responsible for surveying and investigating Zion Cemetery at Robles Park Village, believed to be Tampa's first African-American cemetery. The team includes SHCP members Fred Hearns, president of the Zion Cemetery Society and PMG Affordable.
Hearns remarked on the work being done at the Historic Gas Plant site, "We are proud to be working alongside Cardno, now Stantec, again. We have been inspired by their work and findings. We have together listened to the community's feedback throughout the process and have incorporated those voices into our vision for a project that properly reflects the history of the Historic Gas Plant and its descendants."
At the request of the City of St. Petersburg, Stantec conducted a multi-instrument ground penetrating radar survey on a portion of the former Oaklawn Cemetery site in 2021 after preparing similar studies at Robles Park in Tampa, North Greenwood and St. Matthew's Baptist Church cemeteries in Clearwater.
Paul Jones, senior principal in charge of Stantec's Southeastern Cultural Resource Group, noted: "Finding and documenting these lost cemeteries is an extremely important part of preserving the culture of these communities and honoring those who built them. It provides us a more complete picture of the history of the neighborhood and supports descendants in their search for reconciliation."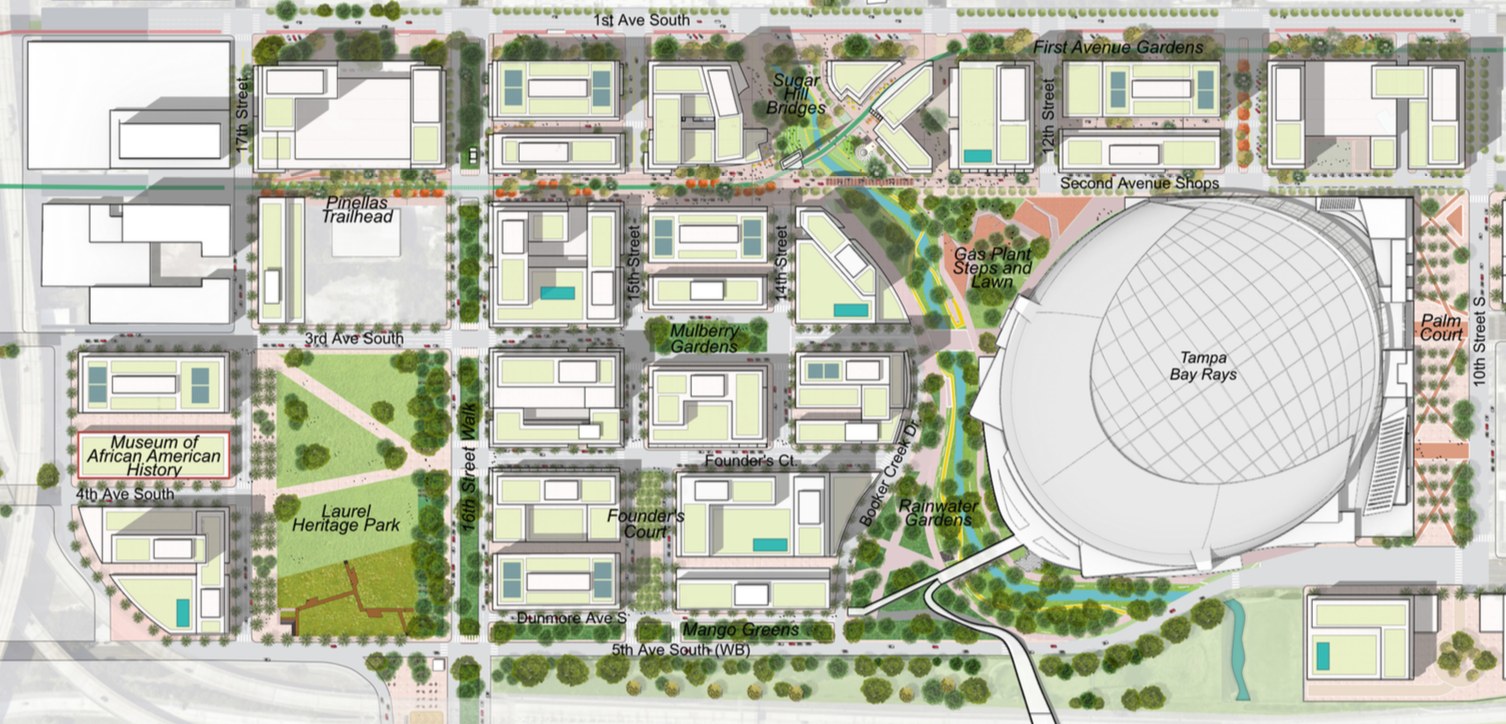 "On every project, and especially one with the history that the Historic Gas Plant has, it is critical to learn from its past," said Kevin Johnson, a lead member of the Sugar Hill Community Partners development team. "We heard the voices of the people of St. Pete asking for answers and took action to properly commemorate Oaklawn, Evergreen, and Moffett Cemeteries."
Learn more about Sugar Hill Community Partners in an information session on Tuesday, Jan. 17, from 6-8 p.m. at the Woodson African American Museum of Florida, 2240 Ninth Ave. S.
Free food and refreshments will be provided to the first 75 attendees. Please register by clicking here.
Sugar Hill Parks and Greenspace: The Laurel Heritage Park is an integral part of SHCP's 21.5 acres of parks and green space proposed for the Historic Gas Plant. The SHCP site plan also features a revitalized Booker Creek and a variety of smaller public spaces for more intimate events, gatherings, recreation, or quiet reflection.
Community Engagement Goals: Over the past two years, the Sugar Hill Community Partners team has met with more than 150 local community stakeholders, including educators, small business owners, corporate executives, neighborhood associations, civic leaders and other St. Petersburg residents. These engagements and conversations are reflected in the plans proposed for the Historic Gas Plant, including Laurel Heritage Park.