Jennifer Wallace has roots in the Gas Plant area that go back a century. 
By Frank Drouzas
ST. PETERSBURG — Hundreds of Black families, businesses, churches, and community spaces were displaced or destroyed by the construction of Tropicana Field. Former residents of the Gas Plant and Laurel Park neighborhoods and their descendants share memories of a safe, supportive, and thriving community and the lasting impact of its demolition.
The story of the Gas Plant and Laurel Park neighborhoods is unique to Pinellas County and has a history repeated across this country and generations of Black and Brown communities. If we are to move forward with race equity, we must know, understand, honor, and be changed by our collective past.
Jennifer Wallace has roots in the Gas Plant area that go back a century.
Her grandfather, Julius Bradley, served in the Second World War as one of the Montford Point Marines — the first Black men recruited to that military branch. President Barack Obama signed into legislation a law that awarded the Congressional Gold Medal to Bradley and his fellow Montford Point Marines for their service. In March 2021, Bradley's family was formally presented with his Congressional Gold Medal.
Wallace said Bradley became a respected teacher at Gibbs High School, while her grandmother, Alene Ivey Bradley, was a well-known beautician in the Gas Plant area. She worked at a salon off Third Avenue South, where they both lived.
Though Bradley was born and raised in Pass-a-Grille Beach, by the 1920s, African Americans were being pushed out of the area as the city was expanding, so he had to relocate during his teen years, Wallace explained.
"Here in the Gas Plant area when I was young, I always visited my grandmother," Wallace remembered. "Me and my cousins, we would always come here, and we were able to go across the street to the church … it was a really wonderful place. The community and the whole neighborhood [had] been here since before the 1920s."
Wallace, who is from Ft. Lauderdale, has fond memories of the district from her youth, which include visiting the library, riding bikes and learning valuable lessons from her grandmother.
"There was everything here," she said. "There was a library that my grandmother used to work at, and I used to go to the library all the time and read books, and I really loved it! The other side of her house was a movie theater, but by the time I was old enough to go to a movie theater, they had closed it. My grandma, she used to teach me how to dance and cook. She ran a boarding house right along with her salon. This was a wonderful area!"
She also recalled going to the park and racing cars, among other fun-filled activities.
"Me and my cousins used to ride bicycles, hang out at the park," Wallace said. "Down from a couple of the houses was an empty lot; we used to play there as well during my youth. My cousin Andre and my cousin Michael and me used to race cars, ride bicycles, do a lot of things like that."
Wallace added that the Gas Plant area was "really a very old, well put together neighborhood full of the people that were really part of the community. They really loved being a community."
With children of her own now, Wallace noted that her kids didn't get a chance to experience the Gas Plant area fully, but "they did get a chance to experience what came out of the community." Exhibiting a family talent for academics, her son became the salutatorian for Lakewood High School.
"Because my grandfather was an English teacher, my mother became an English teacher," she said. "And she was the English teacher at Boca Ciega High School for 47 years, so the family just really lives on through all of us."
Click here to watch videos of residents recalling their gas plant memories.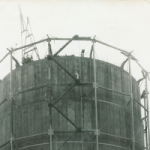 Jennifer Wallace recorded her memories of growing up in the Gas Plant District on Dec. 12, 2021, at the Gas Plant/Laurel Park Reunion.