L-R Boyzell Hosey, Bernard Rembart, (winner) Broderick "Buckwheat" Scott of Wild 94.1 and Samantha Wilson
By Allen A. Buchanan, Staff Writer
ST. PETERSBURG –The inaugural Tampa Bay Collard Greens Festival was held at the Carter G. Woodson African American History Museum Feb. 24.
"It started from a seed of an idea about who had the best collard greens," said Tampa Bay Times Assistant Managing Editor for photography/multimedia Boyzell Hosey.
This friendly boasting with his business partner Samantha Wilson blossomed into a huge, tasty idea that the whole community could experience. The street festival included cooking and hands-on urban agriculture demonstrations, bounce houses for the kids, and of course, a collard green cook-off to end all cook-offs.
The Edible Peace Patch was on hand helping kids understand the foundational elements of planting gardens and each child was able to take home a little pot and start their own garden. And so that the adults didn't feel left out, they were privileged to a demonstration on how to properly cultivate and manage a collard green garden.
Dr. Mendee Ligon, DDS spoke about the importance of dental care and the direct linked between dental health and overall health, and history came to life through an interactive skit and Trail Walk by the African American Heritage Association.
Now, back to the food.
In listening to many of the collard greens chefs, the secret to killer greens seemed to be in the seasoning mix and the olive oil.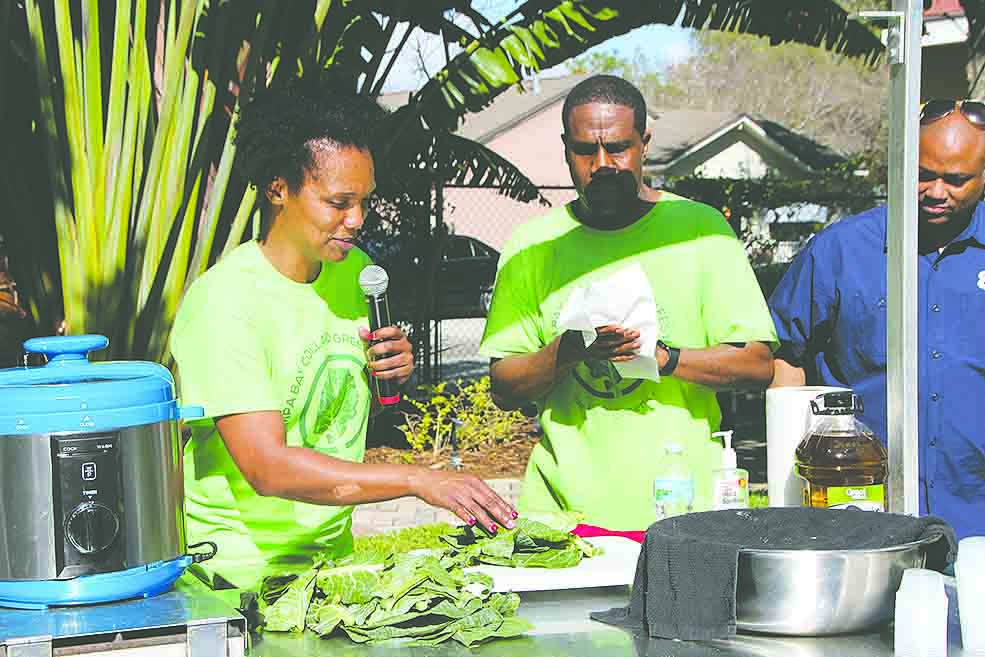 "A bag of greens, some turkey wings and seasoning," Wilson revealed about Hosey's recipe, adding that he puts them in an electric pressure cooker for 25 minutes.
National award winning Chef Edouardo Jordan, owner of Salare Restaurant in Seattle, said that his approach is old school.
"What I do is as classic as any grandmother would cook her collard greens," said Jordan, who is a native of St. Pete. "We do everything in-house at our restaurant. We smoke our own ham hocks; we make our own stock. From there we're cooking the collard greens slow and low just like my grandmother did and present it as is!"
Jordan was named "Food & Wine" magazine Best New Chef in 2016 and last year was nominated for the James Beard Culinary Award for Best Chef: Northwest.
"It's like the Grammy of our industry," said Jordan.
At the end of the day, Bernard Rembart from Munch's Sundries on Fourth Street won the cook-off, besting nine other local chefs. Kevin Harris was the runner-up and Festival Favorite went to Ms. Lorene from Lorene's Fish & Crab House. This year's competition was stiff so if you're considering entering the cook-off next year, you better start now perfecting your recipe.
That same evening, Collard Greens After Dark wrapped up the festival at the Manhattan Casino. Sponsored by the Callaloo Group and Healthy Start, the evening was full of soul food, cocktails and entertainment featuring Sharon Scott, Queenofex Carter and Deneen Wyman.