Carla Bristol
By J.A. Jones, Staff Writer
ST. PETERSBURG –Whether visual arts enthusiasts, dance aficionados, jazz connoisseurs or simply curious weekend strollers, there was no shortage of eclectic offerings to revitalize the soul at Gallerie 909's third annual Black Arts & Film Festival.
This year's festival, held Saturday, Feb. 24 at the Skyway Marina Mall, brought painters, sculptors, mixed-media artisans and jewelry designers together with live performances from the Dundu Dole Urban Ballet, Tampa's Kuumba dancers and drummers, cutting-edge jazz musician Rick Adams, youth dancers from Competitive Edge Dance Company and a presentation by alumni from the heralded Black History Pageant. The festival also sponsored an independent film exhibition at Sundial the night before.
Festival founder, director and Gallerie 909's owner and curator Carla Bristol was ecstatic about the impact of the event.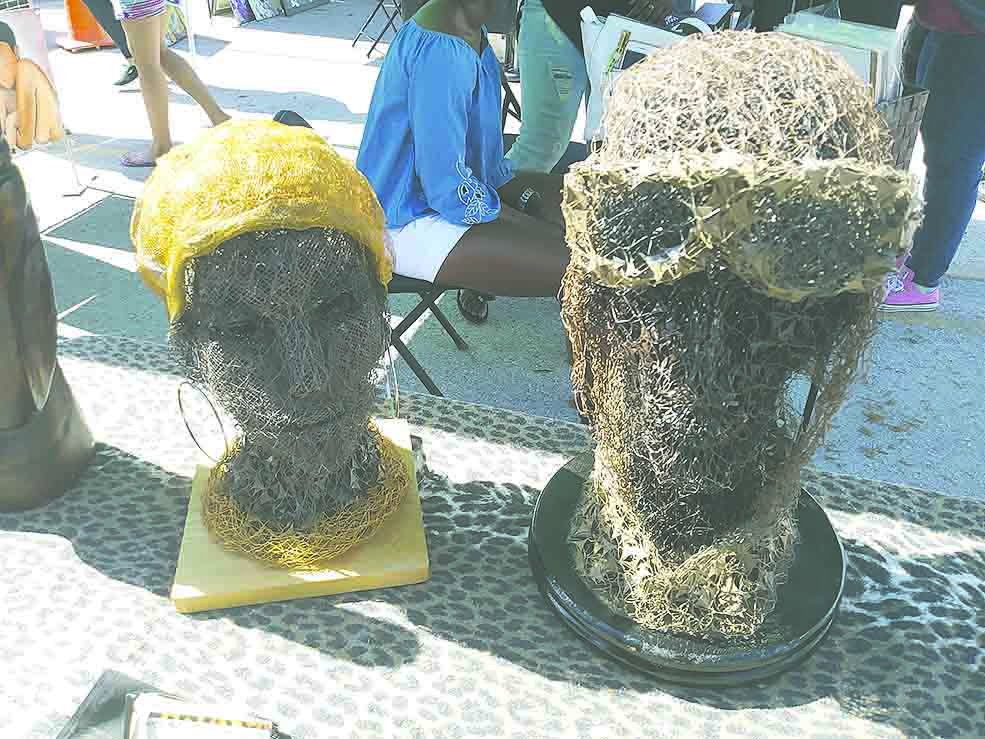 "The festival was fantastic. It shows you that people are the ones that create spaces. So, it didn't matter that the festival wasn't on 22nd [Street] or that now it's in the Skyway district. People still came out and supported. Artists still came out."
Skyway Mall's parking area was filled with crafts and creations by over 40 local and national artists and the creations were as multi-faceted as their creators.
Artists such as Fred "Rootman" Woods, a Gainesville native now living in St. Pete, discussed his widely varied and brilliantly conceived paintings, sketches and postcards.
"What I do I call 'art for the soul.' Most of my pieces have a story that go along with it," he said.
Woods had an opportunity three years ago to go to Haiti and teach art to some of the country's orphaned children. Some of his paintings are inspired by the richness of Haiti and how proud the people are.
"So much devastation, but it was beautiful; the people themselves, their souls were beautiful," he recalled.
Creators such as the founders of Etc. Crafts, who presented a number of their uniquely designed treasures, Eugenia Connor-Washington's mixed-media quilts and Janis McLamore-Smith's clay and glass mosaics, all displayed their work.
"I'm a quilt artist," Connor-Washington remarked. She creates functional quilts, bed-sized quilts and art quilts. "I design fabrics and dye fabrics with different techniques and employ them in my work."
Of her delicate but powerful clay mosaics, McLamore-Smith works primarily in clay and stained glass with themes tending to be more Afrocentric and Native American.
Other artists with unique works included Land O' Lakes resident Arnold Swepson, Jr., whose busts and full-body-sized works were made of repurposed metal from air conditioning filters and chicken wire, and 24-year-old artist Kendra, newly transplanted to Jacksonville from New York, was there representing a younger demographic.
"I got inspired to start painting last year but I've been an artist since I was eight years old," she professed. "My inspiration comes from history and showing people that there's not just fear but beauty in it."
Kendra's art incorporated her comic-strip-inspired graphics with found-art objects.
Carrie Boucher and crew were on hand with the NOMAD Art Bus providing a live art-making experience for the festival's youngest attendees, who brought their visions to life on the specially retrofitted bus. They are based here in St. Pete but travel throughout the Tampa Bay area interacting with the public by bus painting.
"What I like to say is that we're a crew of rogue art teachers who drop-in in the community and do art engagement with kids."
The Bluebird Book Bus also reached out to the youth in attendance with their literary offerings.
For Bristol, the festival was a success for a number of reasons.
"This was the third year of the festival. One change this year, other than the location, was that this year we were able to actually rent out a theater at the Sundial to host the film component, and that was extremely successful."
And whether listening to the sounds of Adams' complex horn solos, enjoying the dance and drums of Dundu Dole and Kuumba or experiencing moving renditions of classic black poems performed by the Black History Pageant Alumni, audience members on the plaza were kept enrapt by the energy, spectacle and emotion of the performers.
"This year we did a major highlight in performing arts…it was still a highlight on arts and culture, but that performance piece was critical," said Bristol, who also sits on the boards of Creative Pinellas and Studio@620. "And for the Skyway district, they needed something to bring traffic to that plaza. Even the following day people came to that mall because they said that they saw the parking lot was full the day before."
The arts festival was definitely an economic boost for the vendors inside the Skyway Mall, which was always a part of Bristol's mission: to impact the community where the festival was held.