BY ANNE HIRSCH
ST. PETERSBURG — Five days after the results of the 2017 St. Petersburg mayoral and District 6 primary elections were released, Akile Cainion and Jesse Nevel supporters sat in Akwabba Hall for an overview of the last six months and the steps forward.
The event entitled "Campaign summation" was hosted by a new organization: Communities United for Reparations and Economic Development. CURED arose from the revolutionary campaigns of Eritha "Akile" Cainion (now Akile Anai) in her race for the District 6 seat and Jesse Nevel in his race for mayor.
Their platforms, a transparent, no ploy approach of "Unity Through Reparations demanded a city budget with the black community in the center, and reparations being the cornerstone of every solution to the issues facing St. Petersburg. It gave birth to something that wouldn't end after campaign season: A movement!
This movement reshaped as CURED and that meeting on Sept. 2 was a call to action and a reminder that win or lose in these elections, there was no viable excuse to stop fighting for justice, for genuine human progress, for a city in which no one has to live at the expense of another.
With Anai as chair and Nevel as vice chair, CURED quickly got to work and developed the blueprint for their first event. They organized a debate for the general election candidates called "The People's Forum." The candidates would be forced to acknowledge that the city's problems were far larger than simply the Pier, noise ordinances and who loves the police more because this forum would be different. This forum had reparations front and center and also an open mic for any concerned citizen to question the candidates face to face; an unheard of concept in all previous debates.
After the polarization of the election, the possibility of no candidate attending the forum was very real. CURED knew this, but they also knew that the event was an act of tenacity, a flag waved to show that the fight is not over. The event had to take place because each candidate had to be reminded that just because neither Anai nor Nevel was in office, reparations would still be in the conversation. So CURED emailed and called the candidates time and time again so there was no excuse they "didn't know."
And then, a little over a week before the forum, an email was sent out to the candidates from an individual named Lance Carrico. This email from a person hostile to "Unity Through Reparations" told the candidates that the forum was nothing more than a set up to "grill" them about reparations and publicly humiliate them.
The email said nothing more than what everyone already knew: that Communities United for Reparations and Economic Development wanted to talk about reparations. However, it was the truest form of sabotage, as, like clockwork, the candidates pulled their attendances.
The sentiments of CURED did not change. They still held their event on the Oct. 30 at the Sanderlin Center and waited for the attendees to see the obvious.
"As you can see, none of [the candidates] made the effort to show themselves this evening," Anai began. "Regardless of if, these status quo candidates are willing to face the people or not, we have our own agenda. An agenda based on true progress, based on social and economic justice."
The forum went on to feature testimonies from members of the black community on the topics of gentrification, public safety, economic development and worker's rights. Liu Montsho Kwayera, a young resident from St. Pete, began by telling of her own struggle against the gentrification that has pushed her out of numerous homes and neighborhoods, showing that this displacement was forceful and unavoidable, inside the black community.
Gazi Kodzo then gave a powerful testimony on the contradiction that is "public safety" as he gallantly explained that there can be no safety when there is police containment of the black community.
"We slave away, work our asses off, and then you murder our children, [and] murder our loved ones, and then we don't have a penny to fight for our rights. [Or] to get a real lawyer, not someone who just wants a billboard and his name shown every damn where. But it's called 'public safety'? No, that's called genocide," Kodzo stated.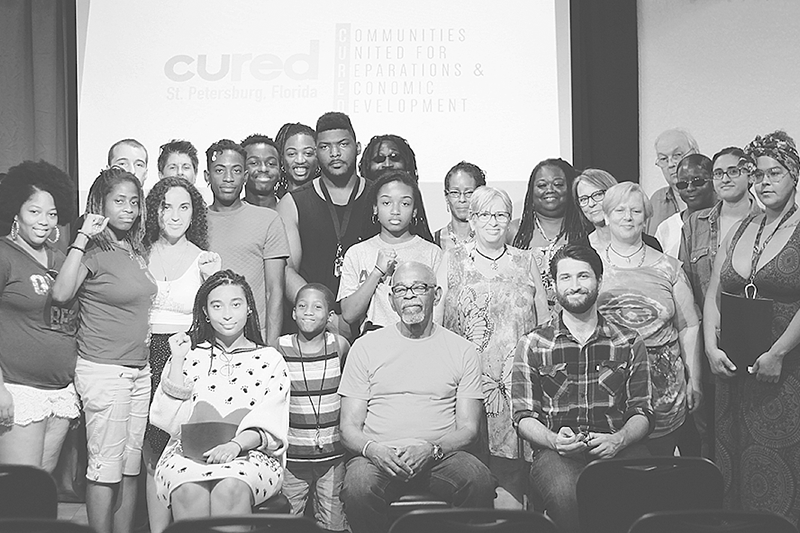 Anai then put forward CURED's position: "Communities United for Reparations and Economic Development understands that the term 'public safety' as Gazi made mention, is just a cover-up phrase for police containment of the black community."
From the audience, Betty Soto raised that Justin Bean, one of the District 6 City Council candidates, wants to bring in "out of area" investors to declare the fate of Tropicana Field. The Dome had played a significant role in the two campaigns and the crowd visibly grimaced at the idea. The area on which the baseball field now stands was once a booming black community. Its construction resulted in the displacement of 800 black families and destruction of more than 100 black businesses.
"That's supposed to be given back to the black community. It was taken and it should be given back," Soto finished as the crowd began to applaud.
Kunde Mwamvita spoke next on economic development. The mother of Dominique Battle, one of the three black girls drowned by the Pinellas County Sheriff's Department, stood and emphasized the importance of economic independence and power, where the black community could depend on itself for financial progress.
"Without economic development, we may never be able to afford a living situation where we can feed, clothe, and house ourselves," she stated.
Anai, speaking for CURED, perfectly summed up the importance of economic development. "The black community wants independence and the ability to produce for ourselves on a continuous basis."
Lastly, Robin Wynn, a water sanitation worker, spoke on the issue of worker's rights. Wynn is a veteran city worker recently suspended from work for calling Mayor Rick Kriseman a clown on Facebook. Prior to The People's Forum, the story that Kriseman's sewage spill of 50 million gallons was actually over a billion gallons had just broken.
Wynn talked about how, while working in Clam Bayou, they had no proper gear and equipment to work and that they had no idea what they were coming in dangerous contact with. There are also no workers councils, which explain how little power the workers of St. Petersburg actually have, regardless of the amount of work they do.
The event was a learning experience for everyone involved. And when it came to the question of what our options are in leaders, CURED cites the fact that the candidates' absences are unforgettable because it is a clear sign of the lack of empathy for the horrid conditions the black community is facing.
This, in itself, was enough of a reason to toss the ballot because democracy is not being forced to vote for someone who will never speak of a better life for your children. Democracy is not voting for the lesser of two evils.
The People's Forum set the stage for what CURED will look like on your block, precinct, and city: Power in the hands of the people.