Trulieve, Florida's first medical cannabis company, joins forces with legal aid organization, Florida Justice Center, to provide expungement, driver license reinstatement, voting rights restoration, and other legal services to low-income citizens.
ST. PETERSBURG – Two in five drug arrests are for personal possession of marijuana. The "War on Drugs" has decimated communities, particularly low-income neighborhoods of color, that are disproportionately targeted by the criminal justice system. Over half of those arrested for possession charges are Black in some Florida counties.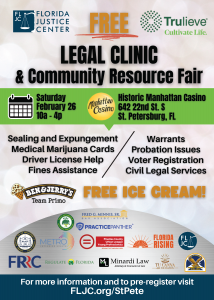 Florida Justice Center and Trulieve are working to fight these disparities and build better lives for those affected by the criminalization of cannabis through a series of free community legal clinics throughout the state that provides sealing and expungement, voting rights restoration and registration, driver license reinstatement, clemency, probation, and other services.
Along with numerous community partners, Florida Justice Center (FLJC) and Trulieve are setting up one-day legal clinics and resource fairs in eight different cities, each with some of the highest cannabis arrest racial disparity rates. At each event, Florida's first medical cannabis company, Trulieve, will be paying sealing and expungement fees for all qualified people.
The first in the series will be on Feb. 26, at the Historic Manhattan Casino Event Hall at 642 22nd St. S, St. Petersburg, from 10-4 p.m. and will have free ice cream courtesy of Ben & Jerry's Team Primo.
Event attendees will be able to meet with an attorney and receive advice and assistance with:
Arrest record sealing and expungement
Reinstating suspended driver licenses
Voting rights restoration
Clemency application
Probation issues
Outstanding warrants
Free or reduced-fee medical cannabis evaluation and card
Civil legal issues such as housing and evictions, child custody, government benefits, and more
Learn more at www.FLJC.org.