BY RAVEN JOY SHONEL, Staff Writer
ST. PETERSBURG – While the restricted mayoral debate between the two-front runners took place Tuesday night at the Palladium, in walking distance was a crowd of more than 100 people rallying around mayoral candidate Jesse Nevel and City Council District 6 candidate Eritha "Akile" Cainion.
"I know that this viral video made a lot of people upset, but what the media is not going to cover is that we've been upset," said interim campaign manager for Cainion, Gazi Kodzo referring to mayoral candidate Paul Congemi telling black people to go back to Africa.
However, the rally was not about Congemi's racist rant last week; the rally was not about Nevel not being able to participate in the mayoral debate either, the rally was about busting up the status quo and putting their message of reparations for black people to the forefront.
"The status quo must go!" could be heard throughout the Williams Park rally.
Dr. G. Gregg Murray, pastor of the Mt. Zion Primitive Baptist Church, said he was there because he supports many of the causes the International People's Democratic Uhuru Movement support.
"One of the greatest fears that the enemy has…is that people like myself, a Baptist pastor, will hook up with Brother Omali with one voice, with one energy, with one mindset," said Murray.
Omali Yeshitela, chairman of the African People's Socialist Party, expressed his appreciation to Nevel and Cainion for "destroying the privatized election that they are trying to have here in the city of St. Petersburg," he said, calling the forum at the Palladium a "Jim Crow meeting."
The crowd went wild when Cainion said Congemi's statements represent a symptom of the status quo.
"The status quo, those days are numbered. They cannot win this election with all the money that they have, with all the corporate media on their side; they still cannot contend with the movement," she said.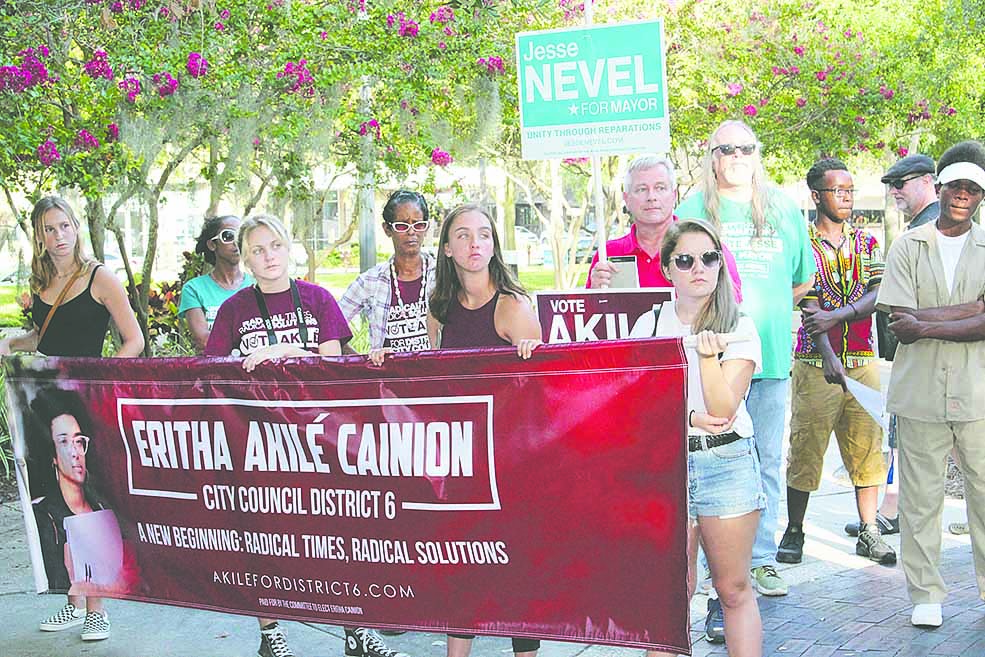 Nevel revealed that he's met many white people that have admitted they support and will vote for him but are too afraid to say it publicly. He urged those Democrats who are breaking ties with the Democratic Party to come out of the closet.
"Are we going to have a city full of white people who support reparations but don't want to say it publically? If you don't want to say it publically then you are aiding and abetting the enemy," he said while holding up a basket of Tootsie Rolls that was given to him by former city councilmember and mayoral candidate Kathleen Ford.
"Kathleen Ford is coming out of the closet," Nevel boomed.  "She said she's voting Jesse Nevel [for mayor] and Akile for District 6."