Wanda's Wish, an annual comfort drive, provides items for patients dealing with cancer and or dialysis. Last month, the organization gave out blankets, socks, pill organizers, and essentials for treatment days for patients.
Karin Davis-Thompson, Staff Writer
ST. PETERSBURG — Aleisha Frazier and Kay-Kay Smith knew they wanted to find a way to honor their mother. The pair said she was a driving force in their lives, but she suffered from various health conditions that often impacted her quality of life and ultimately led to her death.
"From an early age, she suffered from childhood trauma, and later on in life, she was diagnosed with high blood pressure," Smith said. "Ultimately, she received a diagnosis of cancer, which led to kidney failure."
They said seeing their mom so sick was heartbreaking and near impossible to find a way to deal with the different gaps in care they experienced while seeking treatment for her.
In 2018, after she died, they decided to start Wanda's Wish in honor of their mother, Wanda Simpson. The non-profit's mission is to decrease health disparities among the minority population in Pinellas County.
"It was our way of honoring her memory and a way to channel our grief," Frazier said. "It was also a way to fulfill her wish that people on dialysis and going through cancer treatment have blankets and things that help them and bring a little comfort."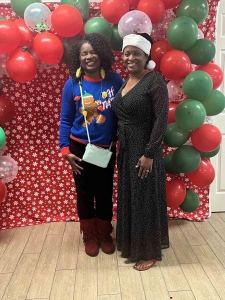 They started with their first event on Nov. 16, 2018, their mom's birthday. It has become an annual comfort drive providing items for patients dealing with cancer and or dialysis. Last month, they held their fourth annual drive. The event provided blankets, socks, pill organizers, and essentials for treatment days for patients. Dozens of supplies were given out to participants in need.
Frazier, a licensed practical nurse for the past 26 years, said starting the non-profit was also a way to give back to communities that don't always get the medical attention they need.
"Over the course of my career, I have seen the consequences of not having adequate health care," said the 51-year-old. "It is especially prevalent in underserved communities. Those are the communities where I think our organization will make the biggest impact."
Smith, 49, agrees and said she is looking forward to broadening the non-profit's reach in the community.
"I know we can do so much more," the podcaster said. "We plan to expand and have more programs that come alongside and help support the patients and promote prevention so that we reduce life and health disparities."
Both women said they know their mom would be proud of what they are doing.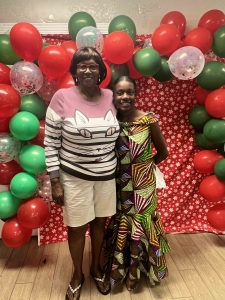 "My mom was pretty amazing," Smith said. "She was the kind of person where anybody could come to her home and get a meal, even strangers. She was never afraid to talk to them and encourage them. The last three years of her life were very hard going through breast cancer treatment and then with her kidneys failing, but she always kept a smile, and she was always encouraging others."
The sisters are committed to ensuring that their mother's wish to comfort patients in need of support continues to flourish and that Wanda's Wish symbolizes what they want people to remember most about their mom.
"I want my mother's legacy to be one of healing and hope for generations to come," Smith stated.
For more information about Wanda's Wish, go to www.wandaswishnonprofit.com