BY J.A. JONES, Staff Writer
ST. PETERSBURG — At artist Ya La'Ford's exhibit, "Glyphs," on display at Florida CraftArt through Jan. 20, there is a palpable energy as viewers step into a gilded vortex of mirrors, lines and hieroglyphs.
Visitors to the gallery are quickly transported by the boldly designed sculptures that incorporate and invite public contributions to the site-specific pieces. Familiar, everyday objects – the mysterious "cosmic ladder" suspended from the sky, a re-envisioned "receptacle of dreams" that was once a garbage can and a luminous bowl of "future-thoughts" that could have been a giant chair frame — have been transformed into powerful fetish objects by La'Ford's practiced and detailed application of thought, inspiration, spiritual depth and gold layers.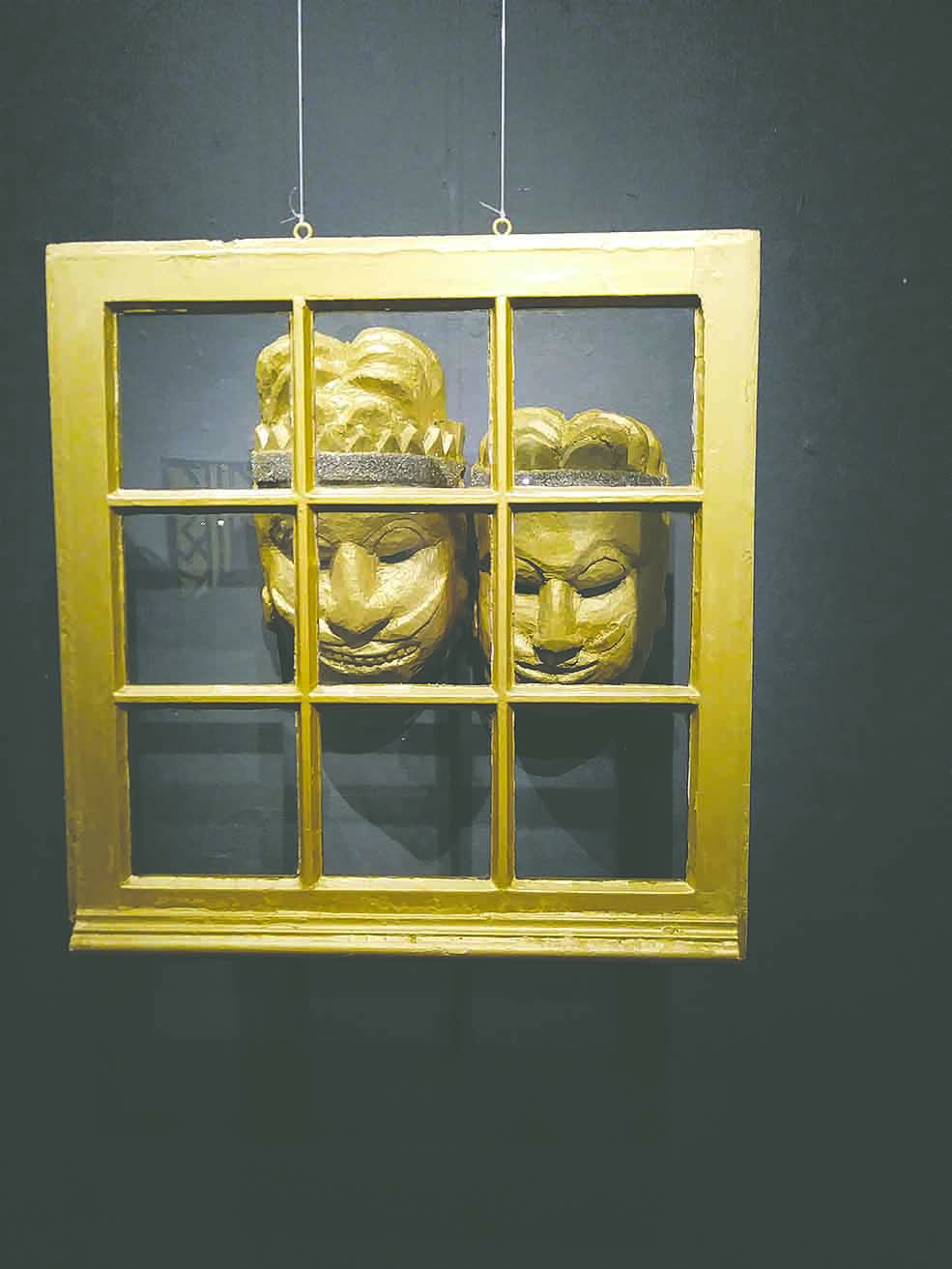 "I wanted the St. Pete community to experience art as a life-long treasure, and the purpose of this particular exhibit was to display how art has this intrinsic value that exists to revolutionize the social, cultural and historic context of the human journey," explained La'Ford.
Although La'Ford has been weaving the evocative power of the universal ley line throughout her work for a number of years, in "Glyphs" the Tampa Bay and New York-based artist found herself heavily influenced by a recent global tour that included stops in Cuba, Columbia, Thailand, China, Turkey and Egypt.
Her penchant for creating work that engages both a sense of self-reflection, community activism and the inner eye of spiritual wisdom is revealed in the glittering, fiery crystals and multi-dimensional reflections cast by the collection's panoramic display of mirrored walls.
"I really wanted that color gold because of the effect it had on me while I was in Egypt and its association with illumination, love, compassion, courage, passion, magic, wisdom. Gold is a precious metal that is associated with wealth, grandeur and prosperity…as well as sparkle, glitz, and glamour. I believe that added to a mirrored surface, the work would allow the community to see themselves as valuable and as precious as gold."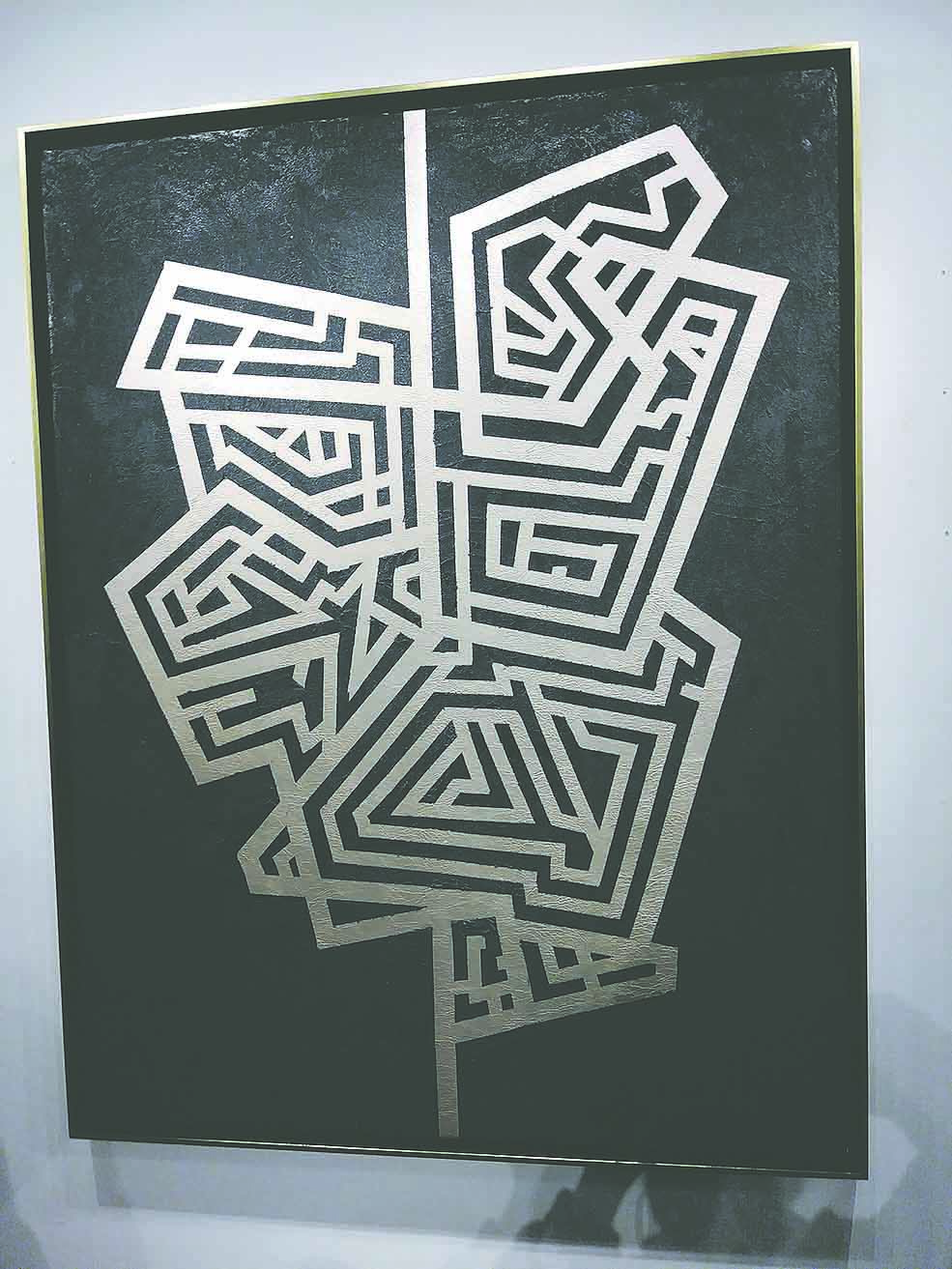 At the opening night reception held last Saturday, the petite artist – sporting flowing locks, circular frames and chunky pendants — encouraged the audience to write down thoughts that might inspire those who will come after us.
"I'm interested in what we communicate to future humans and how we can be the best person that we are as human beings — in this country and traveling abroad. In this participatory exhibit, what I'd like you to do is think about what you would say to future humans 500 years from now," instructed La'Ford, gesturing to the large golden ladder extending up into the gallery's height.
"What message can you share with them, what can you say that can inspire them to continue, to think about how strong we are as humans? I want you to think about, not just yourself, but what does it mean to exist and how can we groom ourselves to be better in humanity."
Encouraging visitors to grab some paper, jot down their thoughts and toss them into the golden can that sat beneath the ladder, the moment of shared inspiration reminded the viewers that there is power in mutual creativity and joined consciousness.
On hand for the reception were fans, family members, students and other St. Petersburg arts and professional community members. Alexandria Reed, one of La'Ford's students at St. Petersburg College, shared her impressions of one of her creations.
"She has messages inside of the art; like you can see the word, 'Evolve,'" explained Reed, pointing into the giant gilded bowl. "She asked people to contribute – I wrote something that she put in there! It's like she put it in a pot and we can all reach in and get inspiration."
Of the gold glittered geometrically designed mirrors, Reed observed that the intricate designs were like "cells of the skin; nobody's skin is perfect – but in her art, the gold makes it seem as if it could be anybody's skin, regardless of their color."
Another guest, civil engineer Robert Harvey shared: "I love her work. With my background, I love her use of line and space, of glass and sculptures. For me, it's almost spiritual, the way she grasps the untouchable."
La'Ford said her exhibit offers St. Pete an opportunity to join her in an ongoing exploration of world cultures that are contemporary and ancient.
"I'm really inviting the community to contribute their own personalized contemporary hieroglyphs via words, quotes, drawings; that's really the core of this show. I'm exploring how the past, present and future really give us a renewed sense of self and figuring out how we connect to each other, how we are cohesive together and can have more communal pride, reflecting and moving forward into 2018 and beyond."
"Glyphs" is open at Florida CraftArt, 501 Central Ave., St. Petersburg, through Jan. 20. For more information call (727) 821-7391.