The Zeta Upsilon Omega Chapter of Alpha Kappa Alpha Sorority, Inc. dedicated 2018's Day of Service to ending childhood hunger. The ladies handed out free hot dogs and pack-a-sack bags with healthy snacks for the youth at Tropicana Field after the parade.
BY JOYCE NANETTE JOHNSON, Staff Writer
ST. PETERSBURG — Youths from the AKA AKAdemy, a signature program of the Youth Development Foundation of Pinellas, Inc. (YDF) are reaching out to several senior homeowners with a beautification and renovation project on Monday, Jan. 21.
YDF was established by the members of the Zeta Upsilon Omega Chapter of Alpha Kappa Alpha Sorority, Inc. to enhance their legacy of service to the community.  Coupled with an MLK Day of Service award funded by the Florida Legislature, 30-40 young ladies will get their hands dirty for a good cause.
According to AKA AKAdemy Program Director Manitia Moultrie, the beautification project was the brainchild of the academy participants. These community-minded young ladies wanted a hands-on project that would afford them a direct way of giving back to the community.
Three homes were chosen for a facelift, which will include window cleaning, minor landscaping and cleanup. They will also replace old light bulbs with energy efficient bulbs and solar lighting.
Moultrie feels the project will give seniors a sense of community and caring.
"When you know someone is giving from the heart, it means something," she said, adding that these small upgrades will impact the entire neighborhood because others are more likely to make improvements on their homes.
The young ladies, who are between the ages of 13 and18 years old, will see "the importance of intergenerational relationships and social connectedness in developing elder-friendly communities."
The academy participants will not be alone on this mammoth project. The ladies of Alpha Kappa Alpha, the boys of the Eta Rho Chapter of Omega Psi Phi Fraternity, Inc., St. Petersburg Christian School Honor Society students, the St. Petersburg Housing Authority. Painter Sherwood Cobarras and landscaper Dana Pittman will also be on hand.
Moultrie feels their project is in direct correlation to the vision and hope of Dr. King by "celebrating his vision of ecumenical solidarity" and his insistence that "all faiths had something meaningful to contribute to building the beloved community."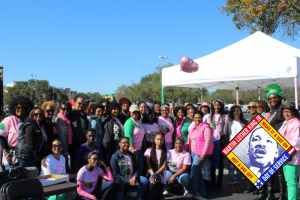 "By enlisting the youth to plan this program and assist the elderly individuals in our community, we are embracing and promoting his values of courage, truth, justice, compassion, dignity, humility and service to others," Moultrie concluded.
The 2019 senior AKA AKAdemy class will work on homes with Habitat for Humanity in a separate rehab project, and all academy members will meet up at the Tropicana Field for the third annual MLK Dream Big Family Fun Day to distribute energy efficient light bulbs and brochures on energy efficiency and education.