By Dr. Cynthia White, Contributor
ST. PETERSBURG — The finer women and sisterhood of Zeta Gamma Zeta Chapter in keeping with its traditions and commitment to both rendering and recognizing service, held its annual Holiday Breakfast Dec. 15 at the historic Gulfport Casino.
Under the guidance and leadership of local President Lisa Wilson, the event was a celebratory time for the blue and white family as well as extended families, friends and community supporters.
The  theme, "Honoring Spiritual Men of Distinction," recognized and heralded the efforts and accomplishments of religious leaders within our community. The holiday breakfast was an opportunity to show appreciation not only for their roles as spiritual leaders and advisors to their respective congregations but also for the outstanding examples they are and continue to be throughout the local community.
This year's honorees included Rev. Brian Brown of the St. Mark Missionary Baptist Church; Rev. Tyrone Ford of the United for Christ Freewill Church; Dr. Ellis Hodge of the Word of Life Fellowship Church; Rev. Kenny Irby of the Bethel African Methodist Episcopal Church and the Rev. Willie Whiting, one of the ministers at Mt. Zion Progressive Missionary Baptist Church.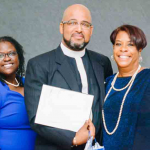 A highlight of the event was watching Rev. Dr. Ellis Hodge along with Matthew Green, Eddie Jackson, Ronnie Marshall, Janomi McCullough and Frank Miller strut their stuff down a makeshift runway in a fashion revue. The gentlemen put their best fashion foot forward to the delight of the audience.
Fashions from the casual world to work, business, church and formal activities were featured. Harold and Nicole Wilson, the husband and wife tag team, served as lively and vibrant style commentators.
Event chairperson was Kay Mullen. Noise Ordinance Entertainment and D.J. Wen provided music for the event.  Photography was courtesy of Nicole White Studios, and catering by Simple Delights Catering and Desserts, Inc.
About Us
Zeta Phi Beta Sorority, Incorporated was established Jan. 16, 1920, on the campus of  Howard University. The local chapter, Zeta Gamma Zeta, has served St. Petersburg since 1955.
For more information, visit stpetezetas.com, like us on Facebook at St. Petersburg Zetas or email us at stpetezetas@gmail.com.