ST. PETERSBURG — Uhuru Halloween Haunted Night has been scaring folks for the last 10 years. The African People's Education and Defense Fund (APEDF) started the event in 2006 to fill the need for a safe place for the community to enjoy the holiday.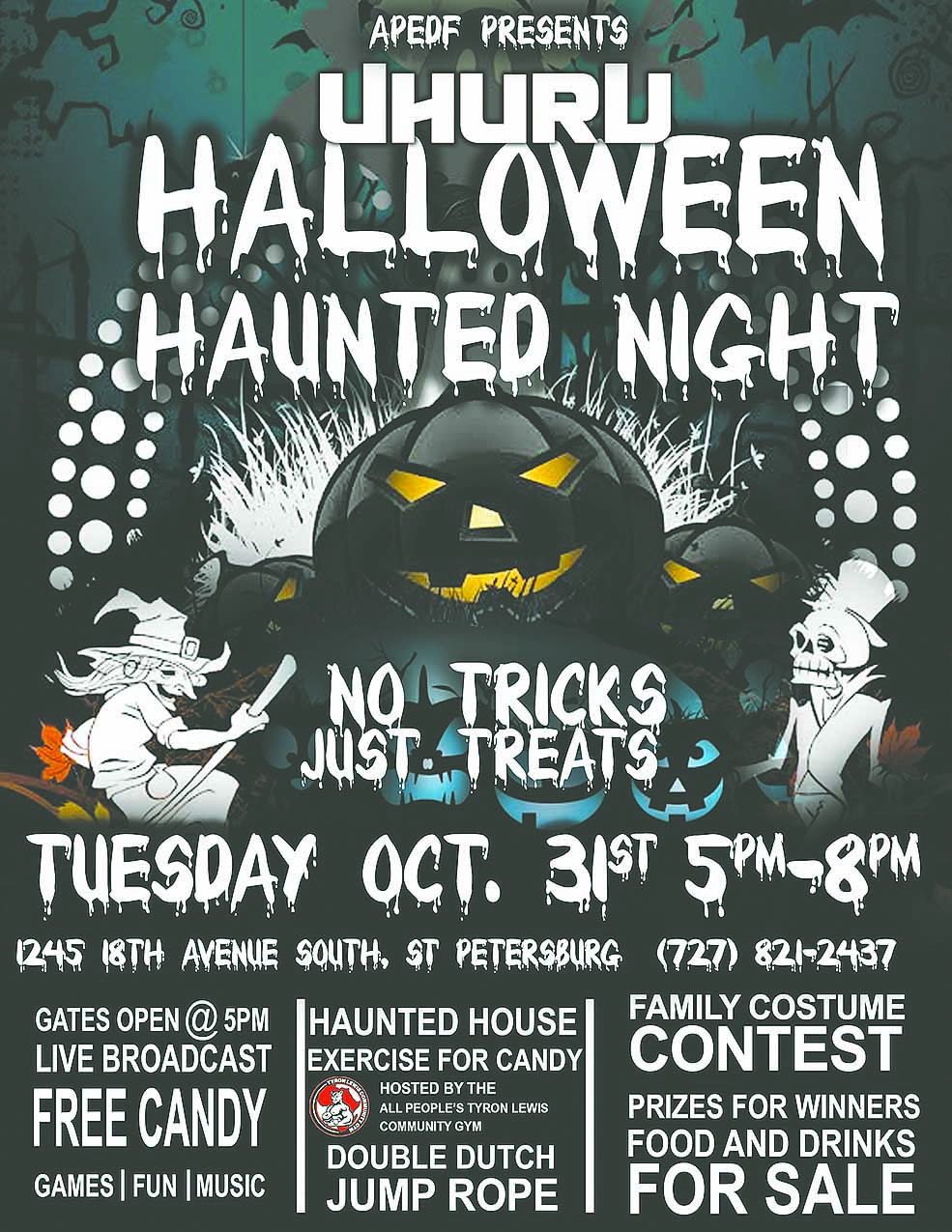 Every year, the event provides the community a safe and fun place to go to on Halloween night without having the worries about walking in the dark and knocking on strangers' doors. As always, the Uhuru Halloween Haunted Night is free through donations from local businesses and the community.  This is APEDF's way of giving back to the community.
There will be several different activities for the children and parents to participate in including exercise for candy where kids participate in various exercise activities for treats such as Double Dutch, potato sack races, face painting, musical chairs and most of all, the haunted house.
As the event comes to a close, they'll present the best treat of the night—the costume contest. This is where the best dressed can show off their costumes in the hopes of winning a prize. In prior years, prizes have been flat screen televisions, bikes, tablets, gift cards, a whole lot of candy and so much more.
Chair of this year's Halloween Haunted Night is Shango Ntoyambaa and Vice Chair Kunde Mwamvita. Ntoyambaa is a member of the Uhuru Movement and is also the manager of the TyRon Lewis Community Gym.
Masters of Ceremonies will be Akila Anai Chair of CURED and of the 3DBG campaign along with Gazi Kodzo, director of National Office of Recruitment and Membership of the African People's Socialist Party.
Anai has been attending these events since she was a little girl and is now taking part in making it the best one yet, while Kodzo, for the past three years, continues to make sure the children have fun, are safe and feel good about themselves.
Halloween Haunted Night takes place Tuesday, Oct. 31 from 5- 8 p.m. at 1245 18th Ave. S. If you'd like to donate, please call (727) 821-2437 and ask for Shango or Kunde. You can also visit the website at apedf.org to find out more about the organization and our other upcoming events.
So make this Halloween something that you and your children will never forget, and at the Uhuru Halloween Haunted Night, there's always treats, never tricks!
About African People's Education and Defense Fund
APEDF defends the civil and human rights of the African community and addresses the grave disparities faced by the African community in economic development, health, health care and education.