The members of the St. Petersburg Alumnae chapter of Delta Sigma Theta (DST) used their Day of Service award to sponsor a red carpet and private screening event of "Hidden Figures," the little known true story of three female African-American mathematicians in the segregated South that worked at NASA.
The sisters wanted to show the 100 middle and high school girls in attendance that through perseverance and hard work, they can be all they want to be, no matter their color or creed.
DST member Loretta Thompson introduced several speakers that are currently in the STEM (science, technology, education and mathematics) profession. Each speaker gave insight into their profession:
Dr. Giania S. Hayes, director of Technology and Systems Integration at Cristo Rey Tampa High School and Corporate Work Study Program
Micheria Bell, senior Software Engineer at Raytheon Technology Company
Dr. Samantha L. Ferguson, Pharmacist at area Publix Markets
Tara Fowler, Secondary District Math Staff Developer with the Pinellas County Schools
Dr. Erin N. Connelly, pediatrician at St. Mary's Medical Center
April Harley, a recruiter from Duke Energy, provided employment insights for the young ladies to think about, and all attendees and their sponsors received swag bags with the book "Hidden Figures" inside.
Hair by Ahsile offered free pampering to members of the homeless community on MLK Day
BY TYLER GILLESPIE, Neighborhood News Bureau
BY ABIGAIL PAYNE, Neighborhood News Bureau
In the Melrose Elementary Media Center, young male students sit in anticipation of their high school mentors. The event, coordinated under the 5000 Role Models, celebrated Martin Luther King's Day through reading and books.
According Coordinator Javaris Green, their organization focuses on African- American males to broaden their perspective on life.
With both Gibbs High and Melrose Elementary being considered low-preforming schools, this is one way that the older boys can reach a hand down to the younger ones in guidance.
Green hopes that all five failing elementary schools will adopt the program and that they will continue to grow.
The Florida Dream Center is always prepared, never without a contingency plan. When their Union Street house Day of Service beautification project had to be put on hold, they decided to make the most out of the Martin Luther King, Jr. Holiday and spruce up another building.
Every Saturday the Florida Dream Center's Adopt-A-Block initiative in Childs Park meet at a community center on 15th Avenue South before they disperse into the neighborhood to remove debris and help homeowners with yard and light maintenance work. Taking a look at their meeting place, they decided to paint the building and pressure wash the fence.
The house on Union Street will get its facelift in April.
Habitat for Humanity's MLK Day of Service set out to paint as many homes as possible on Walton Street South in Midtown.  Even homeowners got in on the hard work. Eloise Jones was on the list to have her home painted and decided to help out so volunteers could get through sooner and move on to another home.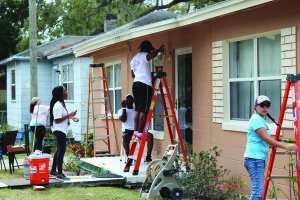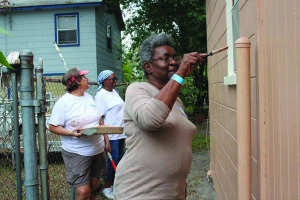 BY ANDREA PEREZ, Neighborhood News Bureau
To further impact the St. Petersburg community on Martin Luther King, Jr. Day, the Sustainable Urban Agriculture Coalition (SUAC), in collaboration with three non-profit organizations, worked alongside community leader
Askia Muhammad Aquil to design a sustainable food garden in his family's backyard, located in south St. Pete.
Neighbors and friends were able to help Aquil in the planting of various fruit trees and the completion of three planter boxes, while SUAC's president Bill Bilodeu provided general information about sustainability to the community volunteers that weren't as familiar with the agricultural system.
BY ZENENA MOGUEL, Neighborhood News Bureau
Community Action Stops Abuse, Inc. (CASA) utilized their MLK Day of Service award to assemble baskets aimed at providing quiet and healing time for first-time domestic violence victims seeking CASA services.
Freshmen and sophomores from the Shorecrest Preparatory School partnered with CASA and volunteered Monday evening in designing and painting picture frames as well as assembling over 40 baskets.
The Suncoast Chapter of Jack and Jill of America, Inc. turned an uninviting room at the Sanderlin Center into a quaint little library. Volunteers painted, cleaned and decorated the space. The community donated books, and now children who attend the afterschool program can sit down in a quiet space and get lost in a book.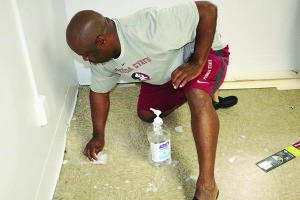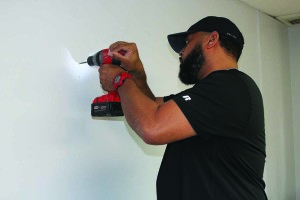 BY ANGELINA BRUNO, Neighborhood News Bureau
Student members of the Girlfriends of Pinellas and 5000 Role Models held a stepping stone dedication ceremony Monday alongside staff members of Melrose Elementary.
A freshly painted stone was dedicated to the First United Methodist Church of St. Petersburg for their support throughout the school year. Members of the church volunteered time, resources and funds to help not only the school but the Girlfriends of Pinellas and 5000 Role models as well.
BY INDHIRA SUERO ACOSTA, Neighborhood News Bureau
The Next Stepp Life Center on 22nd Street South celebrated their "Keeping Displaced Babies Safe Project," an initiative to provide baby supplies and help  to  mothers and fathers in challenging housing situations.
Monday afternoon, a group of volunteers for the center provided the families in need with a 3-in-1 diaper bag that converts to a bassinet, which can also be used as a changing table.
Community volunteers prepared a total of 50 bags to deliver at the event.
BY JOSEPH CONTE, Neighborhood News Bureau
Garden Florida set out to make a significant change to the Bartlett Park community. Each year on Martin Luther King, Jr. Day, the Bartlett Park garden offers free food to the residents of their vibrant community. This year's event is called "Harvest Tools," which brings awareness to the usefulness of having a local open garden.
Currently, they are eagerly searching for support to expand the garden so that it can provide even more produce.
Each week on Saturdays, the garden is open to the people of the community to come and receive fresh fruits and vegetables.
Sparkly Clean Services set out to make a local business on 22nd Street South sparkle. Their MLK Day of Service project included pressure washing Lakeview Market and feeding the neighborhood. Scores of people stopped by to eat a burger and watch owner Lenard Hayes show neighborhood children how to detail a car.