BY JOYCE NANETTE JOHNSON, Staff Writer
ST. PETERSBURG – The "We the People" theme of the 2017-18 theatrical season at American Stage was conceived as an artistic movement that offers productions and workshops that showcase creative diversity.
As part of the MLK Day of Service, the American Stage's Education and Outreach Program will hold an MLK Family Fun Day children's workshop entitled "Speak- the- Dream" from 4-6 p.m. at the theater located at 163 Third St. N.
Families with children ages 5-12 are invited to participate in this free workshop, which will explore what it means to have a dream through simple, interactive theater games, thought-provoking group discussions and storytelling.
Participants will also get a chance to tour the theater and have an opportunity to meet some of the actors in the upcoming production of "A Raisin in the Sun."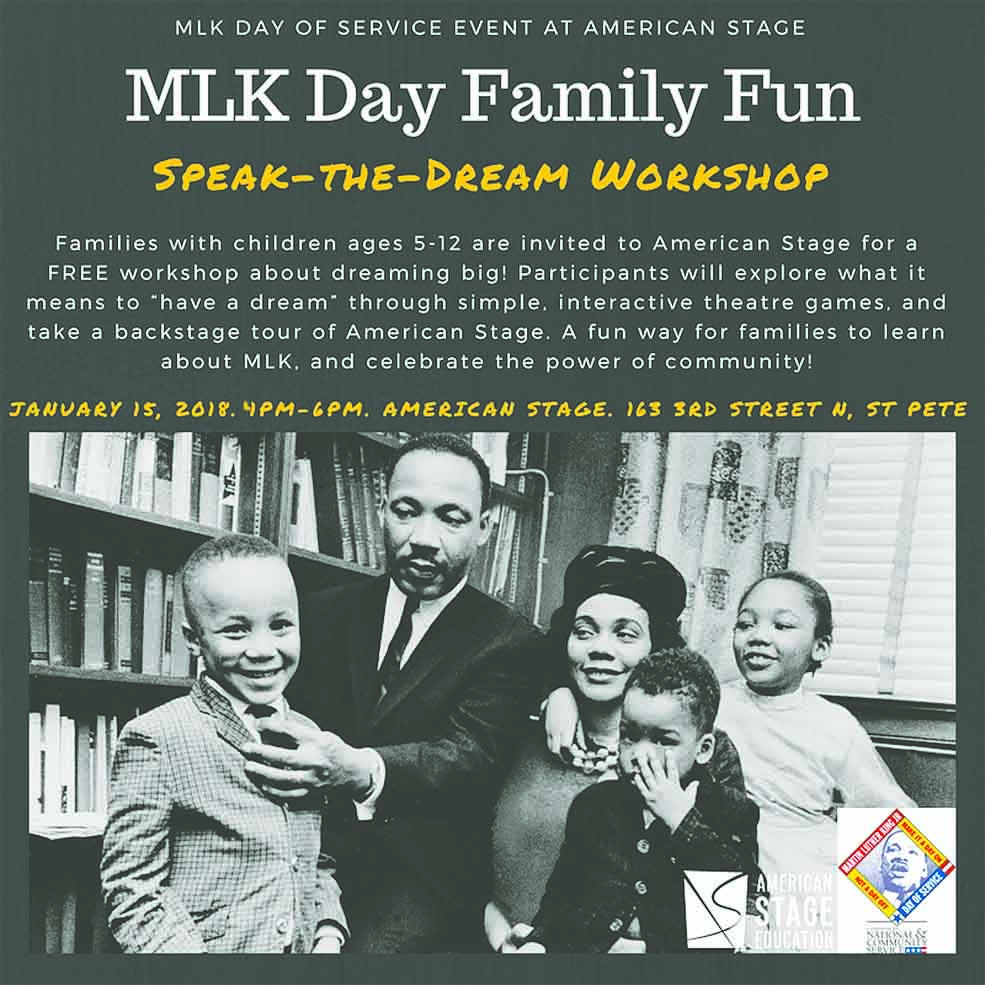 "The beginning of storytelling is always a part of history," explained Education and Improv Associate Patrick Jackson.  "I want them to have more than a 360-degree knowledge and appreciation of Dr. King. How his thoughts and teachings apply today."
Tiffany Ford, director of Education and Outreach said one of the theater's objections is to give families an accessible artist experience and to bring the legacy of Dr. King to life.
"Participation in theater lifts communities up," stated Ford. "It can be a hub for the community to interact."
The MLK Family Fun Day is a great way for families to learn about Dr. King and celebrate the power of community.
About American Stage Theater
In 1977, the American Stage Theater was founded as The Palisades Theatre and took up residence at a church, now known as Eckerd College. Then in 1979, the Junior League of St. Petersburg funded the relocation to a converted movie house in downtown St. Petersburg. In 1984 the name was officially changed to American Stage Theater and in 2007 they partnered with St. Petersburg College and moved into its present downtown location.
The American Stage prides itself on presenting innovative and classic works that provide entertainment that examines serious introspection of society. They just completed a 10-year mission to present the works of playwright August Wilson and from Jan. 26 through Feb. 18, "A Raisin in the Sun," a story that highlights the role race and gender can play in achieving the American dream, will be presented.