Photos courtesy of Theo Moore Photography & Allen Buchanan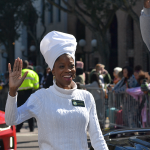 On Monday, Jan. 21, the 2019 MLK Dream Big Parade drew crowds of more than 40,000 people.
The parade saw a cavalcade of civic leaders and organizations, politicians, religious leaders and everything in between marching their way from downtown to the Tropicana Field, where crowds enjoyed the Family Fun Day and culmination of the MLK Day of Service projects. For 34 years, the City of St. Petersburg has honored Dr. Martin Luther King, Jr. and his legacy.