BY JOYCE NANETTE JOHNSON, Staff Writer
ST. PETERSBURG — It was an evening of thought-provoking poetry readings and electrifying musical performances at the Dr. Carter G. Woodson African American History Museum Sunday, Jan. 20 at the annual MLK Candlelight Vigil.
The vigil is a way to honor and celebrate the life and legacy of Dr. Martin Luther King, Jr., whose birthday was Jan. 15, 1929. He would have been 90 years old last week.
The program was opened by Dr. Robert W. Williams, whose baritone voice enthralled the room as he sang the Lord's Prayer.  He delighted the audience throughout the evening singing such standards as "Battle of Jericho and "Let My People Go."
Daniel Sanders deftly handled the position of master of ceremonies and also spoke eloquently on the history of Dr. King from his early childhood to his involvement with the Civil Rights Movement.
Simeon Moore was the accomplished musician of the evening and provided musical interludes and accompaniments throughout the event.
Three local poets held court as their poems rang out with their truth, dignity and heritage: Paul Hendriks, CC Clark and Walter Wally B. Jennings.  They donned placards around their necks that proudly confirmed the message "I AM A Man."
In Clark's presentation of his two poems "Why We Protest" and "Your Silence is Deafening," he examined the injustice of Freddie Gray's murder and other black people slain by the police.
Jennings recited his original poems "What is Black" and "This is Ferguson." He said his poems were created because of a panel discussion he and members of the police department were on discussing the police presence in Tampa.
"They assumed that since this was the Tampa Bay area and not Ferguson, we were immune to such situations," Jennings stated. "The issues are prevalent in all African-American communities around the county."
Hendriks shared two of his original works: "Redemption for Life" and "Of What Are We Made," in which he questions how one person's race or color is valued over another.
"What makes people think that they're better than others," he asked.
He spoke about the world being a nicer place for him to grow up in than his cousin because he had a lighter skin tone.
Councilmembers Steve Kornell and Amy Foster were in attendance, and also seasonal visitor from Atlanta Joan Thurmond.
"I want to pass this on to my great-grandchildren," she affirmed.
Stephanie Ruth and her 18-year-old daughter Shenyah said that this was their first time attending the MLK Candlelight Vigil, and Cynthia Garrels feels "we all need a reminder of the peace and justice that Dr. King stood for."
Woodson's Executive Director Terri Lipsey Scott spoke to the audience about the progress and stagnation through the years.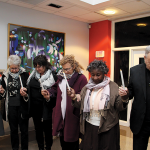 "I am an angry black woman still standing before you 50 years later after black men are still being questioned as being truly men," she stated. "Have we overcome today? "How often should we silence the sickness?"
The evening ended with a final tribute to the fallen civil rights leader who believed in integration, love and peace. The diverse audience of different ages, races and religions clasped hands and lit candles as they sang "We Shall Overcome."