Octavia Teharte
BY KARIN DAVIS-THOMPSON, Staff Writer
ST. PETERSBURG – With the seventh year of funding from the Florida Legislature, St. Petersburg College and the MLK Advisory Committee are looking to make the 2019 MLK Day of Service on Monday, Jan. 21, 2019, the most memorable community service event to date.
One such project in the works is called the Baby Bag Bonanza, a community event that will give families a chance for a day of fun and fellowship while they learn more about various vendors in the area that can provide a host of services for families with children.
After watching the news and hearing the story of the tragic death of two-year-old Jordan Belliveau in Largo at the hands of his mother, Ida Newsome felt compelled to find a way to support children and families in need of help.
Newsome, a single mother, had a chance meeting with Octavia Teharte and told her about her desire to find a way to give back.  The two came up with a plan and earlier this year the Babies Lives Matters Foundation, Inc. was born.
"Our mission is to serve women and families with babies 0-5 with tangible essential supplies, innovative training, personal development and collaboration," Teharte said.
Teharte, who is also a single mom, said she was excited about the opportunity to lend a hand.
"Not only do we have sympathy for the families we serve, but we have empathy for them too because we have been there," she said.
And even though the Babies Lives Matters Foundation is still a new organization, the group has already begun to secure partnerships and training for clients.
"When people walk away I want them to feel like they were served," Teharte said. "Even if we can't provide what they need, we can refer them to an agency that can help."
Teharte, who serves as the foundation's director, said the organization also provides information to families about programs and services they may have known existed.
"A lot of things are a best-kept secret, and they shouldn't be," she said.
With all of the quick successes and community support, the foundation team was confident that they could qualify for a Martin Luther King, Jr. Day of Service grant, funded by the Florida Legislature and sponsored by St. Petersburg College, even though they were a fairly new organization.
They presented their proposal, and it was chosen to be a 2019 grant-funded project.
"Dr. King was about inclusion and coming together, and that is what our project is about," the mother of four said.
The first 100 families will receive a baby bag with some baby essentials as well as a few surprises Teharte says she hopes can make life a little easier.
"We will even have a raffle to give away a few larger items like a stroller and baby swing," she said.
Along with the baby bags, vendors and giveaways, the event will feature a DJ and great food as well.
Volunteers will be on hand to answer questions and assist attendees with navigating the vendor tables and getting the information they need.
"Our volunteers have been great," Teharte said. "We will have high school students volunteering as well as seniors."
The Babies Lives Matters Foundation received nearly $5,000 for their service project, which will take place at Lake Vista Recreation Center on Jan. 19 from 11-3 p.m.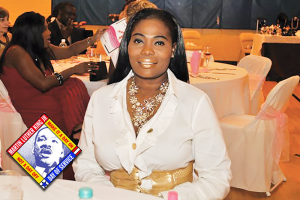 Teharte said she believes spending the day volunteering and helping families is a great way to honor Dr. King and his legacy.
"I truly believe in giving back," she said. "I have such a passion for serving the community.  If you touch one life, then you have done your job."
To reach Karin Davis-Thompson, email kdavis-thompson@theweeklychallenger.com