Minister Tyrone Ford and First Lady Kadell Ford
BY J.A. JONES, Staff Writer
ST. PETERSBURG – Families were treated to breakfast, toys, carols, a wisecracking ventriloquist, and Santa at the second annual Ruthie Jones Memorial Holiday Breakfast Saturday, Dec. 22, at the Enoch Davis Center.
Organized by her daughter, Paulette Jones, and sponsored by the Midtown Celebrity Club, Inc., the event reflected the vital purpose that Ruthie Mae Jones, a longtime resident and community "shero" held dear: sharing and showing love to the community.
"The main reason I'm doing this event is first to honor the legacy of my mother, Ruthie Jones, who was a great leader in the community and a role model for all women," she noted.
Ruthie Mae Jones passed Dec. 24, 2016. Her daughter recalled memories of her mother's life on Prescott Street for 60 years, taking care of the children of working parents, looking out for neighbors' homes when they went away and always being "available to extend her love."
Now, Paulette Jones said she's trying to uphold her mother's legacy by being of benefit to her community as much as she can in every way that she can.
"Most people look at the holidays as a way to receive gifts, but to me, the holidays is a way for me to extend my love for the community, which my mom thought was very important," said stated.
She also shared that her mother was her inspiration for starting the Midtown Celebrity Club, Inc., a charity focusing on mentoring youth through arts, while enhancing parental engagement and civic involvement.
"The Midtown Celebrity Club as a 501(c)3, started in 2012. I saw all the wonderful things my mother was doing, and I was trying to find a way to enhance what we already were doing, to raise the awareness that we all need to get along and work together for the common good of the community."
For Paulette Jones, that means emphasizing the importance of family connections. The holiday breakfast, she said, was "an opportunity to get to know our neighbors and to let our neighbors know that we are for them, that we all are connected and that we all are family."
Paulette Jones' sorority sister Lisa Wilson was there on behalf of Zeta Phi Beta, Inc. and their national service project, Z-HOPE (Zetas Helping Other People Excel), which also contributed to the event.
Performer Liz Curry led the families in caroling. "I'm here to challenge them on singing their Christmas carols, because most people, especially children, don't know Christmas carols," shared Curry.
Her husband David Curry, a guitarist, ventriloquist and magician, supplied lots of laughs with a humorous puppet.
Paulette Jones' son, Paul Jones, second organizer of the event and board secretary of the charity, spoke proudly of continuing his grandmother's legacy.
"We're very excited. This is the first year we're doing the toy drive and we got between 100 – 120 toys," said the grandson, who stated that around 100 families had preregistered for the event.
"We've been hustling for the last two months to get as many gifts as possible; I tried to wrap at least 30 a day," he laughed. "I'm happy we pulled the whole thing off."
Gifts came from United for Christ Freewill Church, Zeta Phi Beta, the Midtown Rotary Club and people who left toys in a barrel put out at Pam's Roti Shop & Caribbean Market.
"They support the community and I like to come to things that support the community. We need more things like this," said Laquita Glenn, who was there with her five children and her sister.
Pastors Brenda Buckins and Tyrone Ford were on-hand to bless the event and the food; Alton Cubby sang spirituals; Thomas English offered a moment of reflection. Catering was supplied by Elma's Café.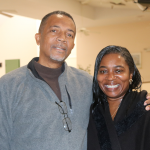 And, of course, there was Santa, who showed up to hand out gifts to the excited children and patient families.
Paulette Jones summed up the best part of the event in one simple phrase.
"Just to see a smile on the kids' faces–you can't even put a price on that."
 To reach J.A. Jones, email jjones@theweeklychallenger.com