Catherine and John Smith
BY KARIN DAVIS-THOMPSON, Staff Writer
ST. PETERSURG –John and Catherine Smith said they don't pretend that making a marriage last 50 years is a piece of cake. It takes work, commitment and a faith in God.
"We have our ups and downs, but our relationship was built on trust and communicating with one another," said John.
His wife agreed, adding "and we can agree to disagree and not get so angry with one another."
The couple, who celebrated 50 years of marriage April 19, tied the knot when Catherine was just 18 and John was 20. They met in a cafeteria where they both worked. John rooted out Catherine on her first day on the job. He stepped to her and before he could lay down his pickup line, she said:
"Why you walking over here with those shoes flapping?"
With nothing else to say, he responded: "I need to get some glue or some new shoes."
His comeback obviously worked because two years later they were standing in Pastor L.S. McCree's home getting married.
"Two years later when we got to the point that somebody was in the oven, we had to make a decision," said John, who mentioned that the shotgun was not visible in their wedding photo.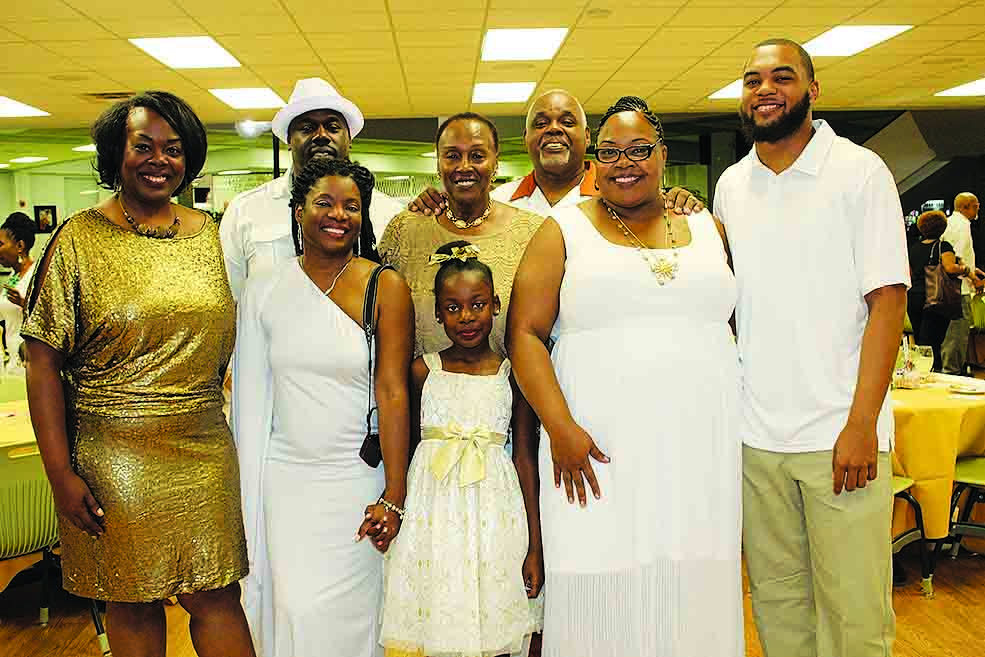 Both said that back then, they couldn't imagine 50 years down the road, they just took things one day at a time.
"Once we got married, we just went about the business of working and raising our children," Catherine said.
But now, looking back, they say getting a divorce just wasn't an option.
"So many people are ready to go to divorce court," John said. "No one wants to work on it anymore."
Catherine feels the same way.
"You have to have a stick-to-it-ness," she said. "You have to try and weather the storm."
The Smiths said they always tried to have a date night, even if it sometimes meant having their three children tag along. They also made sure to work hard at making things fun.
"We still have fun together," said Catherine. "And after all of these years, we still like one another. Of course, we have our disagreements, but to stay together that long, you really have to like each other."
Their son Donahue is really proud of his parents and the example they've set for what a lasting, loving marriage looks like. When he married his wife 15 years ago, he made sure she understood he planned for it to be forever.
"I told my wife: 'This is it. I'm not getting married to get divorced.' I saw what it means to be married and to make a marriage work.
John and Catherine said that while they know it took hard work and determination to never give up and to make their marriage last, they also know their faith in God and the support of family and friends was an important factor as well.
"We know that there were people praying for us, even if we weren't praying for ourselves," she said.
As a young couple, the two learned early that the support of family would be key. Catherine, pregnant with the couple's first child, lived with her new husband's family while he attended Bethune Cookman.
She went to work for the phone company, and after graduation, John began his career with the Department of Justice, where he remained for 30 years.
They said getting married in the 1960s was a turbulent time, but they were blessed with good jobs and a way to support their growing family.
"We know my ability to get an education opened doors for us," he said. "We had to work a little harder because we started building our family young, but thank you Jesus it worked."
Now, 50 years later, the two celebrated their anniversary and unwavering commitment to each other with a party planned by their daughters, Chanda and Toni, son Donahue and daughter-in-law Kay Kay.
Last Saturday evening saw more than 100 friends and family members come out to celebrate their everlasting love at

Pinellas Technical College

. The place was elegantly decorated and guest dressed in white. Person after person stepped up to the microphone to thank them for setting such a loving and righteous example of how a marriage should work.
And for the Smiths, celebrations are a big deal in their home and celebrating this milestone with family and friends brought them joy beyond measure.