BY DEXTER MCCREE, Feature Writer
ST. PETERSBURG — Most days, Evelyn Graves awakens from a broken night of sleep to walk out to the front yard and pick up the morning newspaper while admiring the sounds of nature, chirping birds and the beauty of God's creation. Often, she goes back in to make a cup of coffee and turn on Bay News 9 to peruse the daily news.
Last Wednesday started out as just another routine day, so she thought. Her phone rung and it was her great-niece Shakyra Hugkins calling from Whitefield, N.C.
"So you thought I forgot about your birthday," the voice on the other end of the phone said.
Hugkins voice was as surprising as the message coming forth.
"You know, I would never forget your birthday, and I'm coming to see."
The calls kept flooding in. Graves' niece, Willie Mae, called.  Then her grandson Michael followed by her other grandson Sherman. And so it went for most of the day.
Graves' daughter, Wanda Jones, along with Willie Mae and friend Vickie Hawkins, treated her to a seafood meal for lunch, laughter and gifts at her favorite eatery, Po Folks Restaurant.
"Open up your presents auntie so we can see what you got and turn them around to the front," said Willie Mae in a moment of excitement.
Her celebration is as much about her contributions to others in her life as it is about her longevity.
Nearly five decades ago, Geri-Care Nursing Home opened its doors to serve the elderly, vulnerable and mentally and physically challenged population in Pinellas County.  But, while the bricks were still being laid, the paint still wet and the parking lot unfinished, Graves was already hired.
As Geri-Care was preparing for its grand opening, Graves, affectionately known as "Ms. Evie," had already secured employment with the company.  She was their first employee when they opened the doors in 1970.
For 38 years, she served as the dietary director at Geri-Care, later renamed Jacaranda Manor.  She cooked, supervised and passionately ensured the nutritional needs of the residents were met.  Graves did it with love and compassion.
"Jacaranda Manor was home for these people. I wanted to make sure that every meal served out of this kitchen was like a meal I would serve to my own family," stated Graves.
She not only was compassionate toward the residents, but she was equally giving of employment opportunities to others. It isn't hard to find people in St. Pete who are benefactors of her generosity.
"My mom gave so many of us jobs back in the day," said Jones. "She allowed me to work one day a week, Saturday, when I was 13 years old.  It was only for four hours, but I was so proud of that job!  She would provide jobs to other family members, even my friends.  For many of us, it was our first job.  That small gesture was so instrumental in developing our young character and work ethics."
Graves' 79th birthday celebration continued on Saturday when family, friends, and yes, past Jacaranda Manor employees met for a cookout in her honor.  She was overwhelmed with all the expressions of love.
When pressed about the number of people she gave jobs to, she was incredibly modest.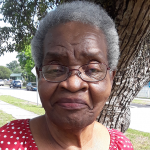 "I don't think it was such a big deal. When people have opportunities, they will work.  And when people work and can take care of themselves and their families, they are productive," Graves said.
Her birthday celebration will be a lasting memory. It is even captured on YouTube as part of the SCRAM Family video series titled "GRANDMA Gets TURNT To The MAX!!!"
Graves will always remember her 79th being a fun, fabulous, family celebration.