Meiko Seymour helped make the Juneteenth holiday official in St. Pete. Photo courtesy of Zion Bloom
BY HILLARY VAN DYKE, Contributor
ST. PETERSBURG — Local equity leader Meiko Seymour is an executive pastor at Pinellas Community Church, CEO of St. Petian magazine, a City of St Pete Public Arts Commissioner, host of the podcast The Altitude Collective, a Race Equity Listener (REL) for the Foundation for Healthy St. Pete, the District 8 Charter Review Commissioner. Now he's the reason Juneteenth will officially be a St Pete holiday.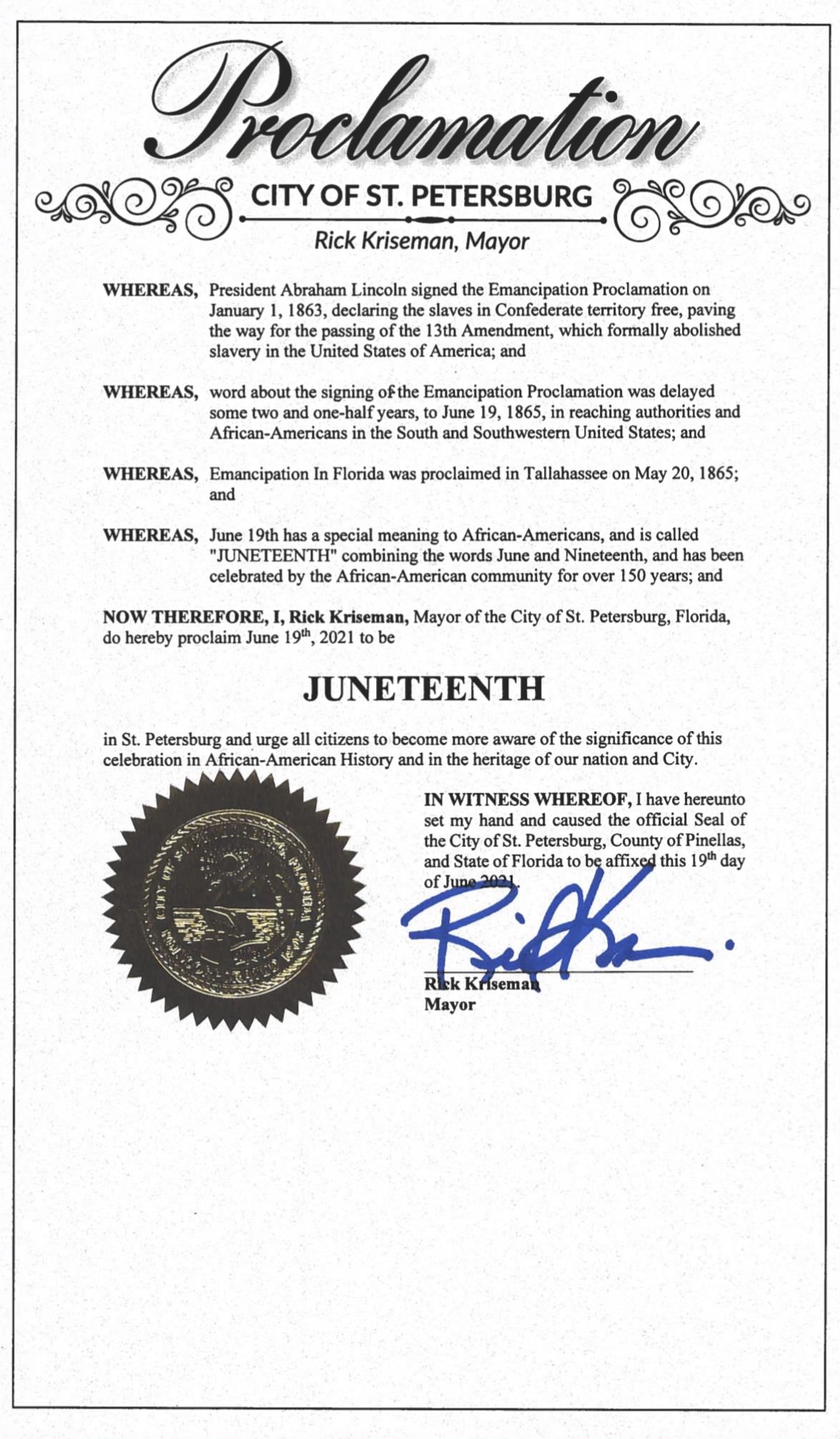 I have known him for the last year as we have served as RELs. In that time, I have learned so much from him about how to "do" equity more authentically and inclusively. On June 3, I had the honor of watching Mayor Rick Kriseman present the Juneteenth proclamation because of Seymour's efforts.
Seymour took to the podium to give an inspiring speech, reminding citizens and elected officials of the work still needed to make the sun shine on all equitably.
See the full speech on Instagram at uncommon.city's June 3 post.
VAN DYKE: Of the equity work you are doing in our city, what work are you most proud of?
SEYMOUR: Strangely, I do a lot in the space of equity serving our city, and I look at it as a kind of servant leadership. That's at the core of who I am. And so, I'm going to serve in whatever capacity that's presented. I think I'm most proud of the work that I'm doing to make equity conversations and decisions more inviting.
We all should be in the work at all different levels and spaces. And it's not just left up to what we may call equity professionals, because in so many ways there are those who can probably tell you more solutions to their issues then those who have a professional background in equity.
I think my brand of this work can be nerve-wracking; it can be scary, and it can be hard, but it can be work that all of us can engage in at whatever level. I'm really, really proud of that. Because, you know, it's the old adage, if you want to do something fast, you do it alone. But, if you want to do it really well and go really, really far, you do it together.
And I think a group of people can do a thing or one person can do a thing. But how much more can we increase the capacity of the work by involving more people with different lived experiences with different perspectives?
Through the work that I do, I am creating that. I'm saying the equity conversation is hard, and it can be daunting, but it is for everyone to have.
VAN DYKE: I am processing the answer because I think that I believe that in theory. I think it's inspiring to watch you practice it in reality. I've even seen my own practice grow, because of learning from your brand.
SEYMOUR: You often have to put yourself in really difficult situations and uncomfortable situations in order to create buy in. And a lot of the work is person-by-person, year-to-year and takes a while.
I am not just having conversations around or with people who may be creating or perpetuating inequity. I'm also having conversations with people who live within the systems that are inequitable, and I'm trying to also teach them and learn from them.
VAN DYKE: Anti-racist activist Ibram Kendi said, "The first step of being an activist is believing in the fundamental possibility of change." How do you maintain hope and belief in this possibility of change?
SEYMOUR: Number one, I am a Christ-follower. And so, I just have hope. It's just I see the world as it can be versus as it is. That's my big statement. I choose to do that. Because the flip of that is it's a dark place.
And so, you know, Scripture tells us where there's no vision that people will perish. And I like to think about it in terms of like, if you can't see hope, how do you bring people towards it? So, I think that's really important.
So, the second part of it is that I'm a really big believer in humanity. And I know that sounds really odd and really strange and I shouldn't, right, and I'm not naive. I do think that we are closer to one another than we think.
And we're closer to one another than media and politicians may try to get us to not believe we are. And I make space for things like ignorance. It's hard, but I make space for that. Now, once you are educated. That's a whole other story."
Find the full interview on the Green Book blog.