Nick Davis is using his artwork to encourage his community and others that Black is encouraging, Black is inspiring, and Black is love. To give hope to others that they are not alone in life but that their Black is beautiful in every way.
BY NICOLE SLAUGHTER GRAHAM, Staff Writer
TAMPA — Picture this: A Black woman has just finished braiding his hair. She stands over him, her afro adorned with a sunflower and eyes framed by oversized, round glasses, and looks down at him with adoration and love. She wraps her arms around him, the comb she used to part his cornrows still in her hand.
The man is visibly content, a small smile crossing his lips as he's cradled by his love, his teal durag juxtaposed against the deep hue of his complexion. The couple is haloed by what appears to be the sun, but in that halo stands a police officer.
This scene is depicted in one of 16 illustrations created by local digital artist Nick Davis, currently on display in the Reverberations: Black Artists on Racism and Resilience exhibit at the University of Tampa's Scarfone/Hartley Gallery.
The collection of illustrations, Davis said, is meant to display Black life in all of its layers. Images of "Black people living comfortably" are juxtaposed by depictions that convey society's assumptions about Black life. The image mentioned above, Davis said, is a prime example.
"They're just living their lives, but people have preconceived notions about who they are."
Davis named a couple of the stereotypes the larger community has about Black lives: "Sagging pants mean you're a thug. Tattoos mean you're tough."
But, he countered, there's so much more to his community. Through his art, he seeks to explore every overlooked corner, starting with the emotional impact other people's perceptions have on the community, something he doesn't necessarily see expressed in the community itself.
"Our community is limited in what we're able to express," he explained. "Black men can't cry; we can't wear certain colors. Meanwhile, Black women hold the community up and have to remain strong at all costs."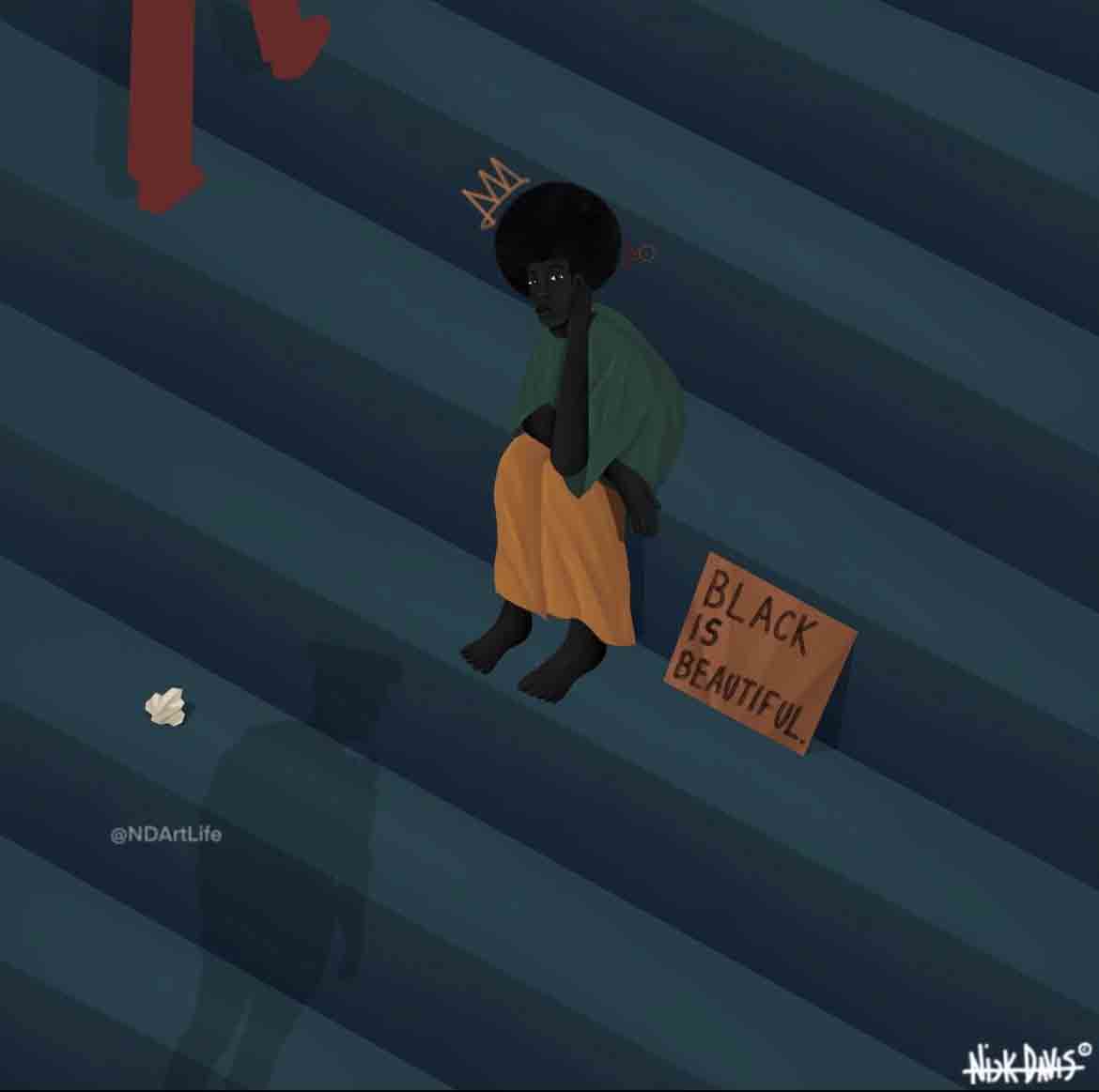 "I was told that if you wanted to convey a certain kind of emotion, put it in your artwork," he said. And so, he does just that. Heartbreak, happiness, stoicism, contentment, exhaustion, worry, power, and pain all come through with clarity in this particular collection, as they do in all of Davis' illustrations, of which he's created nearly 1,000 in the three years he's been drawing daily.
As an artist who navigates mental health issues like depression and social anxiety, Davis said his art gives him the space to explore how these things affect his community, and he hopes that it will challenge others to do the same.
A believer in the power of love, Davis likes to quote some of the greats such as Martin Luther King, Jr., Maya Angelou, and Toni Morrison alongside his work to convey the need for communities to come together in support of one another.
"We're living in the time of Black Lives Matter," Davis said, "and this is our opportunity to shed light on what's going on in our community."
Davis hopes his collection in the exhibit will challenge how viewers view the Black community. He makes one thing clear:
"I'm trying to reach the children because that is the future."
Above all, he hopes that children see themselves and their power and worth reflected in his work.
"Black is beautiful," he says. "Black is inspiring. Black is encouraging. Black is love. I might not be able to change the world, but I can help one child."
View Davis' work alongside other Black artists at the "Reverberations: Black Artists on Racism and Resilience," an exhibit presented by the Dr. Carter G. Woodson African American Museum at the University of Tampa's Scarfone/Hartley Gallery.
Exhibition information:
Dates: Now thru Friday, Nov. 5
Cost: Free
Location: University of Tampa's Scarfone/Hartley Gallery, 310 N Blvd. in Tampa
Hours: Tuesday – Friday 10-4 p.m. and 124 p.m. on Saturdays
For more information, visit Davis on Facebook, Instagram, or email him at nd.digitalart@gmail.com.