To launch the first of five building projects, PCUL President & CEO Watson Haynes and his affordable housing development team broke ground at 1410 25th St. N and 3311 25th St. N  on Thursday, Jan. 11.
BY CINDY CARTER, Staff Writer
ST. PETERSBURG – Many look to the Pinellas County Urban League (PCUL) when times get a little tough. The building at 333 31st St. N serves as a beacon for those needing a helping hand when the electric is cut off or are in need of a stimulating program to keep their child off the streets.
But now, aside from offering GED classes and financial assistance, the PCUL is getting into the housing business.
"We're excited because we're going to make a difference in these communities as we build houses to benefit the neighborhoods," said PCUL President & CEO Watson Haynes.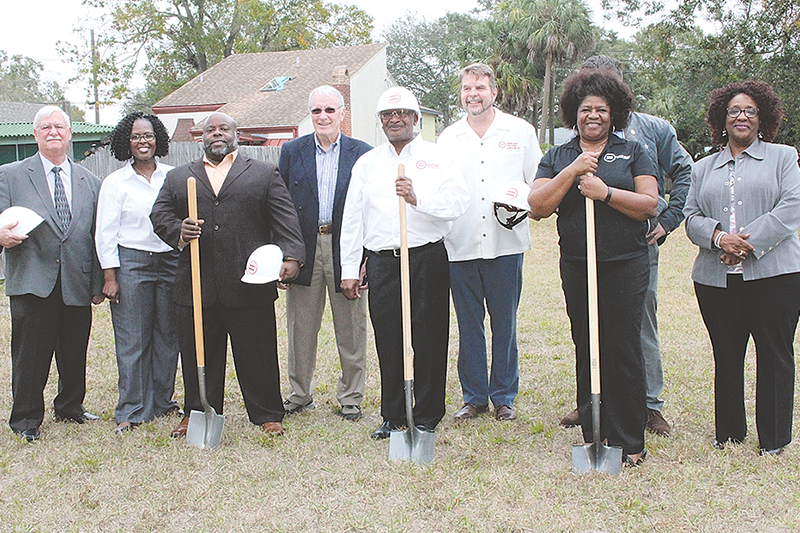 For the past five years, the PCUL board of directors has been promoting the positive aspects of building affordable housing throughout Pinellas County, but Haynes didn't want to delve into it without all of his ducks in a row.
So after much research and long hours dedicated to establishing a team of experts, the PCUL finally broke ground on five locations, with two being in north St. Petersburg, one in Seminole, Gulfport and even Tampa.
He's working toward moving the Urban League to more of a business model. A major construction line of credit has been provided by Regions Bank, which will allow the PCUL to launch its affordable housing development activities with an initial investment of two ground-up homes in St. Pete that have permits already approved, as well as two rehab projects from property acquisitions.
"We have to stop relying on government grants and organizations to give us money," said Haynes, who stressed that PCUL's market-based model is not reliant upon government funding.
Working with the St. Petersburg Housing Authority, there are some 300 people on the waiting list to get themselves into a home of their own. Many families in Section 8 housing overpay for dilapidated or outdated homes and upon further inspection, it is being realized they have income resources to make owning a home possible. The main obstacle in their way, however, is getting their past mistakes taken care of.
"We started building out the people we work with," said Haynes, "fixing their credit and getting them financially stable."
The Urban League works with two professionals who make their living as cleanup doctors, helping past credit offenders not only build an acceptable credit score but also learn what it takes to keep their credit current.
Classes are offered every Tuesday and Thursday, coaching potential homebuyers into what it takes to be a successful homeowner. Financial stability classes began a few years ago with funding from the state, so now everyone who enters the PCUL requesting financial assistance of any kind is offered the training.
"We can turn on your lights," said Haynes, but "we will take you through an introductory class on finances and a budget."
Classes are 45 minutes to an hour in length but filled with all the strategies needed to turn around your life and your credit. They encourage participants to not only have a bank account but also to get in the habit of walking into their bank branch to get to know the people who one day they will be asking for a loan.
The goal of the Urban League is to scatter housing sites throughout Pinellas County and not focus primarily on the south side.
"We don't believe black people should just live in black communities," stressed Haynes.
So the Urban League is looking for sites all over the county. Other organizations who offer assistance in home buying tend to place the majority of recipients in areas such as Campbell Park or Midtown, but Haynes firmly believes that by integrating African Americans into other communities, stronger neighborhoods can be established.
"We will build where you want to build and where the lots are."
Unlike Habitat for Humanity, the Urban League's approach to homebuilding is not volunteer- based. Instead, contractors lay the foundation, build the walls and construct the roofs. He plans to keep his contracting crew busy by assigning them to all three homes.
"We wanted to make sure when we did it, we didn't get a lot and then have it sit there waiting for another 10 years," Haynes said.
The Urban League's affordable housing development activities focus on utilization of a standardized building model that allows for decreased costs, increased profit and ensure quality of product, allowing it to use profit from housing to fund the programs and services it has provided to the community since 1977.
The PCUL will also build outside of Pinellas County as it positions itself to become the largest predominant minority-led, nonprofit affordable housing developer in the region.
The PCUL is looking to bring interested homebuyers into their office where they can look at lot locations and property plans. Models for a three bedroom/two bath have already been sent to the City of St. Petersburg.
Their goal is to work with the city to take control of some of the vacant lots the city already owns, but wants to prove what they can create on the north side of town before looking for better values on the south side.
"We'll make the money that we can here, to spend the money to reduce the cost of building," explained Haynes. "Because that's going to be the challenge."
Haynes encourages those paying rent to rethink their finances and to head down to the PCUL for support in navigating the road to financial success and possibly getting into a home of their own.
"The best deal is owning your own home," finished Haynes.
In addition, the PCUL is seeking sub-contractors in the following areas: electrical, plumbing, mechanical, carpenters/framers, block masons, concrete, cabinet/trim work, roofers, landscapers, painters, tile layers, insulators and drywall installers. Please stay tuned for dates and times for upcoming monthly information sessions.