BY ALLEN A. BUCHANAN, Staff Writer
PETERSBURG – Right before Christmas, Friendship Missionary Baptist Church kicked off the holidays by showcasing their dance talent in the production entitled "O Holy Night" on Dec. 23 in their hallowed sanctuary.
The newly appointed Minister of Music Dr. Kevin Bernard Parrott teamed up with Youth Dance Ministry choreographer Chelsea Evans, a senior at Bethune-Cookman University, and Gail Jenkins, administrative director of Adult Dance Ministry, to produce a program full of praise and wonderment.
However, there were a few hiccups along the way.
"We found out on the day of the performance that a quartet of four male youths would be mime dancing to the same song as ours," said Jenkins.
Parrott reassured her that the young men would only dance to half of the song "and we could enter as they were leaving."
As the song approached the halfway mark, Jenkins said that the male dancers got so caught up in the spirit that they did not exit.  Since the boys were dancing close to the audience in the middle aisle, Parrott encouraged Jenkins to have her dancers enter and dance their routine behind the visiting mime quartet.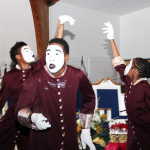 "In the end, it all worked out beautifully," said Jenkins.
The audience hadn't a clue the routine was not planned.  All performers returned on stage at the end of the program to a standing ovation.
To reach Allen Buchanan, email abuchanan@theweeklychallenger.com