PETERSBURG — Members of Alpha Kappa Alpha Sorority, Incorporated, Zeta Upsilon Omega Chapter recently passed the leadership torch to its newly elected president Lisa L. Brody, Esq. An overflow crowd of members witnessed the installation ceremony during the chapter's Dec. meeting.
Brody began her leadership journey in Alpha Kappa Alpha Sorority as an undergraduate more than 27 years ago at the University of Oregon. In 1996, along with several esteemed women in leadership, she successfully chartered Upsilon Gamma Omega in Eugene, Ore.
"It is my honor to serve as president of the Zeta Upsilon Omega Chapter of Alpha Kappa Alpha Sorority, Inc.," said Brody.  Our chapter is comprised of more than 100 women committed to making a meaningful impact within our community, and I am humbled to serve in this role that has included many trailblazing women such as the late Lena Brown, Vivian Rouson, Lounell Britt and Myrtle Williams. I look forward to building upon the legacy left by these women and other leaders of our illustrious sorority."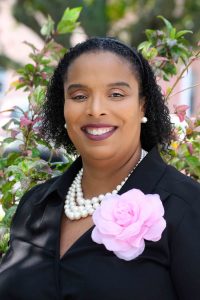 Brody provides a wealth of knowledge and management experience to the organization. She earned a bachelor's degree in 1992 and a Juris Doctorate in 1995 from the University of Oregon. She also attained the Certificate of Non-profit Management and Leadership in 2009 at the University of Tampa. Brody is currently the managing attorney at the St. Petersburg offices of Bay Area Legal Services, Inc.
Attorney Brody previously served the Zeta Upsilon Omega chapter in various leadership roles including vice president, program chairman, risk management chairman, Ivy Leaf reporter and parliamentarian. She is married to Attorney Carl Brody and has two children.
Under the dynamic leadership of the sorority's international president Dr. Glenda Baskins Glover, Brody will serve a two-year term and guide the local chapter in implementing a full spectrum of new program initiatives themed "Exemplifying Excellence Through Sustainable Service."
The sorority's signature program #CAPsm (College Admissions Process) will focus on motivating and assisting youth through the college entry process. In addition, there are five program targets and seven  Community Impact Days: HBCU for Life – A Call to Action, Women's Healthcare and Wellness, The Arts!, Building Your Economic Legacy and Global Impact, which will be addressed over the next four years.
About Alpha Kappa Alpha Sorority, Inc. 
Alpha Kappa Alpha Sorority, Inc. is the oldest Greek-letter organization established in America by black women and was founded on January 15, 1908, at Howard University. Led by International President Dr. Glenda Glover the organization connects thousands of college-trained women who give of themselves to support community service projects and scholarship programs.
For more information, visit zuochapter.org.