ST. PETERSBURG — The Dr. Carter G. Woodson African American Museum is delighted to host a commemorative celebration entitled "Classic Black: A Tribute to Marian Anderson," Sunday evening, Nov. 10. A prelude to this magnificent performance will begin promptly on the steps of the Palladium at 4:30 p.m.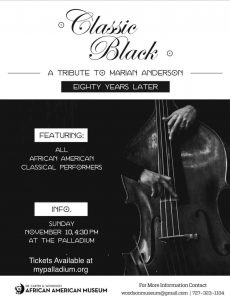 This amazing tribute will highlight African-American classical performers to include violinist Mary Corbett, pianist Nathanial Thomas, bassist John Lamb, baritone Jamal Sarikoki, along with other soloists Siobhan Monique, Carolyn Hobbs, Fred Johnson and Maiya Stevenson.
In 1939, Marian Anderson performed on the steps of the Lincoln Memorial before a crowd of more than 75,000 after having been denied the opportunity to take center stage at Constitutional Hall. That rejection 80 years ago brought national attention to our nation's deplorable segregation laws and was recognized as an important prelude to the Civil Rights Movement.
The Woodson proudly honors the life and legacy of Marian Anderson and her heroic stand against injustice. In tribute to her legacy, we will also salute the lives of our brave soldiers as she did when touring foreign countries entertaining our military troops. All veterans will be afforded free admission with proof of identification.
This program is being produced in partnership with St. Petersburg Alumnae Chapter of Delta Sigma Theta Sorority, Inc., Premier Eye Care and the Palladium at St. Petersburg College.