Kofi Hunt
By J.A. Jones, Staff Writer
ST. PETERSBURG – Organizer Kofi Hunt once thought he would be a graphic artist, but today, as a familiar face among Tampa Bay activists, he creates from a palette formed by his beliefs in social justice, envisioning a world where communities build through solidarity to make the world better for all, regardless of class or color.
As the son of two immigrant parents, his mother from Ghana and father from Jamaica, Hunt shared, "I found my way into political work through social justice activism. I started hanging out with a group that showed socially conscious movies. I went to some of their demonstrations, and then Arab Spring happened. I ended up following what was happening in Egypt online, and it inspired me to become more active myself."
He'd gone to Orlando's Full Sail University and worked in hospitality in the area. But when he was offered a community organizer position with the

Florida Consumer Action Network

(FCAN), his new path was established.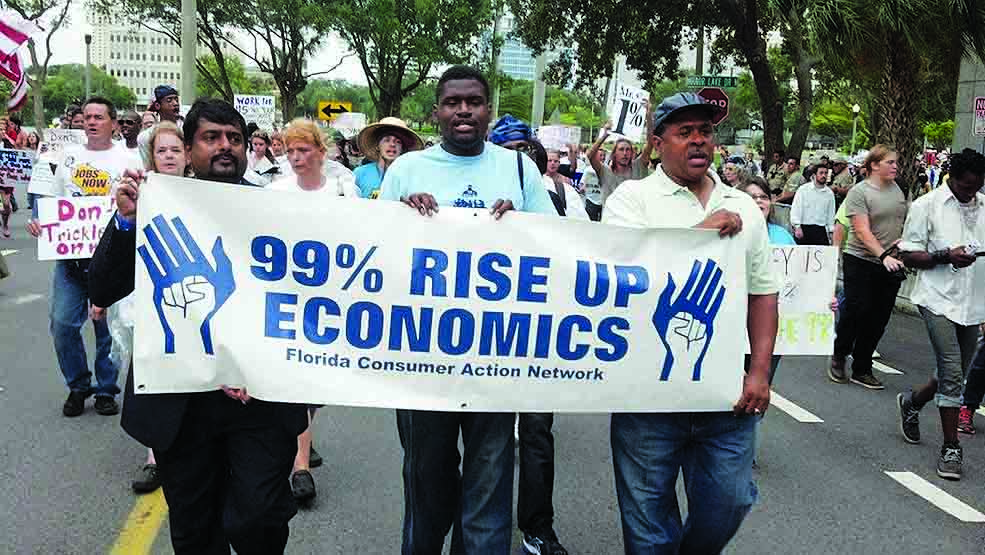 "I felt, like a lot of people, that there are problems in the world and I didn't know what I could do to address those problems. Then I saw what people were doing in Egypt, and then Hosni Mubarak stepping down — I felt more convinced that movements and people power could actually bring about real change."
With FCAN, Hunt began organizing voters and activist leaders across the country around a progressive platform, activating people around the National Republican Convention and getting them politically activated in the presidential campaign between Barack Obama and Mitt Romney.
Alongside his professional work with FCAN and

Fight for 15's

campaign to raise the minimum wage, Hunt engaged in his own movement building with organizations including Tampa for Justice and Awake Pinellas.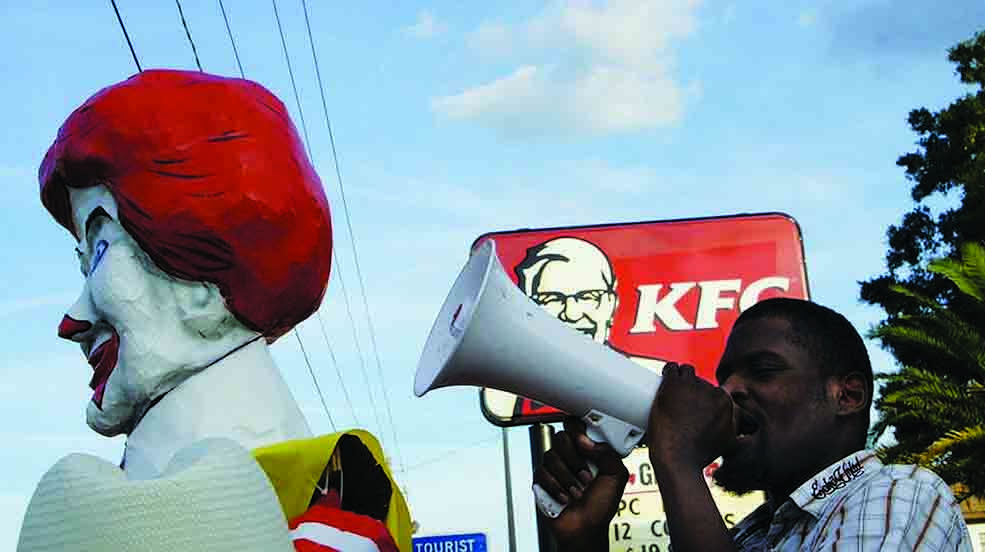 "Basically, what drives me is the idea that I can improve the world. There's a lot of things that we want to see happen: universal healthcare, free college, things like that."
Currently, as a community and political organizer with the National Fast Food Workers Union, the organization behind Fight for 15 Florida, he is organizing a bus rally from St. Pete to Tallahassee on June 11 for the Poor People's Campaign for Living Wages.
"The Fight for 15 has partnered with the Poor People's campaign to do 40 Days of Action, following the model championed and pioneered by Dr. Rev. William Barber's

Moral Monday movement

in North Carolina," Hunt explained.
On June 11, buses will leave from Pinellas at 5 a.m. from Allendale Methodist Church, 3803 N Haines Rd., St Petersburg.
"Over the course of these 40 days, on the Mondays we'll be activating thousands of people all over the nation at state capitals, specifically focusing on the narrative that poverty in America is something that's been orchestrated through systems of systemic racism and militarism — and that if we're going to really fight and end poverty it will involve taking down those pillars that keep poverty in place."
A native of St. Pete, his own experiences growing up as a child of recent immigrants were complex. He was fortunate enough to live in a well-resourced neighborhood. His Ghanaian mother instilled in him that he was capable of anything.  He took that mindset and excelled in school.
It was jarring, however, to see the different attitude of young, African-American students compared to himself. Hunt recalled going to school and being "looked down on" by black kids for getting good grades and participating in class.
"I didn't see myself the way they did. They would say I would be 'acting white' because I didn't see myself as any lower than the white kids in the class and I figured that I went to school to participate, so I participated."
He experienced the confusion often felt by children caught in the webs of race and class.
"You don't know what to think because you're black and you associate with being black, and you want to achieve but you're being told by your peers that succeeding is not something that black people do. It was a really odd narrative that didn't make sense."
Hunt channeled his experiences into his politics, and they have fueled his beliefs.
"If you fully fund public schools and make them revolutionary, instead of sending some kids to private schools because they have better techniques — if we incorporate those private school techniques through a sentiment that democratizes resources, providing access for everybody regardless of their background, it will improve the condition in the mindset of all people."
Hunt said he believes that St. Pete, in a lot of ways, is poised for that level of progress. He doesn't think things are as bad as they used to be but believes movements must continue to be built to change the current dynamic and trend.
"Humans are the greatest resources that we, the working class, have."
In 10 years, the 35-year-old activist would like to have put in enough work to see St. Pete as a community that has progressed and is full of diversity. His children would be able to grow up having the values of solidarity and community and feeling safe and secure in their home.
"I would be part of a community being an example to the world and to others of how things could be better," he finished.
For more information or to register for the Poor People's Campaign for Living Wages Bus Ride to Tallahassee, you can RSVP

here

. For more information visit

The Poor People's Campaign

.