Kazana Bennett
By J.A. Jones, Staff Writer
ST. PETERSBURG – What started with an elementary schooler's interest in K-pop (Korean pop music) is about to take one Lakewood High School sophomore to South Korea for a month.
"My interest in Korea started when I was in about fifth grade when I found a YouTube video on a specific K-pop group. It was really cool, and I wanted to learn more," said Kazana Bennett, awardee of a $7,000 Youth for Understanding USA grant to study abroad this summer.
"I get to choose what I want to do, and I plan on basically visiting places of interest – museums, aquariums, historical places, just learning about the culture and sightseeing," she shared.
Kazana is expected to leave in July for a one-month stay in South Korea. While there, she will live with a host family and participate in everyday Korean life.
Her interest in K-pop led to her finding an online teaching tool for learning the Korean alphabet. She started by just learning the characters, which was hard at first, but she got the hang of it and continued to progress.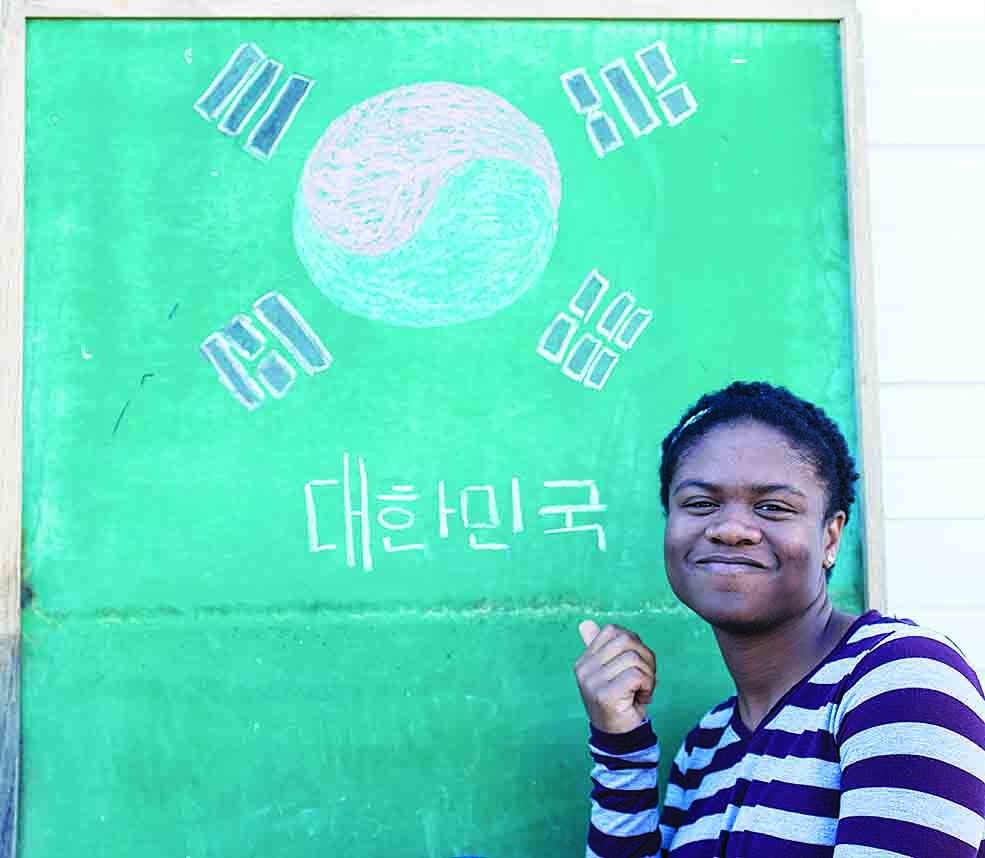 "The website really laid down the foundations of the language itself, so I wrote down the characters and continued to practice writing them."
Kazana's father, Rodney Bennett, while obviously proud, was clear to give his daughter all the credit for following her desire to experience Korea up close and personal.
"She's a typical teenager, but she had a passion — and like anything — if you have a passion, you'll get into and you'll do it," her dad asserted.
His attitude inspired her to follow her plan. Dad told her if she wanted to make it happen, she'd have to put together a plan and he'd sit back and watch and then make determinations from there.
Bennett was impressed by how far she had proceeded on her own.
"She had already started learning on her own, but it really didn't take root until we found a class. Once I found the class, and they tested her, that's when I comprehended how much she understood — and that was all self-taught! It was amazing," he said, adding that Kazana went to the intermediate level and has grown since then.
The budding world traveler still takes a language class at the Korean Presbyterian Church.
"In my level now, we do a lot of speaking and conversing. All of my teachers are born and raised in Korea," shared Kazana – who is also a fan of the cuisine and has the opportunity to prepare and eat Korean dishes at every class.
Another plus of her studies has been getting early insight into the culture. For instance, things that are very different in Korea than in America, she relayed, are that you have to take your shoes off before you walk into someone else's home, and when you're meeting someone older or if they are your boss or teacher, you have to bow at a 90-degree angle.
Both are a sign of respect, explained the 16-year-old scholar, who said she sometimes finds her Korean cultural training melding into her everyday life.
"It comes naturally, and I'm so used to doing the bowing thing in class that sometimes I have to catch myself to not bow in other places because it will look weird."
Like any concerned parent, her father had some conditions regarding school that Kazana had to meet, and when she met all of them, his attitude was: "If this is what you want to do, let's make it happen."
He established a funding campaign and shared it on social media. When she got the grant from

Youth for Understanding

, they knew her dream was on its way to becoming a reality.
While Kazana is not entirely fluent in the language, she doesn't seem worried.
"I'm not fluent yet, but I can pick up some things," she asserted. She will not know whether the family she stays with will speak English until her orientation this summer.
Youth for Understanding USA is a non-profit educational organization that functions in more than 60 different countries. It's one of the oldest and largest international exchange programs, boasting involvement by over 250,000 students and host families since it started in the U.S. in 1951. The program was originally started as an effort to heal the wounds of World War II.
Two Korean friends advised Kazana on what to pack and recommended a must-see attraction.
"They said to pack for warm weather because it's going to be very humid during the summer. They also said to go to the amusement park called Lotte World, which is similar to Disney World, but it's the Korean version."
Kazana encourages other young people to create opportunities to get out and see the world, advising that traveling will broaden their perspective and help build character.
The savvy 10th grader has a goal for her stay. "Ultimately, I want to be able to have a very, very long conversation without having any hiccups in Korean. And I also want to say that I visited a lot of places."
Congratulations Kazana, and take lots of photos!
To reach J.A. Jones, email jjones@theweeklychallenger.com