Can you believe 2018 is toast? Time for resolutions, new starts, new goals. In Jan., we celebrate Dr. Martin Luther King, Jr.'s birthday and February is Black History Month; it's also a time to make plans for career changes and or advancement.
Technology and understanding the unheralded and undersung past and looking forward to the opportunities available today locally and cost-effectively is my focus. That is what led me to the Tarpon Springs campus of St. Petersburg College where they provided a quick look at many who are not usually highlighted in American history.
Below are a few that were featured in their 2018 African American History Month heroes' exhibit.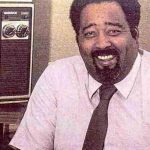 Gerald A. Lawson is famous for being a video game pioneer. Lawson was one of a few African-American engineers who worked in computing at the beginning of the video game era. He is an inspiration for future game developers.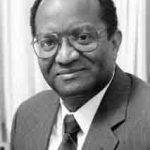 O.S. Williams was an aeronautical engineer and designer of small rocket engines. Born in the 1920s, he was one of the first African Americans to become an engineer at Republic Aviation.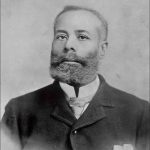 Elijah McCoy was born in 1844 and was one of the first African-American engineers. He was trained in Scotland after his family fled the U.S. to escape slavery. Once he returned, McCoy was unable to find work in this profession. He, however, developed designs and inventions related to lubrication systems to make railroad operation more efficient, the ironing board, the lawn sprinkler and other machines. In his lifetime he was credited with more than 60 patents.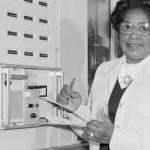 Mary Winston Jackson was one of the subjects of the film "Hidden Figures." She was a mathematician and aerospace engineer. A graduate of Hampton Institute, she was the first African-American engineer to work at the National Aeronautics and Space Administration (NASA).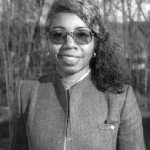 Valerie L. Thomas is an African-American scientist and mathematician. She is recognized as the inventor of the Illusion Transmitter, for which she received a patent in 1980. Her interests in science, math and physics led her to study at Morgan State University and to work at NASA.
Fast forward to 2019, the very real opportunity to advance careers and or start creating new opportunities for women and African Americans exists. Advanced manufacturing, or the use of technology to improve products and processes, is the term being used to describe this emerging field.
To that end, SPC has launched a new program to help participants obtain free or low-cost training offered through their Workforce Institute. Mechatronics and electromechanical technician training is being offered as hybrid classes (online and labs) where you can study at your own pace. Optional college credits and certification are available.
The program prepares technicians for advanced manufacturing with high tech positions needed to sustain the industry. Initial funding ($1.5 million) is provided by the State of Florida Department of Economic Opportunity awarded to SPC in 2018.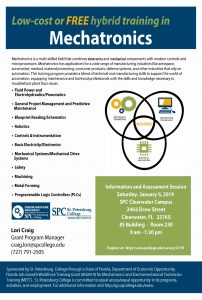 Grant manager Lori Craig is hosting an information and assessment session on Jan. 5 at the Clearwater campus. In addition, future job prospects for graduates will be assisted by networking, job fairs and career events with industry and trade organizations planned for 2019.
Industries that projected to increase their workforce in this field include automotive, aerospace, biomedical, food processing and pharmaceuticals. Florida is in the top 10 for new manufacturing states.
African Americans have a long history in creating and developing new technologies. We had to do the labor, so it only makes sense that we would develop ways to work smarter.  Like Plato said, "Necessity is the mother of invention."
The next information session and assessment is Jan. 5 at the Clearwater campus, 2465 Drew Street, Clearwater. For more information, contact Lori Craig at Craig.Lori@spcollege.edu or (727) 791-2505.
To reach Faye Tippy, email ftippy@theweeklychallenger.com